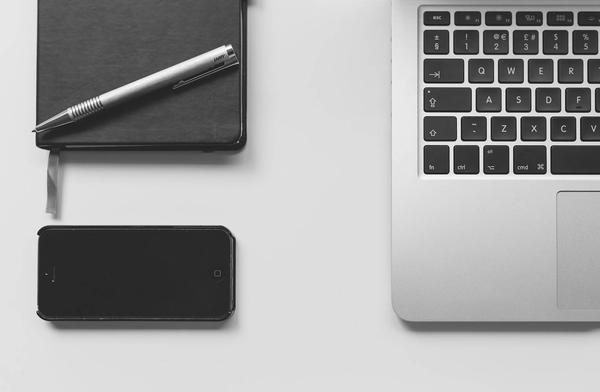 5 Great Writing Portfolio Examples and How to Build Your Own
Published on
Create a writing portfolio that will help you build your freelance writing business. These 5 writing portfolio examples will show you how.
Every writer needs a great portfolio to showcase their work, land clients, and build a following.
But knowing what to include and how to best represent your work can be challenging.
After all, you want a writing website that wows potential clients and convinces them that you're the best writer for the job.
Whether you're a beginning freelancer who wants to know how to build a writing portfolio with no experience or a seasoned pro looking to upgrade your writing portfolio website, we've got you covered.
In this article, we'll break down what makes an excellent writing portfolio by showing you some of the best online writing portfolio examples and why they work so well.
But first, let's walk through some of the basics so you really understand how to create a writing portfolio that will get you the gigs you want.
What is a writing portfolio?
An online writing portfolio is a collection of your best writing samples in an easy-to-navigate format. It's a tool you can share with potential clients and employers that shows what kind of writing you do, and it goes a long way to proving your credibility as a freelance writer.
Writing portfolios also provide a way for you to build followers and create ongoing referrals (more about that later). Online portfolios are not only a great way to land clients by showcasing your work and experience, they can also create opportunities as well.
How to make a writing portfolio
Creating a writing portfolio doesn't need to be scary or overwhelming. In fact, it can even be a fun and interesting experience that helps you define your work and the type of clients you'd like to collaborate with.
Below, we'll go through what you'll need to do to create a writing portfolio so that it's an easy and manageable experience.
Collect your writing samples
Sounds easy, right? You're a writer after all, so gathering together your writing samples should be no big deal.
However, since we're talking about your online portfolio here, which is going to be one of your primary marketing tools moving forward, you'll need to be pretty specific about what you include.
Here's a few tips to help you decide:
Choose only your best writing examples. This should go without saying, but we all know how attached we freelance writers can become to our work, and it can be hard to narrow down what we really want to highlight. Only include your most convincing and most recent work. Bring out that inner editor and do the tough work of deciding what should make it into your portfolio. Remember, less is more when it comes to portfolio writing samples.

Pick what's relevant to the jobs you want. Especially early in our careers, we may be generalists and write a lot of content for different companies. However, freelance writing portfolios that are focused on specific types and areas of writing are more convincing. Showcase those samples that fall within the type of writing you do or the industries you work in.

Separate out your work so it's easy to navigate. If you write for more than one industry (travel writing, health writing, SaaS content writing, etc.), put your writing samples into separate sections or on different pages. The same applies to different types of writing, such as social media content writing, copywriting, or technical writing. This allows different clients to find what they're looking for quickly and easily.

Keep your portfolio updated. Portfolio website hosting platforms like Journo Portfolio make this simple by automatically uploading new articles when you publish for the same outlets. You'll always want your writer's website to display the latest and best of your work, so check in and replace older work with newer and more relevant writing samples as you go.
Create your About Me
Your bio is another important element of your writing portfolio because it gives you a chance to talk about your background and experience.
This is a great place to include your educational and work experience, as well as your freelance writing history and how you like to work.
And don't worry if you don't have a ton of background specific to writing. Interesting life experiences and work in relevant industries can still be a convincing part of your story as a writer and help a potential client get to know you.
We also recommend including a professional About Me bio pic, as this helps humanize you and put a face to your name.
Contact info is more than just an email
Including email information and a contact page is a must for an online writing portfolio. However, if you are looking to build referral sources and future business, your portfolio can be leveraged for so much more than a single contact from an interested client.
Include a newsletter sign-up. Make it easy for visitors to your writing website to sign up for a newsletter about ongoing updates, newly published articles and blog posts.

Put your social media front and center. Have social media buttons throughout your site in footers, headers, or nav menus so people can follow you. And be sure to include a link to your writing portfolio in your social media accounts. That way, you can turn visitors into followers.

Include a Free Consultation button. Link to Calendly or other scheduling app so clients can make an appointment with you on the spot.
Optional add-ons for your online portfolio
While writing samples, an About Me, and contact information are all that's required for a freelance writing portfolio, there's a few more additions you might like to think about.
Testimonials
If you have clients that are willing to write you a glowing review, including these in your writing portfolio website can be very convincing for prospective clients.
CV/Resume
If you have a lot of experience as a writer or working in the industry you write for, including a more extensive CV may be a good idea. This is especially true if you are using your portfolio when you apply for jobs
Blog
One skill you already know you have is writing, so why not put that to use on your writing portfolio website? If you utilize SEO best practices, your blog can become an effective marketing tool as well as another way to showcase your writing.
How to build a writing portfolio with no experience
But what if you are just starting out, and you don't have a ton of writing samples or experience to highlight?
Luckily, there are several ways to build out your writing. Portfolio samples don't have to be previously published work. They just have to be good.
Guest blog for blogs in the areas you have expertise in. If you have a unique perspective and some cred to back it up, look for blogs in those areas that allow for guest postingh.

Include writing samples from school or coursework. Creative Writing major? Finished a copywriting course? You can use this content to help build your writing portfolio samples.

Mock-ups and case studies count. If you want to break into a specific area, you can create a writing sample that displays your skills as long as you label it as a sample.
What does a writer's portfolio look like?
Now that you've got everything you need for your portfolio, and you have an idea of what you'd like to include, you need to think about the layout and aesthetic for your site.
Much of this will depend on which platform you choose to host your portfolio, as each will have its own features and writing portfolio templates for you to choose from.
You can work with website building sites, choose a hosting site that's specific to portfolios, or put your portfolio up on a third party writing site. Each has its advantages and disadvantages, so be sure to do your research to find out what works best for you.
Once you've chosen a site and picked out a template, you'll want to think about how to create a professional look. Color schemes, fonts, and even layouts will impact how a visitor experiences your writing portfolio. Keep the tone professional, and keep the focus on your writing to achieve the best results.
Let's take a look at some great writing portfolio examples to give you a better idea of what a writing portfolio looks like.
5 excellent writing portfolio examples to inspire you
1. Jolene Cheok
Visit Jolene's Portfolio here: jolenecheok.journoportfolio.com
Jolene Cheok is a B2B and B2C copywriter located in Singapore. Her soft color palette and minimalist design are inviting and work well with the friendly tone of her web copy.
Jolene establishes credibility by including a logo montage of brands she's worked with at the bottom of her portfolio Home page. She deepens this credibility on her About me page, where she includes a section listing each of her certifications. Her portfolio About Me page also includes a button to sign up for a 15-minute consultation, which makes it simple for visitors to be converted to clients.
She divides her writing samples by type, giving each type its own page that can be found in the nav menu or by clicking on large buttons on her home page. Her writing samples are thorough case studies that she keeps visually appealing with creative layouts and great use of images.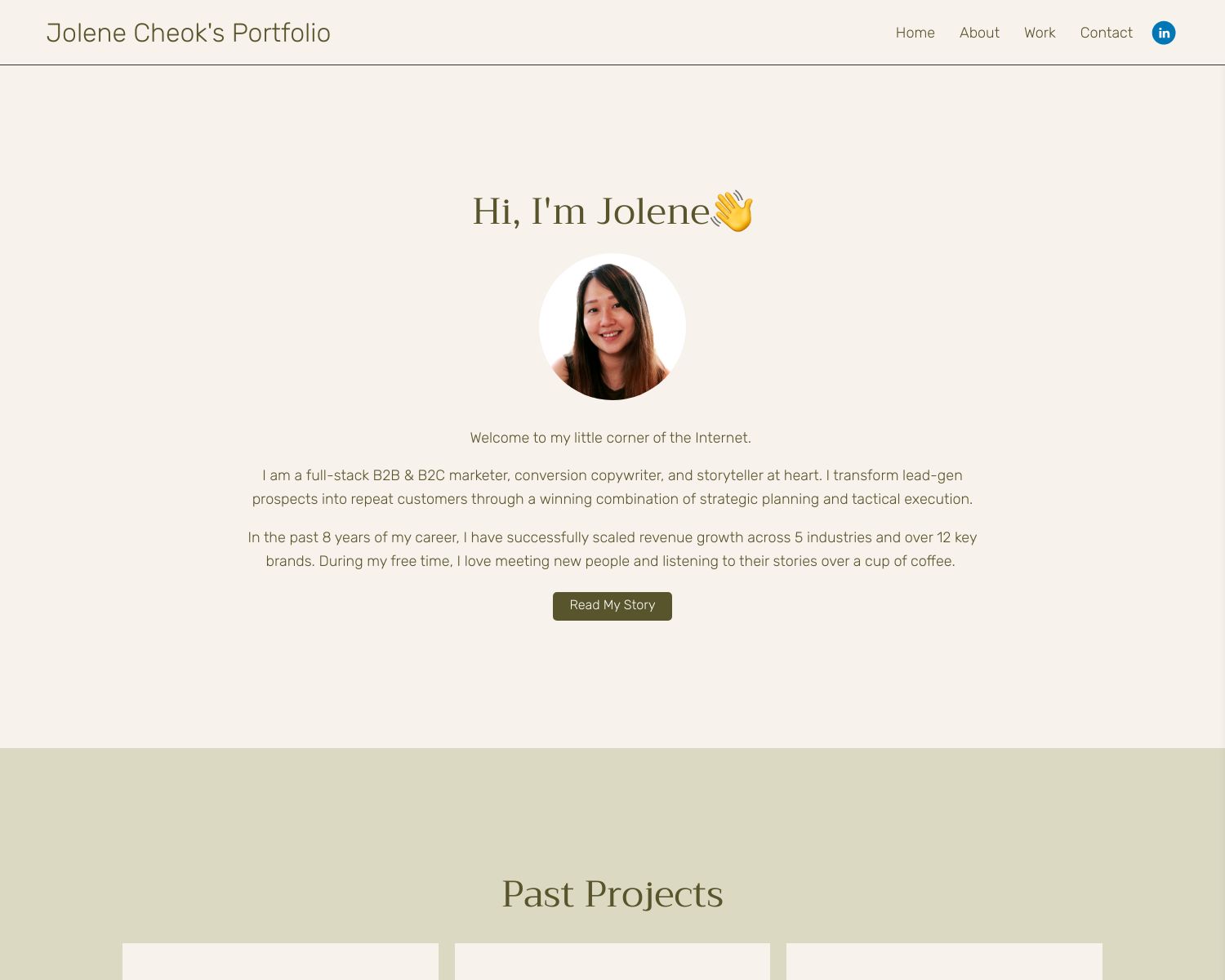 2. Poppy Atkinson Gibson
Visit Poppy's portfolio here: poppygibson577.journoportfolio.com
Poppy Atkinson Gibson is an MA Journalism student at Cardiff University, and her portfolio is an excellent example of a student writing portfolio.
She features high-quality writing samples that emphasize her journalism skills on her portfolio Home page, as well as on a separate Recent Work page. This is a great example of choosing to include the work that's most reflective of what you'd like to do.
She also makes use of a blog page to showcase a more creative style of writing.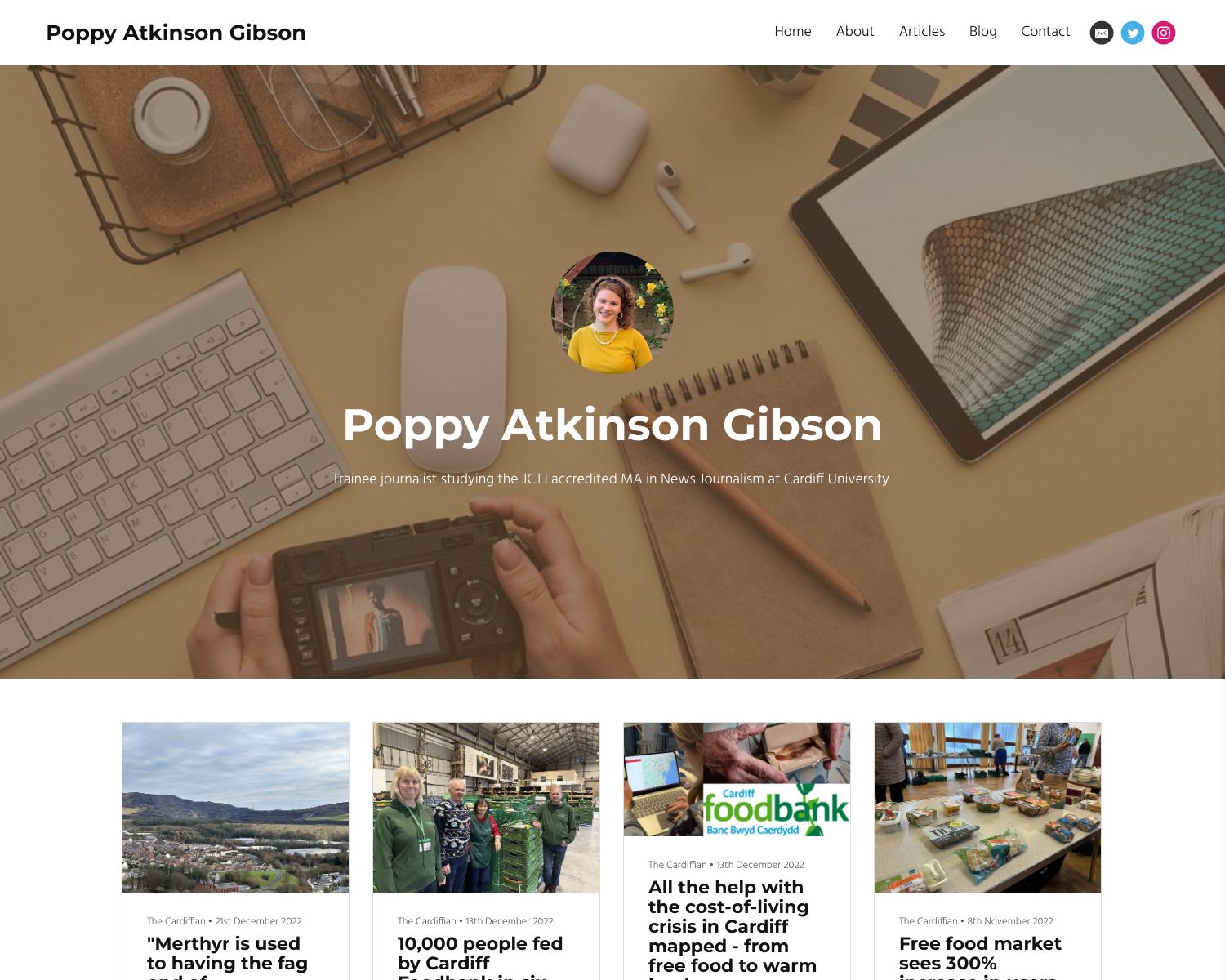 3. Chelsea Reid
Visit Chelsea's portfolio here: www.itschelseareid.com
Chelsea Reid is a writer and graphic designer in the education sector. Her Home page starts with her About Me, highlighting her professional experience. She also includes a pdf upload of her CV, establishing her credentials.
Her one-page layout featuring 3 sections of her writing and graphics samples on a white background keeps everything simple and the focus on her work. Each section of samples uses a different layout, which keeps her page visually interesting.
Chelsea's use of a scrolling banner for her graphics examples really makes them stand out. She's also included an embedded slideshow of her writing samples to create a writer's portfolio that's interesting and interactive.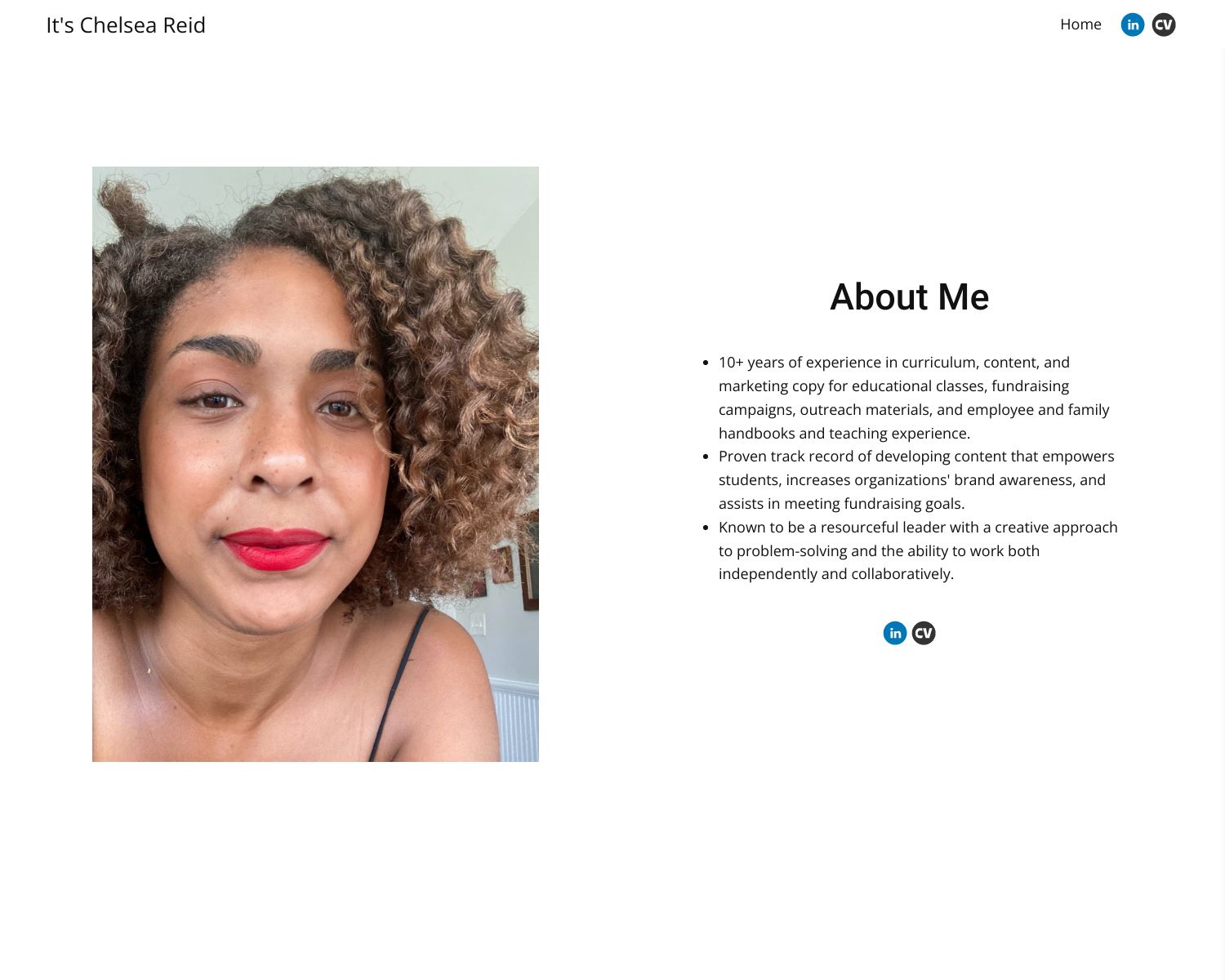 4. Lubna
Visit Lubna's portfolio here: www.writewithlubna.com
Lubna is a health writer who lets her experience shine with a beautiful black and forest green color scheme. Her thorough portfolio About Me page hones in on her professional experience as a physician's assistant and science writer.
She Includes testimonials on her portfolio Home page in addition to impressive work samples on her Portfolio page, impressing potential clients. Her Services & Rates page establishes her as a professional, and she includes links to her contact info throughout, so potential clients are encouraged to commit further.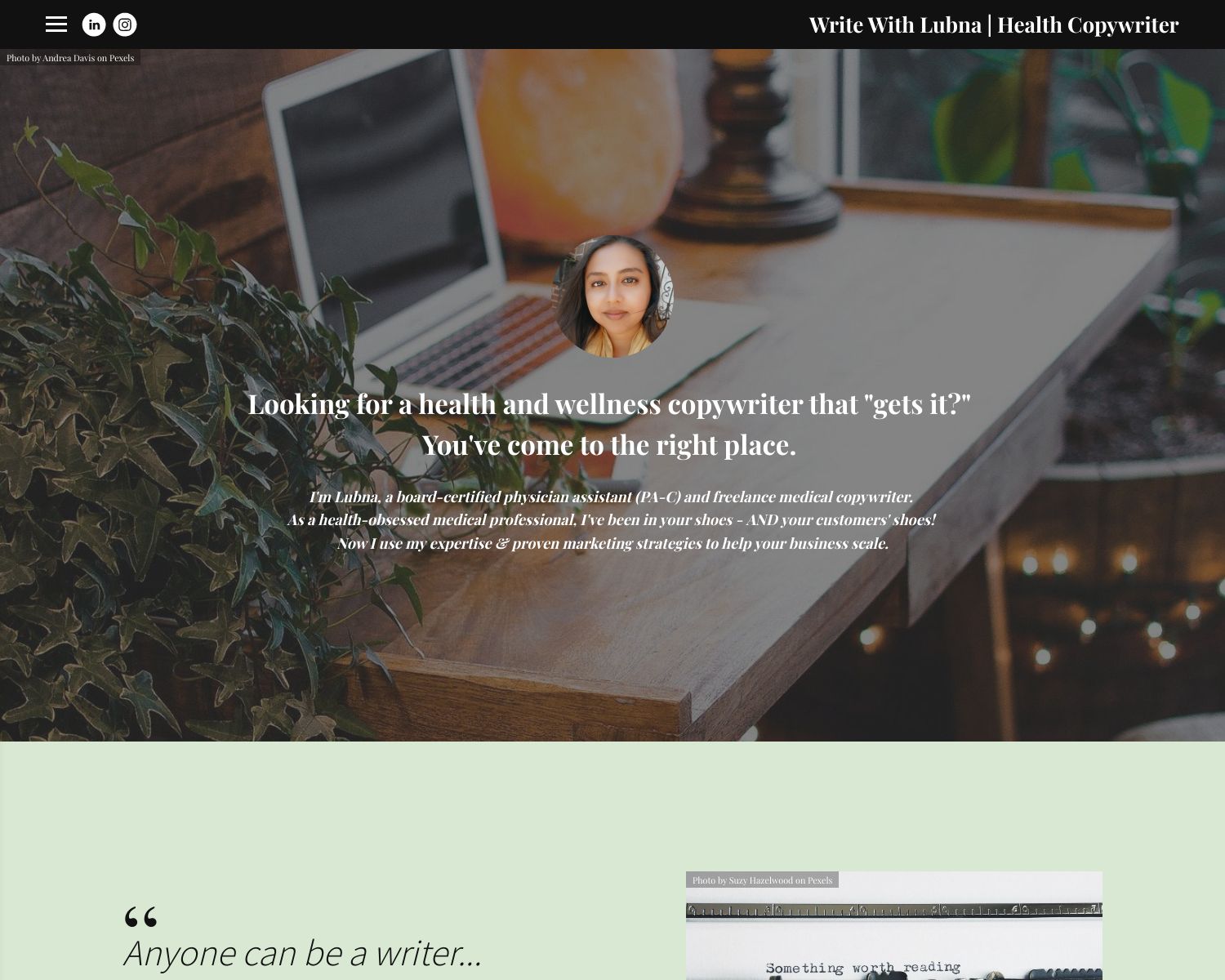 5. Josh Schultz
Visit Josh's portfolio here: joshschultz.journoportfolio.com
Josh Shultz is an entertainment writer and radio presenter from Australia. His modern black and gray grid layout puts emphasis on his impressive samples and allows the accompanying images to pop.
While Josh maintains a fun and upbeat tone in his portfolio About Me, he's still sure to bring attention to his depth of experience in his industry.
Josh chooses to divide the writing samples for his writing portfolio by outlet. This allows each type of writing to shine on its own. For the samples that feature his radio work, he includes embedded audio samples, which give a multisensory experience for his writer's website portfolio visitors.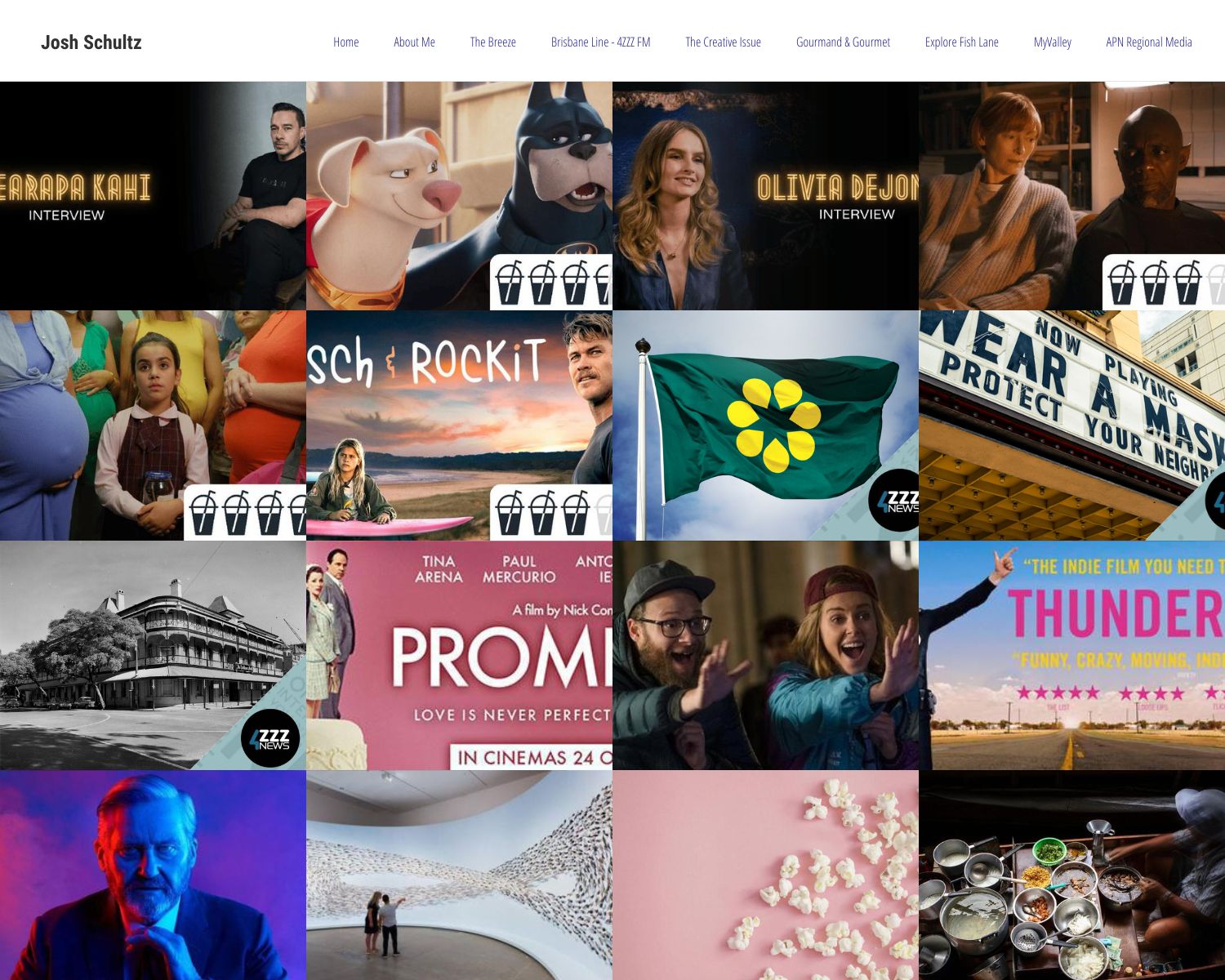 Create a writing portfolio that's truly your own
From sleek and modern to soft and minimalist, you can create a writing portfolio that reflects your style and personality. By utilizing different layouts, you can emphasize your writing samples, your experience, and your professionalism. And with features like resumé uploading, automatic article imports, and newsletter sign-up prompts, you can build a portfolio that will help you build your business for years into the future.