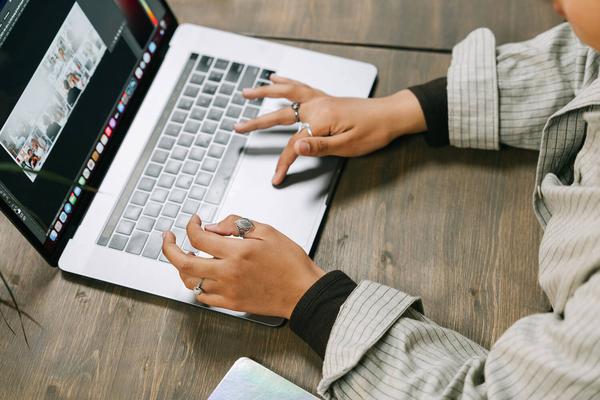 How to Create an Online Writing Portfolio with Examples
Published on
Our best tips and advice on creating a beautiful, professional portfolio to showcase yourself and your work.
As a professional writer, you have the passion and drive to craft beautiful work. That work deserves an online writing portfolio that will put your best foot forward.
But, admittedly, not all portfolios are created equal.
How can you create a portfolio that attracts and wins over clients? Which writing samples should you feature on your portfolio? How do you boost traffic to your work? What portfolio websites can you use to create your online portfolio?
All great questions — and all questions that we are going to answer in this article.
We have the tips to make your portfolio the very best it can be — and stay tuned to the end for commonly asked questions about portfolios and exceptional examples of writing portfolios that will hopefully inspire you.
But first, let's make sure we're all on the same page by answering two simple questions...
What Is an Online Writing Portfolio & Why Is It Important
An online writing portfolio is a site where you can publish and promote your writing and yourself as a brand. You can showcase work that you've published on other sites. You can also use the space to write new pieces or even create a blog that showcases your writing voice and skills.
But most people have a specific goal in mind for their online portfolio: attract paying writing clients. This is where potential clients will come to check out your work and make the decision whether or not to hire you.
But what kind of writing should you feature? You can use it to showcase any kind of writing that you want. This could include...
Journalism
Freelance writing
Copywriting
Blog writing
White papers
Infographics
Email copy
Short story writing
Poetry
There are so many possibilities!
But why is an online portfolio important for a writer?
Quite simply, because your online presence will determine how seriously people take you as a writer.
An online writing portfolio goes deeper than a simple resume or CV ever could. It shows hard evidence of your abilities and the caliber of your writing.
And your portfolio can also house other important pages. These other pages, such as an About Me or Testimonials page, enhance your writer's image even further. It gives you the opportunity to tell people who you are as a person, not just as a writer.
With your personal account of your abilities and background, as well as reviews and testimonials from past clients, your readers get a more complete picture of you. And this can tip the scales in your favor, leading to a hire.
That is why every professional writer should have an online portfolio.
But how do you create an online portfolio that best showcases both you and your work? Let's dive into that subject right now.
How to Create an Online Writing Portfolio That Makes You Shine
1. Define Your Brand
A brand is a message that tells the world who you are, what you do, and what you stand for. It goes way beyond a simple job title.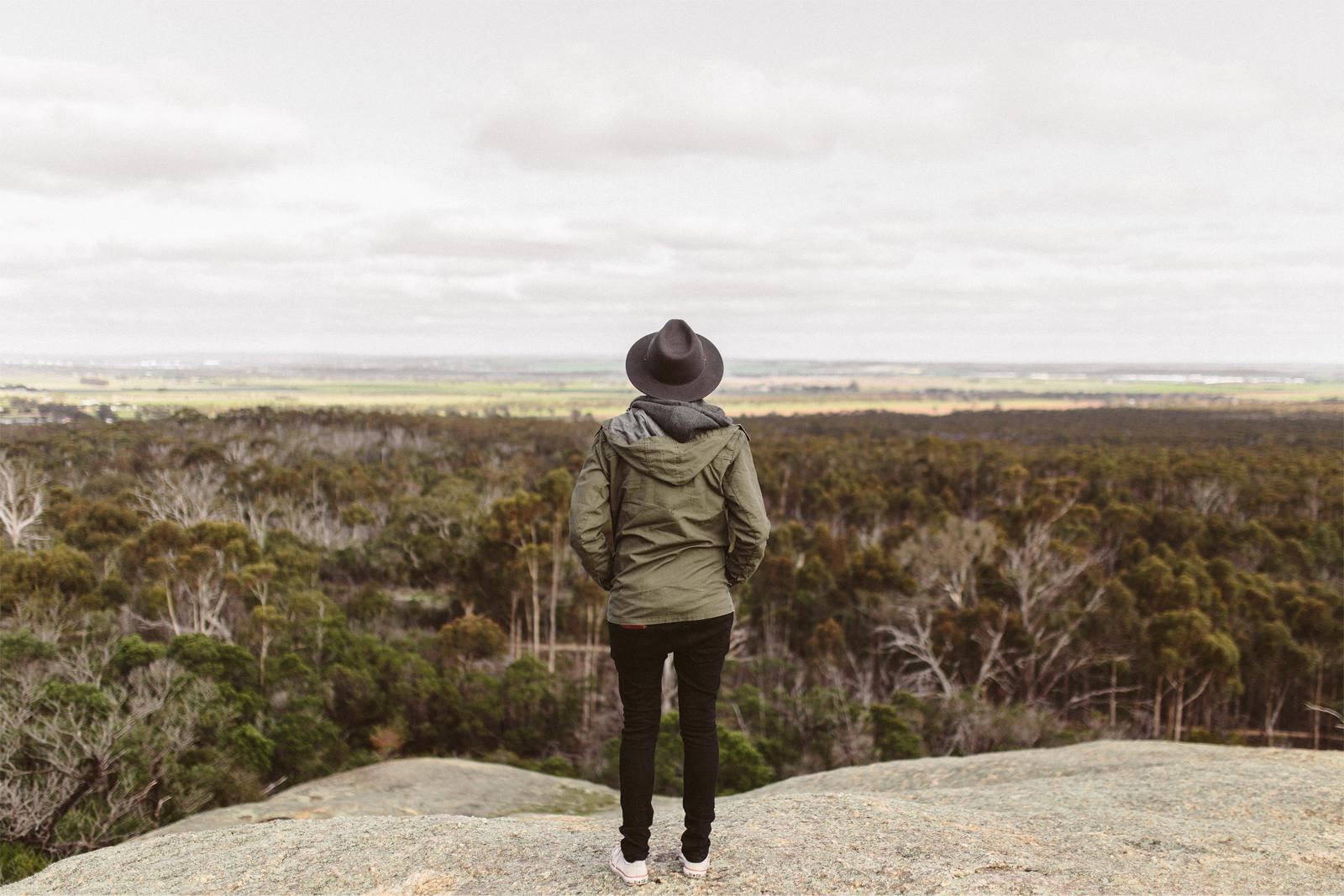 Read more
Building 'Brand You'
Every freelance writer has a brand, this blog post sets how you should nurture and grow your brand to take your career to the next level.
Spend some time outlining what you want your brand to be. Write down words you would use to describe yourself.
"Writer" is, of course, an obvious one. But what adjectives would you use to describe yourself? Professional? Dependable? Organized? Funny? Honest? Authentic? There are many possibilities, and the ones you choose will both define you and distinguish you from others in your field.
Once you have a clearer image of your brand, you can better incorporate different elements into your portfolio. It's important that everything — including your design, opening statement, photos, bio, and writing — reflects these values.
2. Choose a Writing Niche
It's tempting, especially when starting out as a writer, to label yourself as a jack of all trades. But, as I'm sure you've heard before, if you're a jack of all trades, you'll end up being the master of none. And it's true.
The fact is that serious writers have a writing niche, or topic, that they specialize in writing. Some popular writing niches include:
Travel
Finance
Health / Alternative health
Entertainment
Digital marketing
Technology
News / Journalism
And these are just a handful of the potential niches. There are many, many more.
How do you choose a niche? Start by thinking about what interests you and what qualification you might have. If you have a degree or training in finance or the medical field, that might help you write about those topics. If you are passionate about travel or the environment, those might be good options for you.
Once you've landed on a niche that fits your experience and interests, you can then create writing samples and model your portfolio around it.
3. Know Your Prospective Client
Your prospective client will be the key to guiding your decisions as you create your portfolio.
For instance, some journalism outlets prioritize writers who are professional and fact-driven. Others in the entertainment industry might favor a more expressive and even irreverent writing voice.
Knowing this can help you to mold your writing style and samples to best fit prospective clients who visit your portfolio.
Do you research first. Choose a few key dream clients. Check out their social media channels and read the content on their site. If they have a webpage that outlines requirements for their writers, go over it with a fine-tooth comb. Take notes on what style guides they prefer or what kind of experience they want. All of these factors will help you to hone your skills and portfolio to match.
4. Showcase Your Best Work
You could include anything in your online writing portfolio - blogs, articles, press releases, essays, multimedia, collaborative work - as long as it is high quality. Choose 10-20 pieces, enough to show your range, but not so much the reader won't be able to finish them. Then display them in a logical order, either by date or by type.
Here are some things to consider when deciding what work to include:
A piece in a well-known publication shows that you are a professional with experience.
Self-edited writing, such as blogs, display your true writer's voice.
If you're a book author, consider displaying an excerpt instead of a whole chapter, since it will be easier for your readers to digest.
Recent work, which will show that you are active in the field and up to date.
Every piece of work should show a different skill, such as interviewing, unique style, or the ability to tell a story.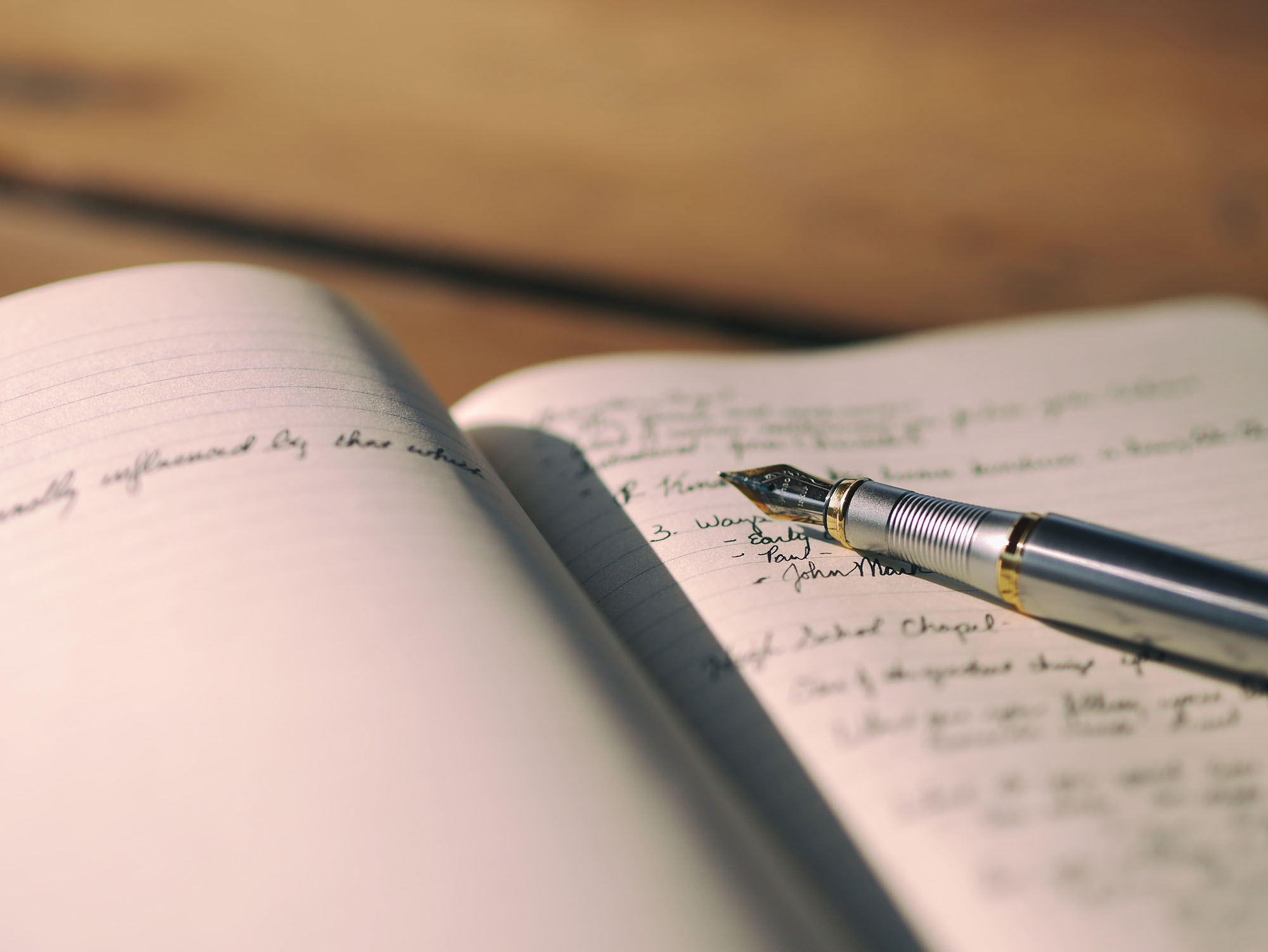 Read more
Which Articles Should I put in my Portfolio?
Whether you're about to put together an online writing portfolio for the first time or have had one for years, you've probably asked yourself this question a couple of times.
What's your brand again? You want your portfolio to give a consistent message. If you're a generalist, consider making multiple online portfolios or even splitting your portfolio into clearly labelled sections. This shows that you have breadth and depth of experience.
That's a lot to remember! So to keep organised, we suggest you keep a record of your work in a database. Record the date it was published, what skills it shows, and a link or a PDF copy of your article. This makes it easy to update your portfolio depending on what jobs or clients you want.
5. Choose a Place to House Your Online Writing Portfolio
You have two options for your portfolio.
First you can house it on a portfolio site like Journo Portfolio. We pride ourselves in giving you top-of-the-line design features to make your portfolio as unique as you are. You will also have the ability to upload your best writing samples simply by inputting a URL – our platform will upload the content and visuals right to your portfolio.
Other commonly used portfolio sites include:
Your second option is to build your own website to house your portfolio. If you're not a web designer, no sweat! There are many options that give you design features without the hassle of coding. Depending on your abilities, you could choose from the following…
Outside of these options, there are several social-media-style platforms where you can publish your writing samples.
One such platform is LinkedIn. Here, you can include in-depth information about yourself and your work experience. You can also write and publish articles right within the LinkedIn ecosystem. From here, every time you publish an article, all of your connections will receive a notification, which amplifies the reach of your work.
Another option is Medium. Just like LinkedIn, Medium has its own dedicated and loyal audience. It also has a built-in publishing platform where you can write about anything that interests you or your target audience.
The beauty is that you do not have to limit yourself to just one option. Go ahead and create a portfolio site, while also sharing your articles on other platforms like LinkedIn or Medium. There's no such thing as too much publicity, as long as you can give each platform the time it needs to get results.
6. Create a Stand-Out Bio
While your portfolio samples show people your work, a well-written bio, or About Me page, give them a window into who you are. It showcases your true voice — how you write outside of your professional samples — and even your values.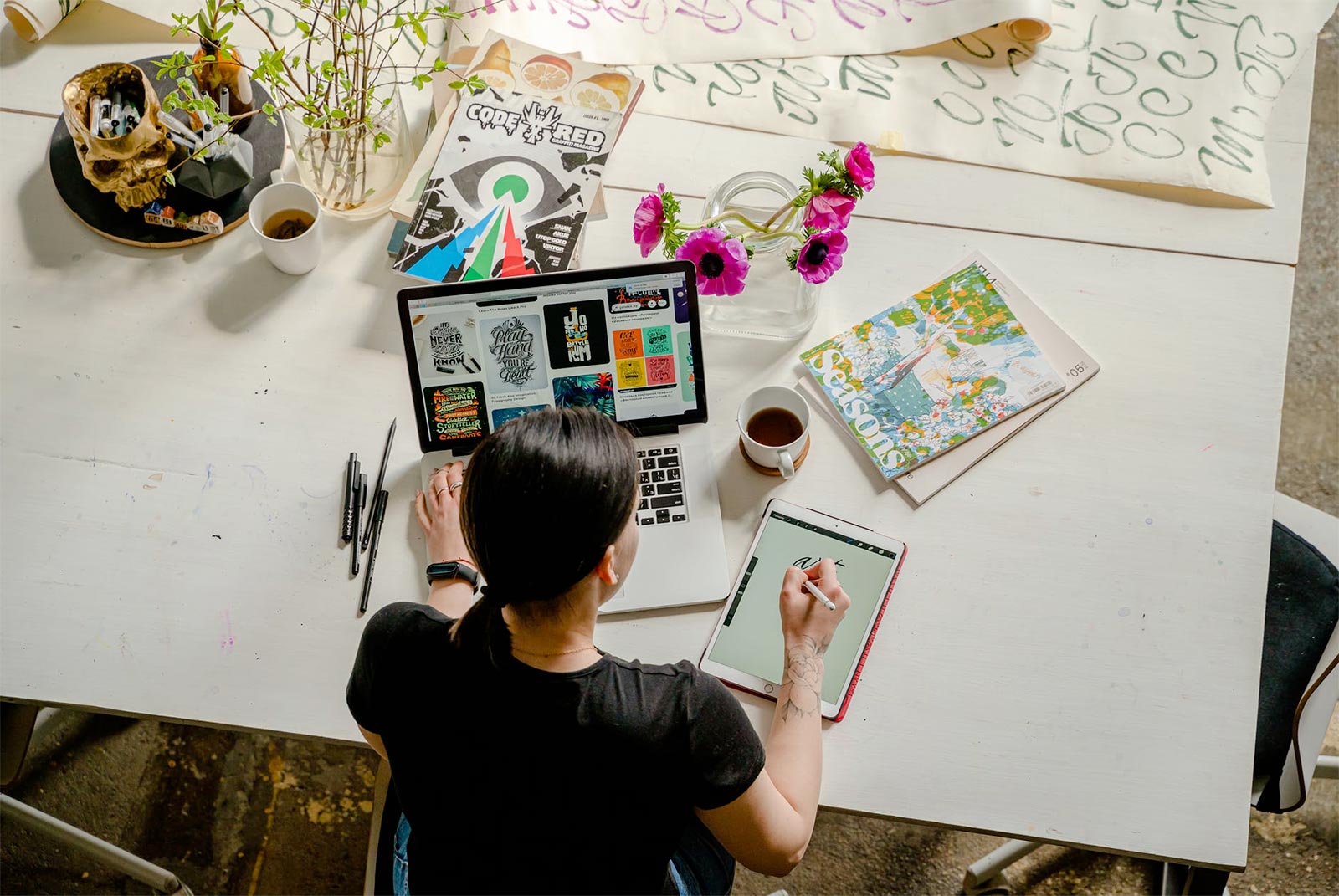 Read more
Your Writer's Portfolio: How to Craft the Perfect About Me Page
Learn how to craft an About Me page with 11 tips and tactics that will support your goals and boost the success of your writer's portfolio.
Share your background with your audience. Tell them why you became a writer. If there's a funny or moving story behind your career choice, share that as well. Anything that makes you more human.
Should you share details your personal life? This is completely up to you. But small details that are well-placed can do much to engage your audience. For instance, sharing that you are married with three kids could show people that you prioritize family values. Or, highlighting your passion for a particular volunteer work might strike a chord with your audience.
Any detail that you can include in your bio will bring you more to life as a writer and infuse your work with meaning. Instead of being just another, faceless writer, you become an individual with whom people can envision working.
7. Make It Easy for People to Contact You
You've hooked people with your awesome writing skills and back story. Don't make it a chore for them to reach out to you. Create a Contact Me page that makes it simple and easy to get in touch.
A contact page should, of course, have a contact form that people can fill out with their name, email, and message.
Above or next to the form, you should also include your contact information if people want to reach out in a different way. This could include your email address, physical address, phone number, and even your social media channels.
Once you have a contact page, link to it from as many places as possible. In addition to a place on your main menu, create call-to-action (CTA) buttons on your home page. These could simply say "Work with Me" or "Contact Me." You can even create CTAs for the bottom of blog posts and writing samples to direct people to your contact page.
8. Spend Some Time on Design
Your online writing portfolio should be as individual as you are.
But you also need to be careful with your design choices.
After all, your design can make a big difference in the success of your portfolio. A simple, well-organized portfolio can create a warm and inviting atmosphere. But a chaotic, disorganized portfolio can have the exact opposite effect and even drive people away from your page.
There are several elements that can help you to design a killer online writing portfolio. Here are a few things to think about...
Colors
Choose two to three colors to use throughout your portfolio.
Colors can even be a strategic psychological tool to subtly engage your audience.
For instance, black often conveys power and confidence. Blue can mean dependability and trustworthiness. It's an interesting science that you might choose to incorporate into your design strategy.
Images
The more images you can use throughout your site, the better. Images help to break up blocks of text and make information easier to digest. Use professional photos of yourself to help your visitors visualize you as they read through your work and bio. Make it a clear photo that shows off a friendly demeanor and warm smile.
You can also include images associated with your writing or niche. For instance, if you write for finance, you could use an image of a calculator. Or if you are a travel writer, you could include an image of a map or compass. These small details are a subtle reminder of what you do.
Fonts
There are literally thousands of fonts out there. While some can be fun, not all of them are portfolio-material. Remember, your font should be easy to read and professional. Arial, Helvetica, and Times New Roman are classic writing fonts that will not distract your readers.
Use swirly, handwriting fonts sparingly. While they can be a fun element in a heading, using these fonts too often can be difficult on the eyes and distracting.
These are just a few of the design elements to consider as you build your portfolio site. Spending some time on these aspects of your online writing portfolio can give it a polished look that enhances your work.
9. Edit It... And Edit It Again
We can hear that sigh. And we get it. Editing is not fun.
But it is essential to your portfolio's success. The fact is, everybody makes mistakes. And as writers, we have particular blind spots when it comes to our writing.
When it's your online writing portfolio, though, the stakes are even higher than normal. Prospective clients are going to size you up based on your portfolio. Any spelling or grammatical errors could potentially stain your reputation and might even prevent people from hiring you.
Take the extra time and go over every piece of content in your portfolio. Use a free editing tool like Grammarly to help you spot and correct mistakes. But since it is a program, don't forget to do your own thorough read-through and editing.
Also, use this time to click on any and all links and buttons within your content. If any are broken, fix them or remove the link entirely. Do this regularly — once a month — to make sure you don't have any broken links in your content.
10. Optimize Your Portfolio for Search
Now it's time to set up your portfolio to work for you, with search engine optimization, or SEO. SEO is a tactic to help search engines like Google find and understand your site. Based on what Google finds, it will rank you for other people to find when they google terms like "freelance writer" or "tech writer."
Ranking like this on Google can be a game changer for your brand. It can help you to reach a wider audience and get more eyeballs on your writing samples – for free!
So how does SEO work?
A solid SEO strategy starts with choosing the right keywords. A keyword is a word or phrase that people search for in Google. If you're a freelance writer, choose keywords that match your niche and location, if that's important to you. For instance, you might choose such keywords as…
Technology freelance writer
Tech content writer
Tech writer in Seattle
Do your research to see what keywords best fit your particular niche and are low-competition. Low competition means that they will be easier to rank for in Google.
Once you've chosen your keywords, use them within your pages and blog posts. You want to sprinkle them throughout your content so that it sounds as natural as possible. Google will then go through your content and use those words as part of their algorithm to rank you on search engine result pages.
Here are all the places you need to include your keywords within a page or post…
Title / H1 heading
3-5 times in a 400-word article — within the body of your text, including within your first paragraph
H2 heading
Meta description
Alt text of your images
URL
11. Be Confident
You are basically selling yourself. To do this effectively, you need to use language that exudes confidence.
Of course, be honest about your abilities and experience. But don't let shyness or timidity allow you to undercut yourself and what you can do.
Write your portfolio messaging with confident language. Avoid words like "sometimes" or "probably." Instead, use words like "will," "definitely," and "proven" to build confidence in your abilities.
And you can back up your confidence with facts and figures, whenever possible. Share with your audience how much traffic your latest blog post got or the open rate of your latest email newsletter. These solid numbers can really drive home the point that you are a professional writer.
Of course, this is something that many of us freelance writers struggle to do. We love to write about other subjects and people – but when it comes to ourselves, we sometimes run out of words.
It can help to ask for input from friends, family, and colleagues. Sometimes they can give you insight into your strengths and abilities and even point out things that you missed about yourself.
12. Share It With the World
You've built a beautiful, professional portfolio. But what good is it doing sitting in a dark corner of the internet?
You need to share it and get some eyes on it. And there are a few different ways that you can do this. Let's talk about a few.
On Social Media
Social media is a wonderful tool that can help your portfolio get the love and attention it deserves. First, choose the social networks where you want to engage. Make this decision based on where your target audience spends the most time. The most common social media networks for freelance writers are Facebook, Twitter, LinkedIn, and Pinterest.
Once you're on that network, connect and engage with your audience. Share content that helps them — whether it's your own content from your portfolio or content you've found elsewhere.
With time, you might even pay to promote yourself on social media. You can use social media's targeting tools to get your content and name in front of the right eyes.
Link to it from other assets
You have many places where you can link to your portfolio.
First off, include a link in your email signature, so that everybody with whom you communicate will come in contact with your brand.
Next, include a link in your resume or CV. You never know who will download and view your resume, which you can use to refer them to your portfolio.
Also, link to your portfolio in all of your social media bios and profiles. Anyone who checks out your profile will then have direct access to your portfolio.
Guest Post
.Another great way to get your portfolio into the right hands is to guest post on other sites. Guest posting is a key way to collaborate with other writers and get your name and talents in front of a wider audience.
Research guest writing opportunities within your niche. You can google "your niche + guest post opportunities" to find such opportunities. Then follow the directions on each site to see what you need to do.
Many sites that offer guest posting opportunities will allow you to include a short bio and a link back to your portfolio at the end of the post. Write this bio carefully to highlight your niche and experience.
13. Measure Your Results
Your page is up and running — congratulations!
But your work is not over yet.
Now it's time to monitor the performance of your site. Are you getting the traffic you wanted? Are people visiting your pages? Do they stay there or leave after visiting a page? Answers to these questions will help you to see how everything is working and let you know what you need to change.
With some websites you can use a free tool like Google Analytics to see how your site is performing. With others, like JournoPortfolio, you have analytics built right into your site automatically.
Check in regularly — we recommend once a week — to see what pages people are visiting and how many visitors you have on your site. If it's not as many as you had hoped, you can investigate additional marketing strategies. If you notice some posts are not getting as much traffic as others, you could investigate to see what you can change to improve it — perhaps the title or introduction needs some work.
This is a natural process that every site goes through. Keep adapting your site based on your analytics and you will eventually find out what works for you and your audience.
Commonly Asked Questions About Creating an Online Writing Portfolio
Who is my audience?
Anyone who wants to know more about your work!
A potential employer might read it before they interview you. If you're applying for an internship or project at university, your supervisor will no doubt want to see what you've done. Other writers might also want to look at your work for inspiration.
And if you are looking to become a freelance writer, working directly with clients, then potential clients will want a place to see exactly what you offer.
The bottom line? Your portfolio is great publicity for your brand as a writer. Wherever you are in your career, you can adapt your portfolio to represent your very best. Some portfolio platforms, like Journo Portfolio, even offer a private, password-protection feature so that the only people who can view it are those whom you wish.
Do I need to stick to one type of writing?
Not at all. If you want to sell yourself as a generalist, then feel free — although we still recommend that you choose a writing niche.
But you can always adapt your portfolio to fit the needs of each phase of your career. For example, if you have an interview with a news reporting outlet, take the time ahead of time to tailor your portfolio to feature that kind of writing style.
You can also organize your portfolio into separate sections for each niche or writing style that you want. Some even create separate pages where they can organize their content and feature the best of each category.
This gives you the freedom and adaptability to go wherever your career takes you.
How do I make my portfolio more professional?
Good question.
Imagine the features that you find on a major company website. These are features that you can imitate in your own portfolio.
First, make it easy to read and navigate. Show your visitors clearly where everything is with a clean menu that features all of your pages. You should have pages for your work samples, bio or About Me page, and contact page, at the very least.
Then, organize all of your content in a way that makes sense. Divide your content into categories so that everyone in your audience can find the content that they want.
And finally, make it easier for them to learn more about you. Clearly feature links to your social media accounts and resume or CV.
What if I want my portfolio to be more fun than professional?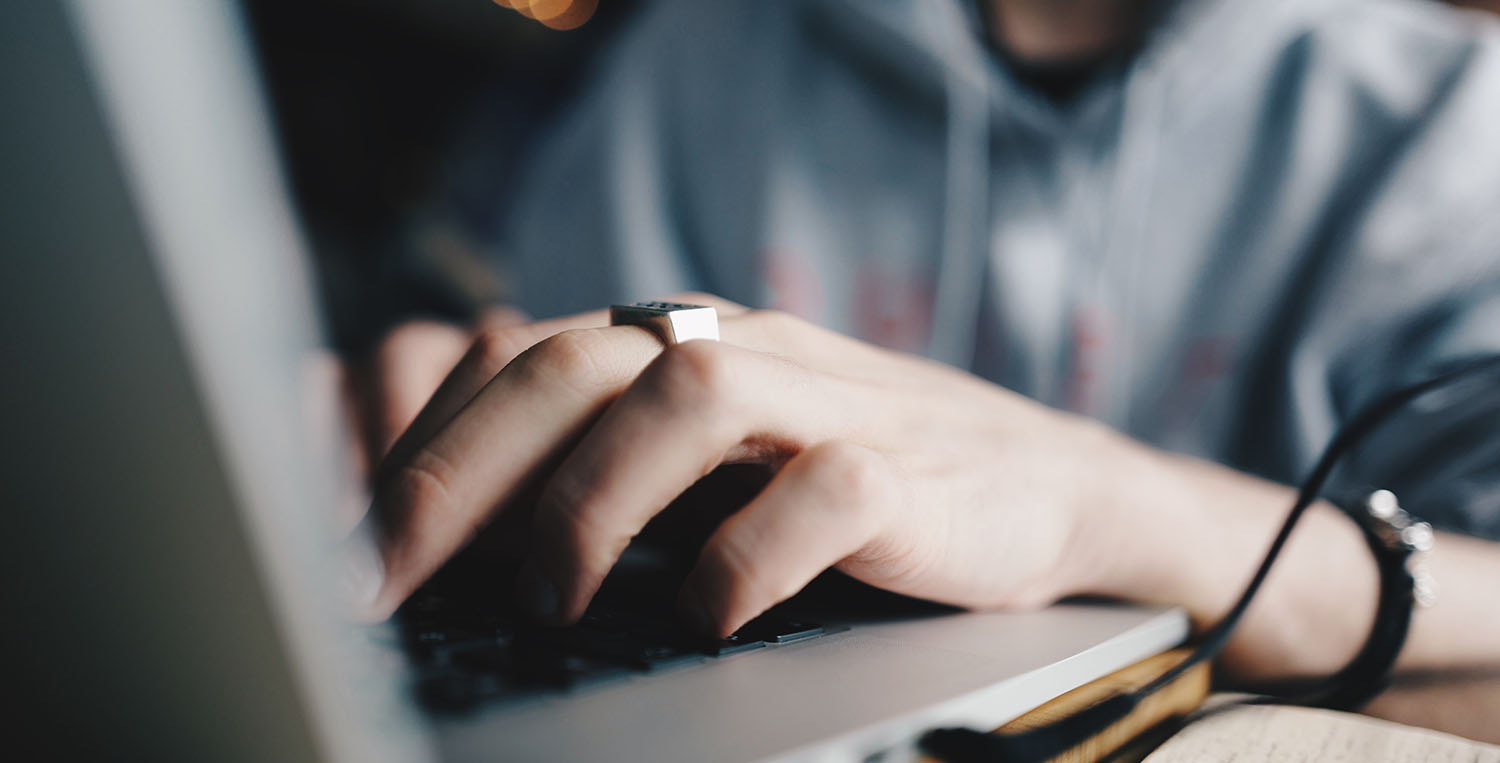 Read more
Information to Include for a Perfect Portfolio
Whether you're focusing on copywriting for businesses, writing features for magazines, or reporting for your local paper, you need a good writing portfolio to get hired for more work. Obviously, you need to include your [best articles](https://www.journoportfolio.com/blog/which-articles-should-i-put-in-my-portfolio/) but what else should you add to your portfolio? Let's look at what else you can put in your writing portfolio to catch the attention of potential clients, editors, and employers.
That's fine, too! Your portfolio should be a reflection of your individual goals and career.
Choose colors, images, and features that bring your portfolio to life.
The beauty of your portfolio is that it is yours. There are no right answers. Whether you want it to be professional, or more fun and lighthearted, it's completely up to you!
How do I choose what to add to my web portfolio?
Make sure that all your writing samples and blog posts are of the highest quality. You wouldn't want any piece of content to turn away visitors.
To make sure that all of your content is worthy to be on your portfolio, take the time to read it over and edit it.
You can even get someone you trust to critique your work to help you decide what your best writing is and narrow it down depending on what your brand goals are.
What is the difference between a website for portfolios and a normal website?
Different websites have different functions — that's why what we post on LinkedIn looks very different from what we post on Facebook.
Building a website from scratch can give you the freedom to design exactly what you want — if you know how. And that can be a big if, depending on your skills. Unless you know a lot about building and customizing websites, it can be hard to build a website that does exactly what you want.
Portfolio websites, on the other hand, streamline the design process so that you can focus on writing and making your portfolio shine.
Sites like Journo Portfolio provide templates and design options that deliver a professional portfolio that you can publish that same day, within minutes of signing up. From design to loading your writing samples, we have done all of the work on our end to make the process as easy as possible on yours.
This way, you can focus on your priority — writing stellar content that your audience will love reading.
How do I use Journo Portfolio to create an online writing portfolio?
It is super easy to create a free online writing portfolio with Journo Portfolio. Once you sign up, you will be asked to choose your theme and fonts. Then you can write a brief bio with your professional photo.
Once your basic design is in place, you can set about uploading your published articles by inputting the URL where they're found — Journo Portfolio will upload each article and image automatically. Then you can organize where you want your articles to appear.
With a paid plan, you will be able to create additional pages for your bio, contact page, and even a blog. You will also be able to use your own URL, instead of the branded Journo Portfolio URL that comes with the free plan.
And Journo Portfolio also gives you access to several design elements to enhance and individualize your portfolio to meet your needs.
Is it worth paying more for a professional site?
It totally depends on what you're looking for.
For example, most sites like Journo Portfolio will allow you to use a subdomain on their site for free — for example, yourname.journoportfolio.com. If that's all you need, then great!
But there's something to be said about paying a little extra to have your own domain — www.yourname.com. Having your own, dedicated domain elevates your site and makes it appear way more professional.
Whatever you decide, shop around a little and look for a portfolio website that will meet all your needs. Each site will have different features and abilities. Decide what is important to you and narrow it down based on those things.
How do I make my work stand out?
There will always be cool features to make your portfolio look its best.
But, in my humble opinion, these things are merely on the surface — cosmetic, superficial. It's not going to matter how beautiful your site is if your content doesn't back it up.
In that vein, take the time to write top-quality content that stands out on its own merits. Then, give your portfolio a clean, professional look that puts your work on center stage.
What font should I use?
As I've mentioned before, there are tons of fonts out there that you can choose.
But steer clear of distracting fonts that are hard to read. Your readers should be able to read your font with ease, no matter whether they're on desktop, smartphone, or tablet.
Fonts in the sans family are probably the most popular and easiest to read.
---
Now that we've gone over the basics of how to create a online writing portfolio that showcases your best work, let's now look at a few writing portfolio examples that are truly worthy of imitation.
4 Exceptional Writing Portfolio Examples For Inspiration
Elna Cain is a household name in the content writing industry and her website does not disappoint. Right out of the gate, she draws you in with a friendly photo and statement revealing how she helps her audience. She also clearly displays several outlets where her work has been published – a feature that builds confidence in her ability. Throughout her site she uses powerful visuals and a convincing writing style that make this a stand-out portfolio.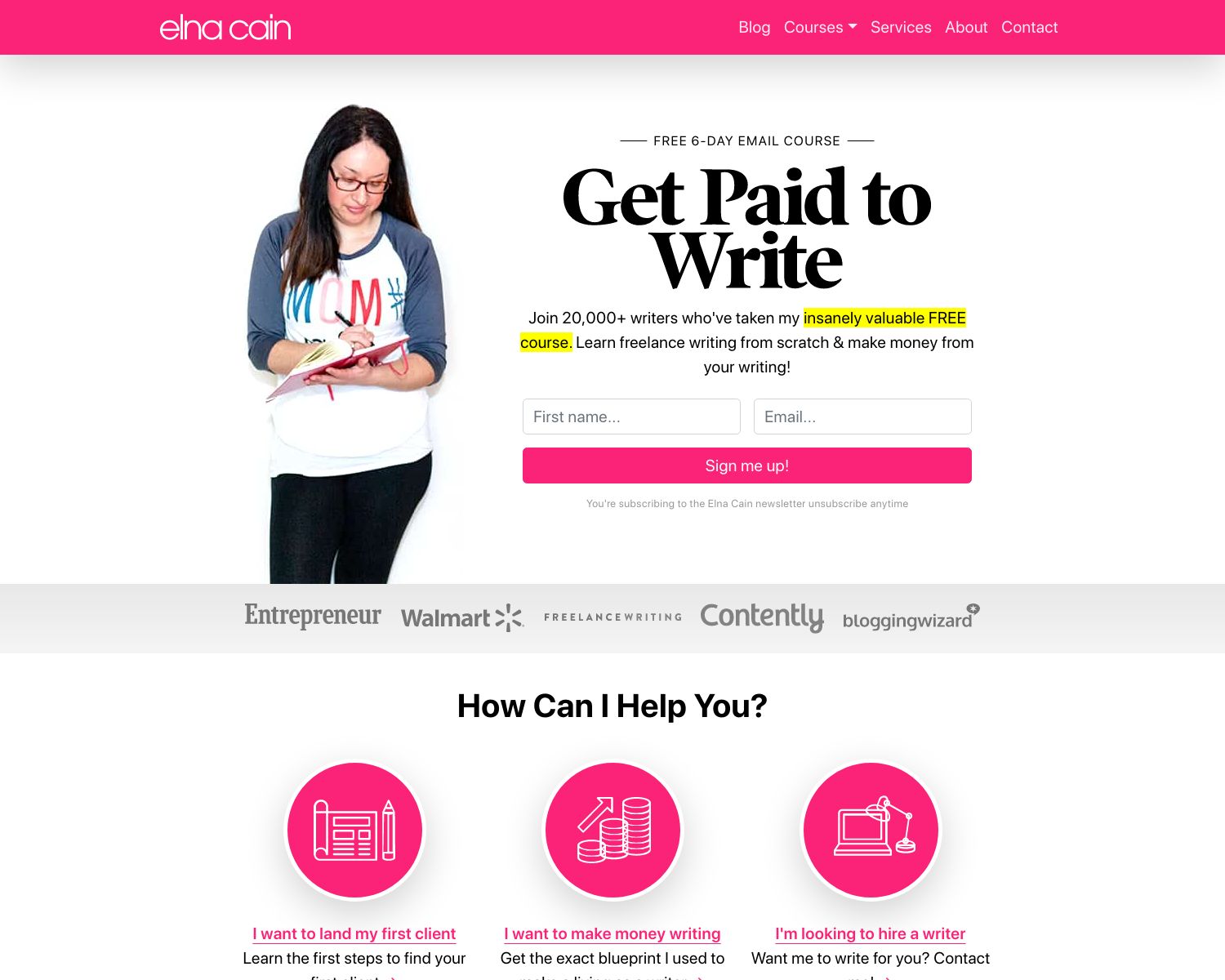 There is a lot to love about this copywriting portfolio. We love how many visual elements she has one her site – and her photos really showcase her personality and individual flare. Her content is fresh and upbeat, with a voice that makes readers feels right at ease and instills confidence in her abilities.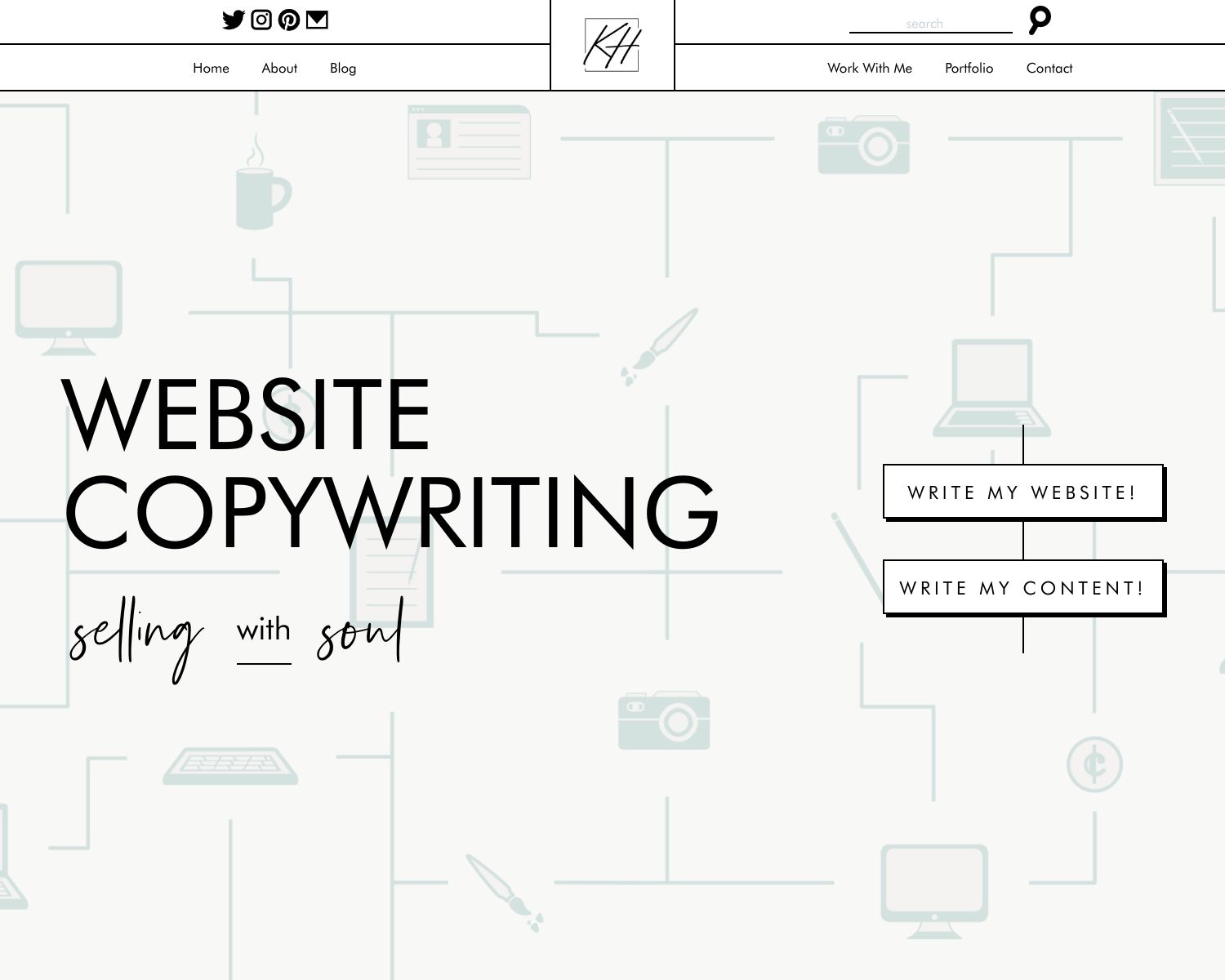 Right from the moment you enter Jummy's page, your eyes go right to his bright smile and friendly demeanor. His photos are crisp and professional, while still conveying his personality as a friendly and approachable person. His About Me section tells us not only his writing interests, but also his core values and ideals. And his samples are clearly organized into separate pages – social content, articles, and visuals/audio.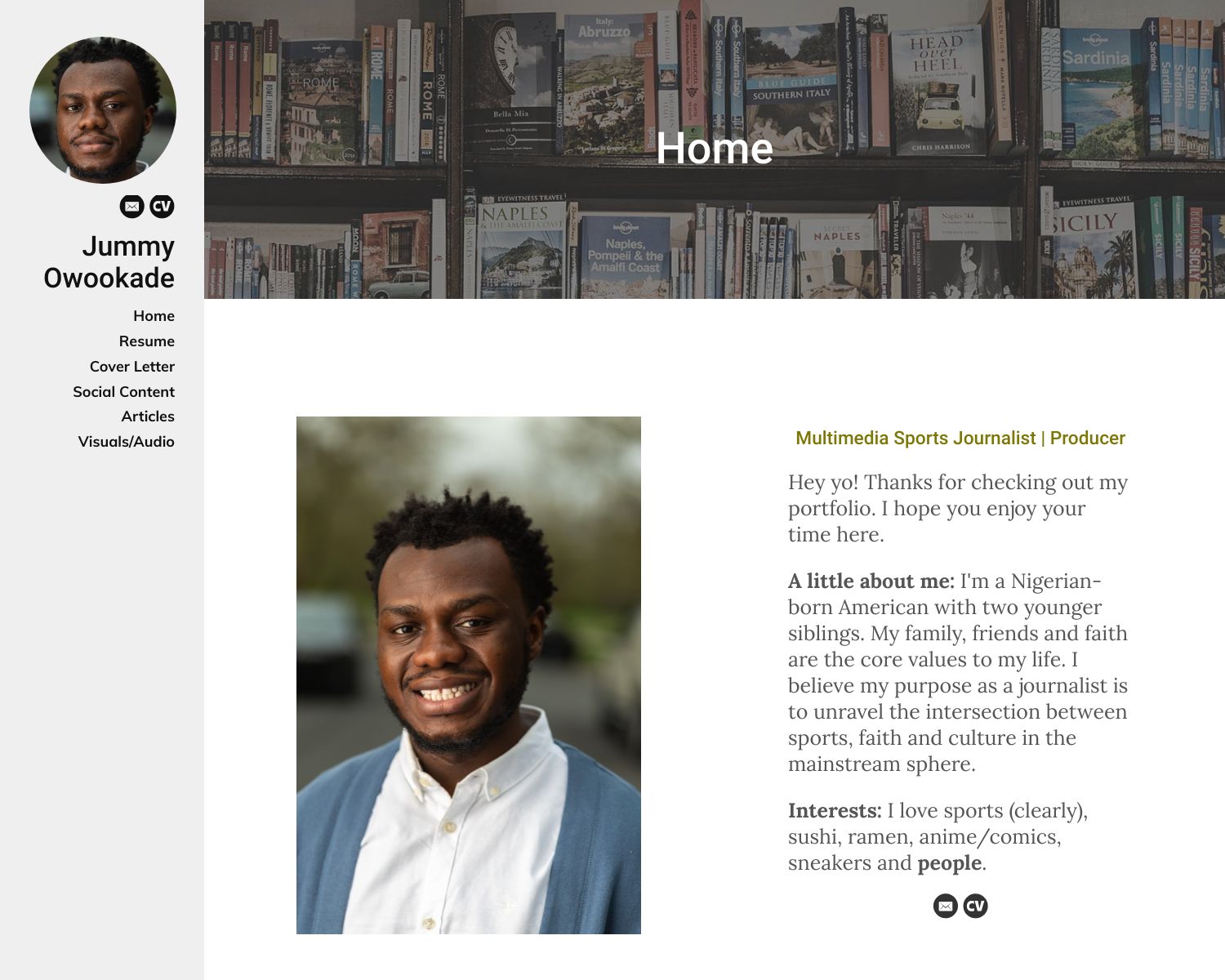 This portfolio is an exceptional example of putting your best foot forward, right from the get-go. It is especially impressive considering that she is still in university, yet can present herself and her work so professionally. Her profile picture is simple, yet friendly. She showcases her work right on her homepage and organizes it well. And her About and Contact pages allow visitors to take the next step, learn more, and even get in touch with her about work opportunities.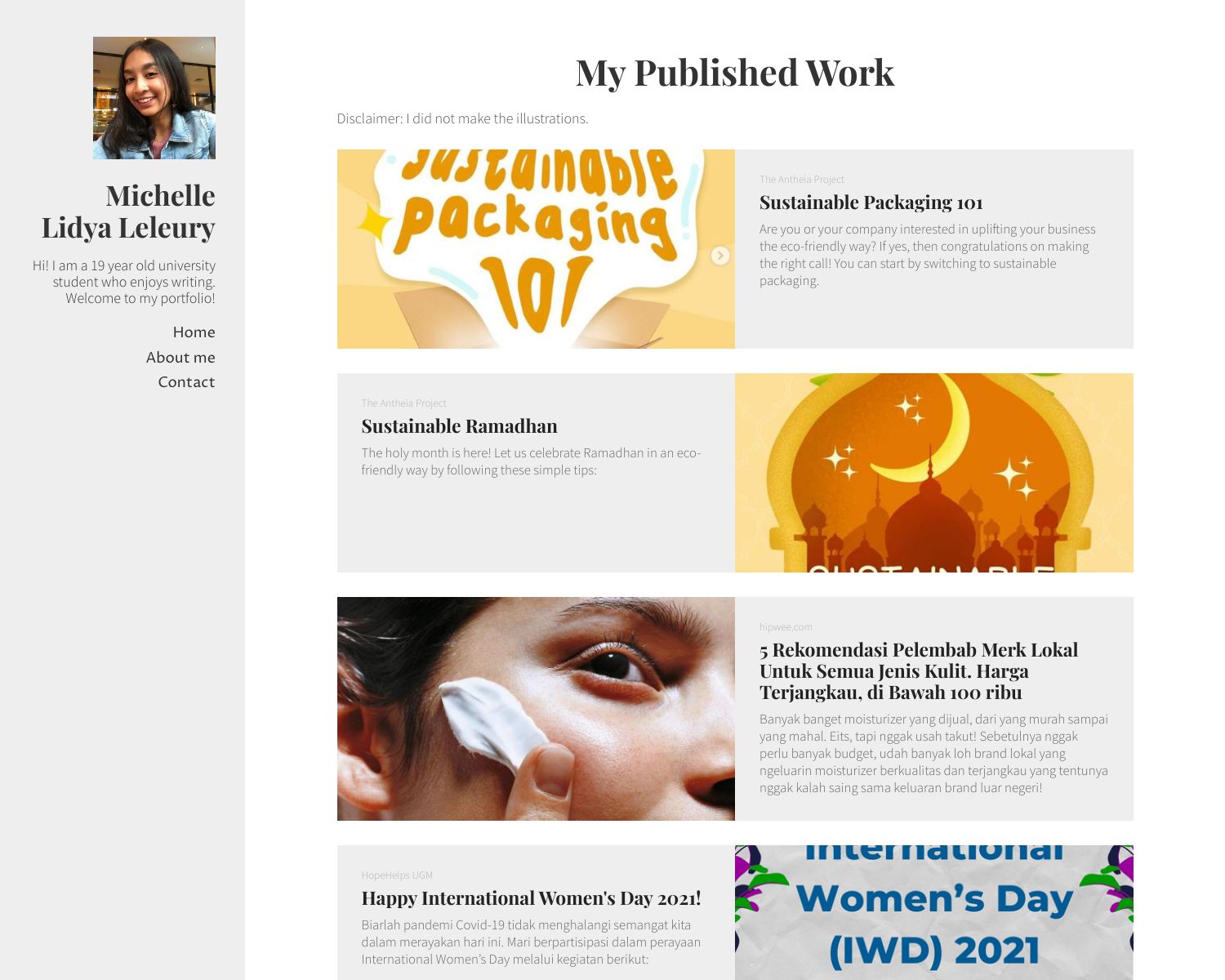 ---
Writing is your passion – it's why you're here. And you no doubt have stellar examples of your work. And those examples deserve a stunning portfolio in which to display them. We hope these online writing portfolio tips and examples help you to create the best possible portfolio for your writing.
Ready to start building? Create your portfolio with Journo Portfolio for free today: