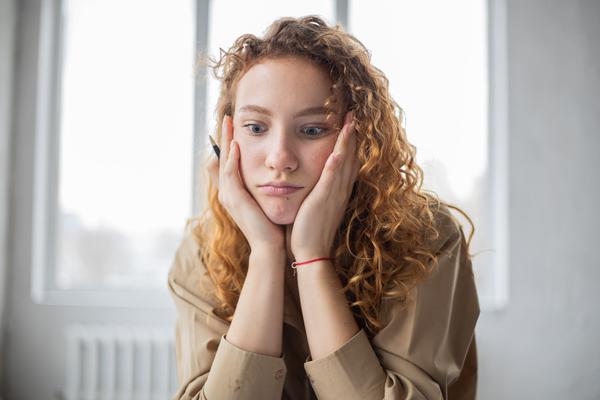 What to Include in your Copywriting Portfolio with Examples and Tips
Published on
Whether you're a copywriter looking for inspiration about how to build your portfolio, or you want some tips to improve an existing one, this guide has all the dos and don'ts you need to get ahead.
You need an online copywriting portfolio.
Yes, it's true. There are so many freelancers and agencies advertising their services online that you can't afford not to get online too. Plus, an online portfolio has loads of benefits. However, you may not know how to build a copywriting portfolio that helps you stand out from the crowd.
Start by considering who is going to be visiting your site. If you want potential clients to pick you after viewing your website for 10 minutes they need to know:
Do you have the style and quality of copywriting that I'm looking for?
Do you have enough experience doing this kind of copywriting?
Are you going to be easy to work with, organised, and professional?
So it's vital for your portfolio to display your best writing samples in a format that is visually appealing and easy to read, then direct them to your contact information so they can hire you right away!
Look at these great copywriting portfolio examples for inspiration, then at the end of the guide we will summarise with our top tips and FAQs.
Copywriting Portfolio Examples
Hiba Akmal
hibaakmal0.journoportfolio.com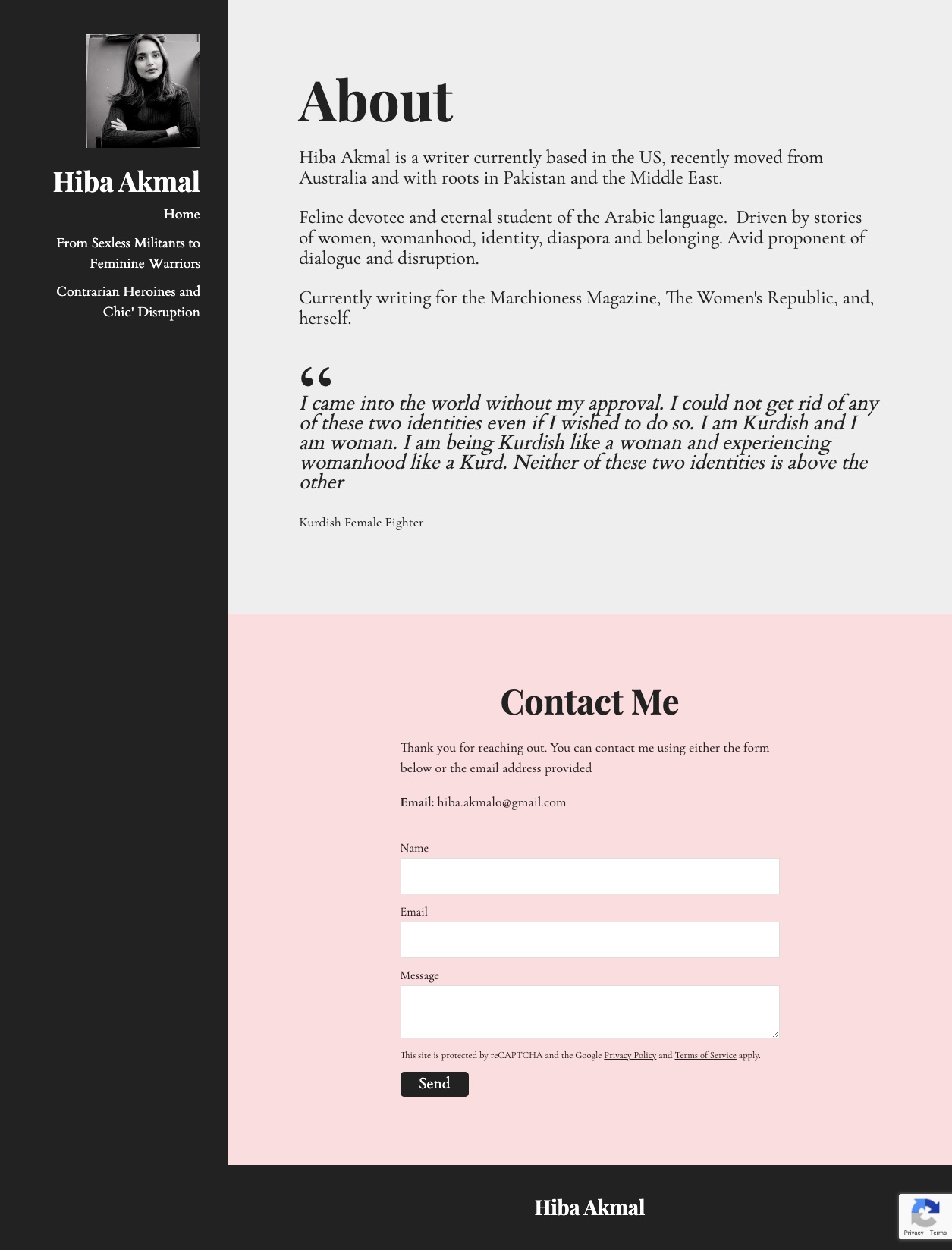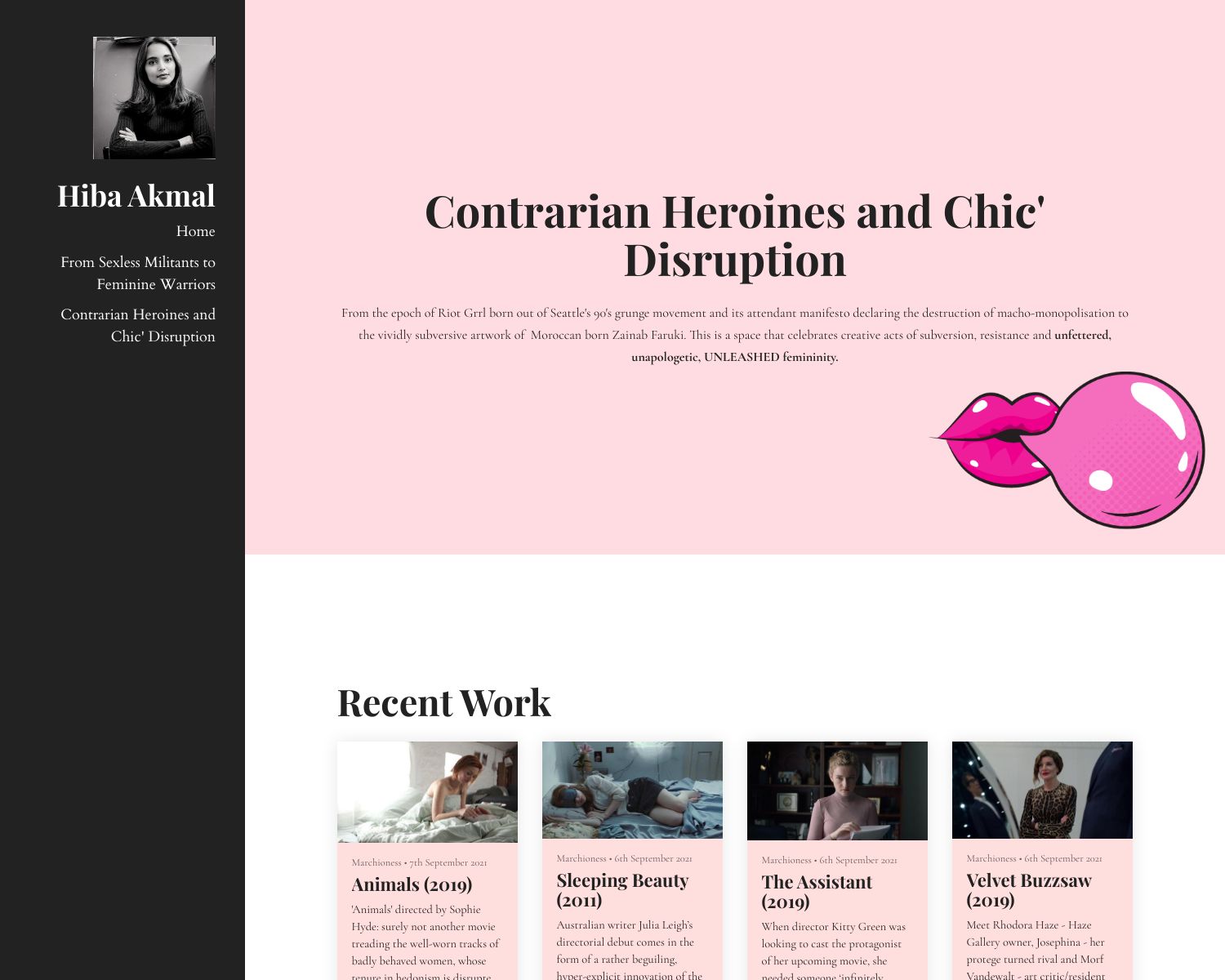 This portfolio remains visually cohesive across the pages with the clever use of a sidebar and minimal colour palette. Hiba has a good quality photograph on their site that makes it seem professional.
The contact form is on the homepage, so easy to find and if you didn't want to use the form their email address is displayed.
Ross Carver Carter
rosscarvercarter.journoportfolio.com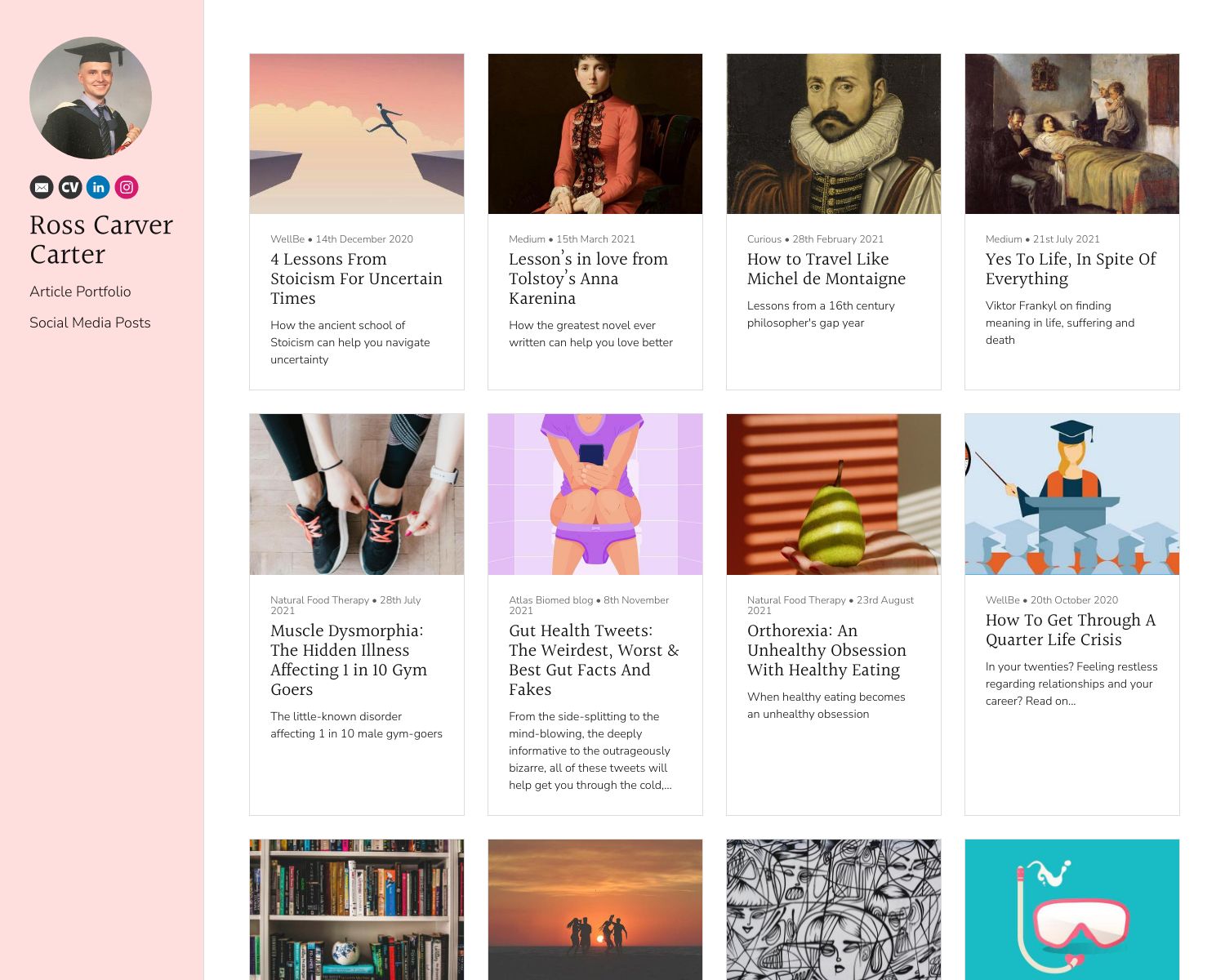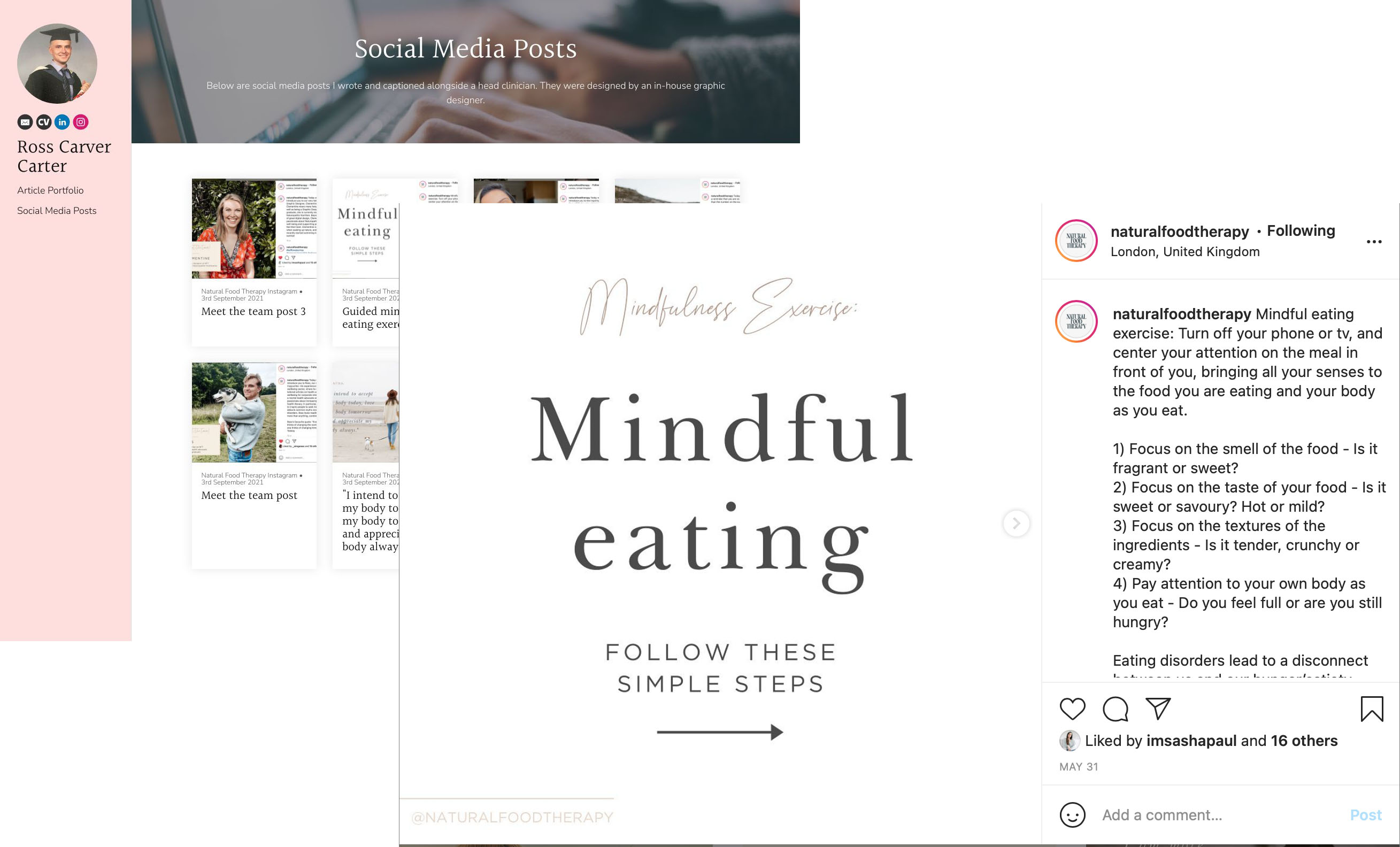 Ross uses this simple layout to make sure this site is easy to navigate but still shows the wide variety of topics they can write on. It would look great on mobile devices too! Plus, the social media examples include how much engagement each post gets, giving some way of quantifying the impact Ross's work had on the business.
Mechelle Little
mechellelittle.journoportfolio.com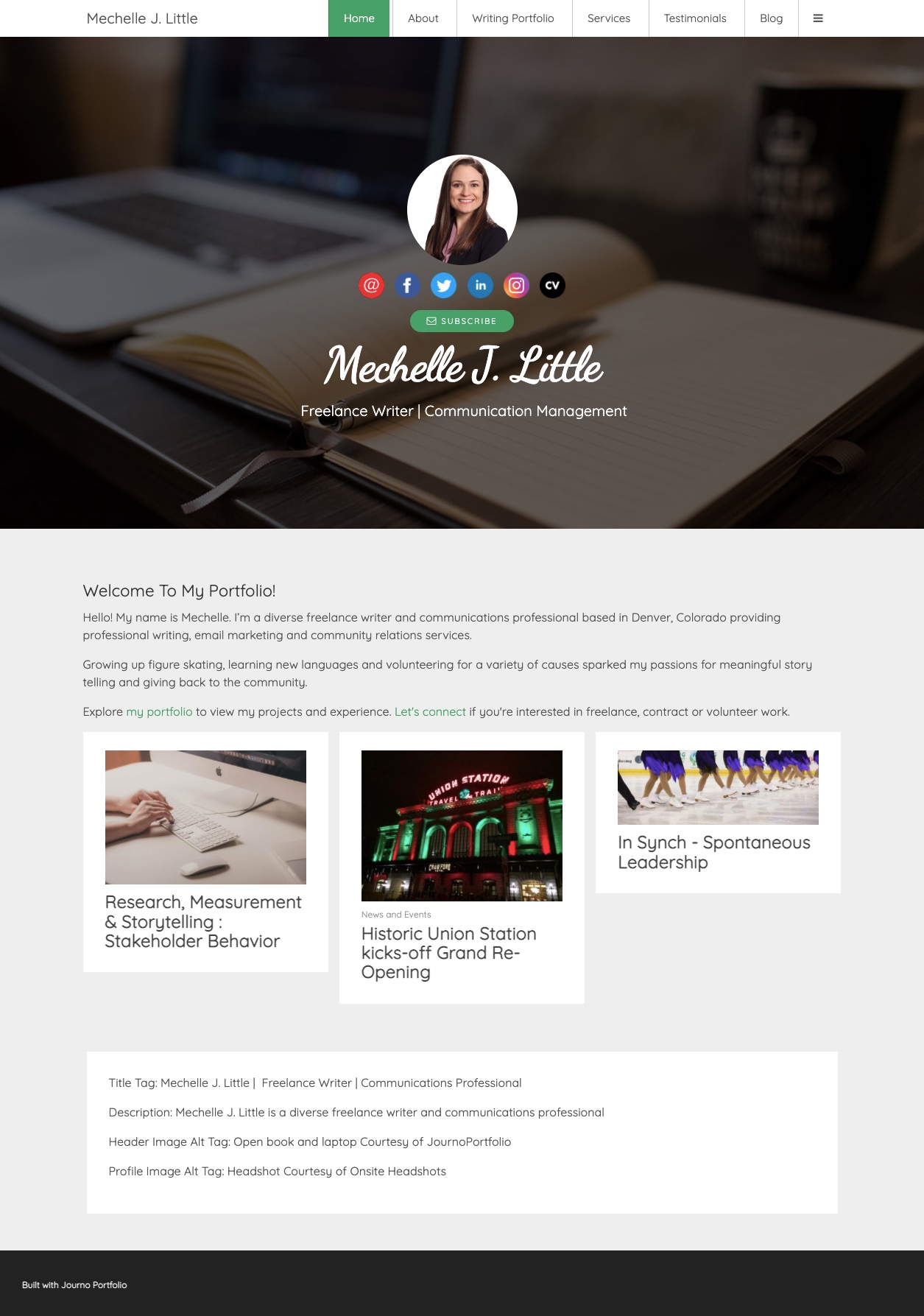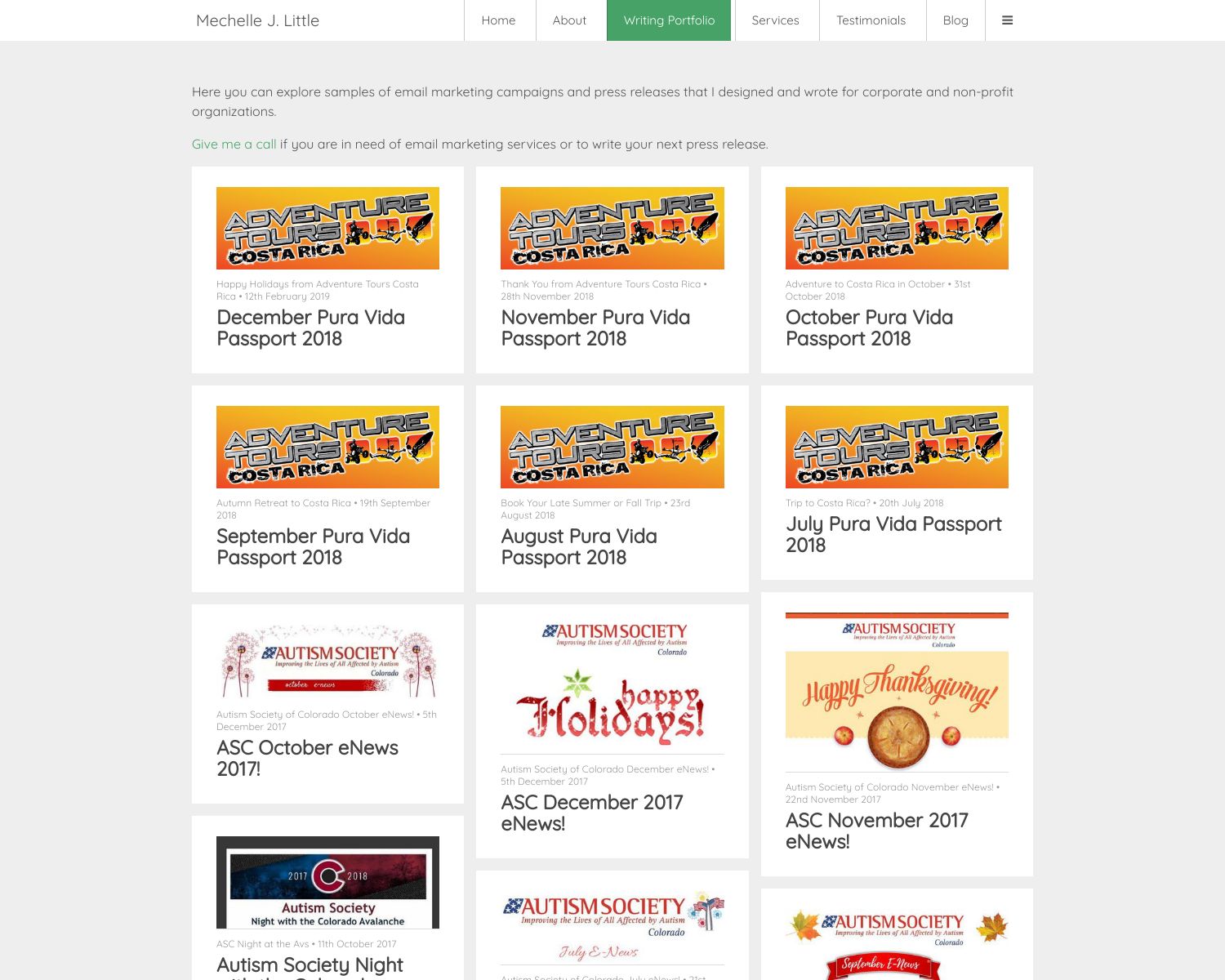 Mechelle's portfolio looks sleek and professional using a minimal colour palette and plenty of white space. The homepage features their three top projects, so a prospective client is bound to click on their best work first. Then if they want to know more, they can explore the rest of Mechelle's portfolio easily using the links to different pages at the top. Every page has a link to a contact form paired with a call to action like 'Let's connect' or 'Give me a call' which is a clever way to draw business.
We also love the use of an informative and fun About Me page. This allows Mechelle to expand on the short bio on the homepage and sell their skills and experience in more detail, without it being a boring list of facts and figures like you would find on a resume/CV.
Kindra Cooper
kindracooper.journoportfolio.com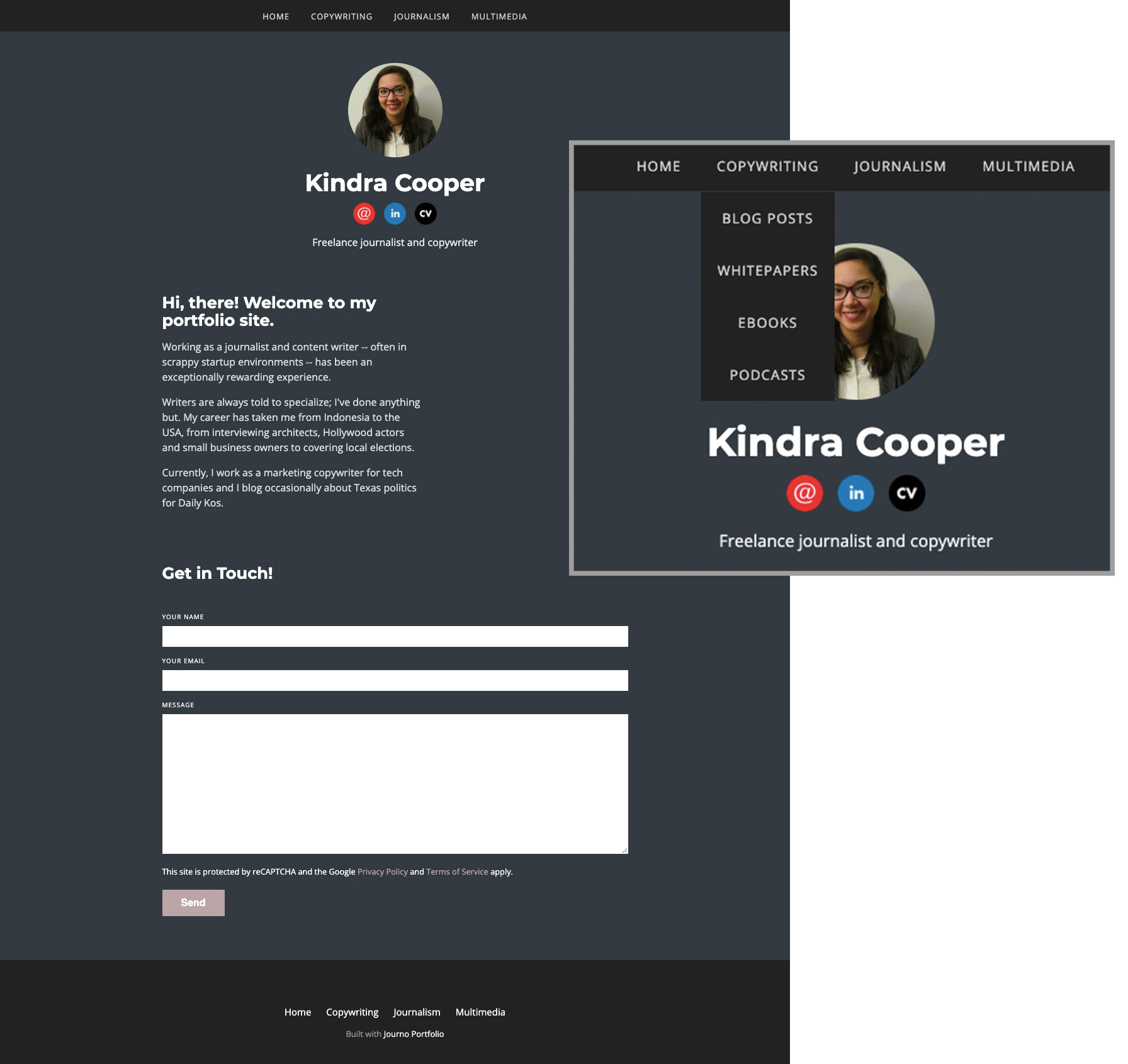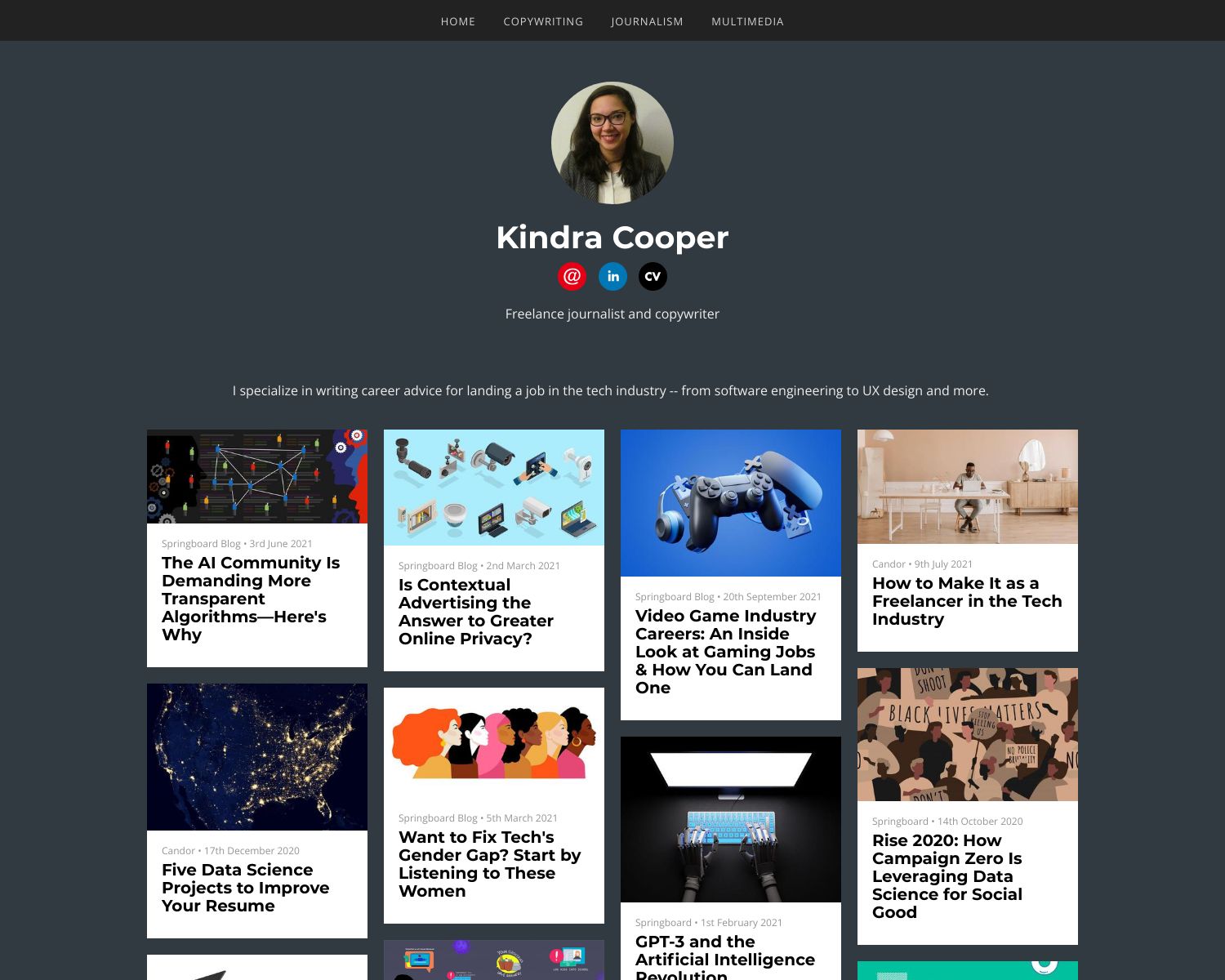 This site has a great homepage with a short bio and a call to action for us to 'Get in Touch' above the contact form. No need to go hunting for an email address! The portfolio is helpfully organised into categories on different pages so there isn't an overwhelming amount of content on one page and makes it easier to find relevant content. The colour palette is coherent and makes the writing stand out.
Samantha Wulff
samanthawulff11.journoportfolio.com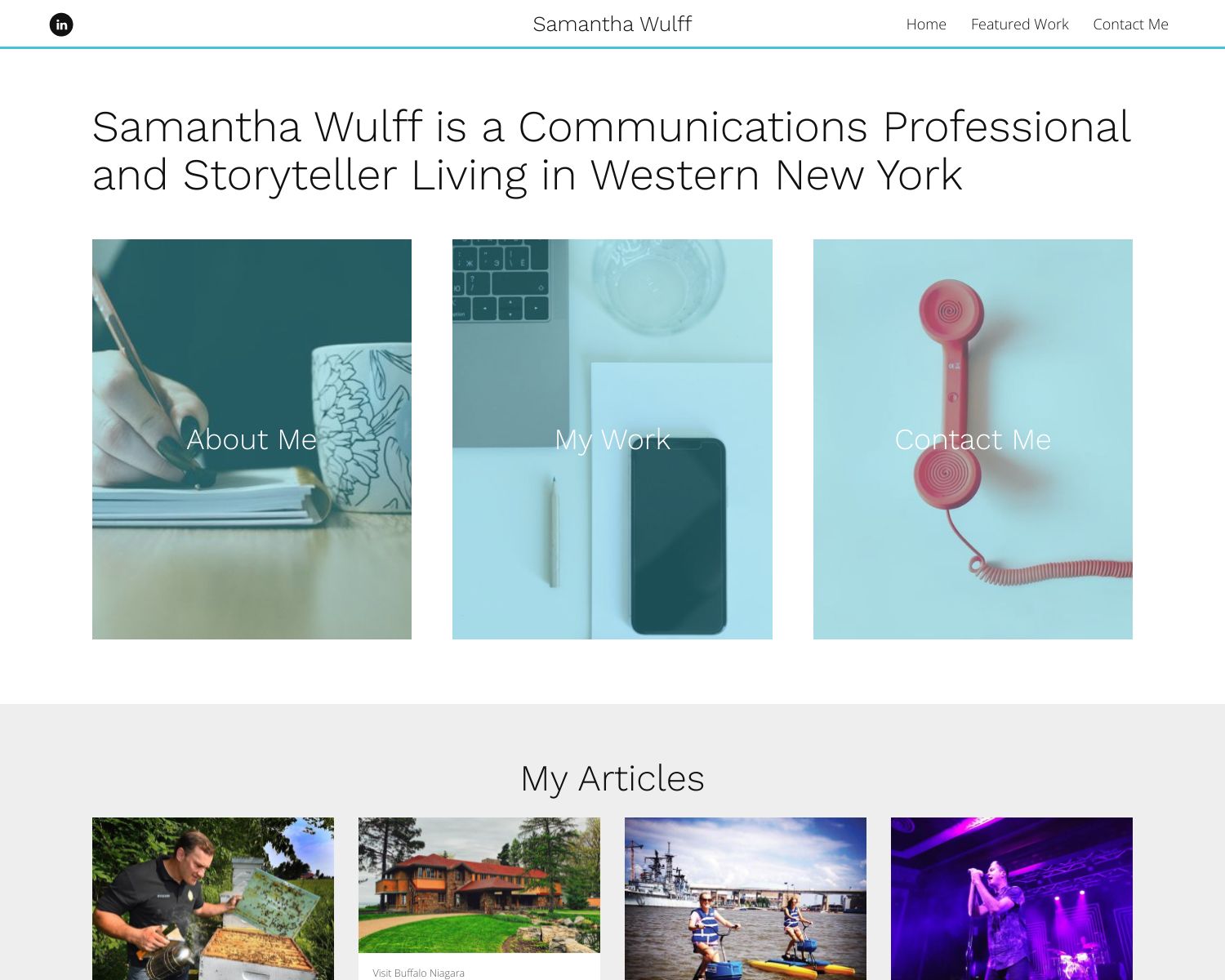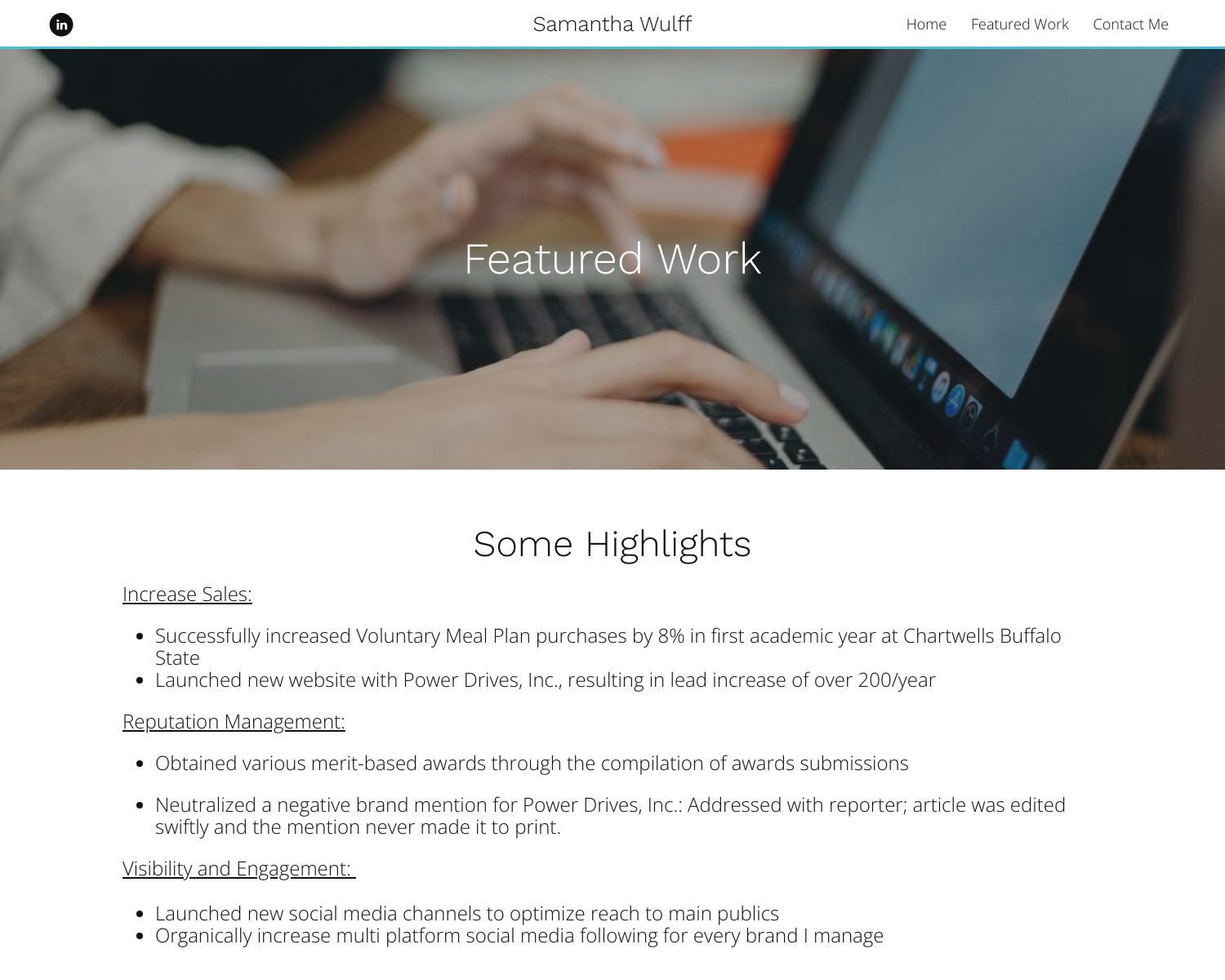 The three buttons at the top of the home page make this portfolio easy to navigate. We also love the highlights listed on the 'Featured Work' page which show what Samantha has achieved in the past and what kind of results a potential client might expect.
Robyn Petrik
robynpetrik.journoportfolio.com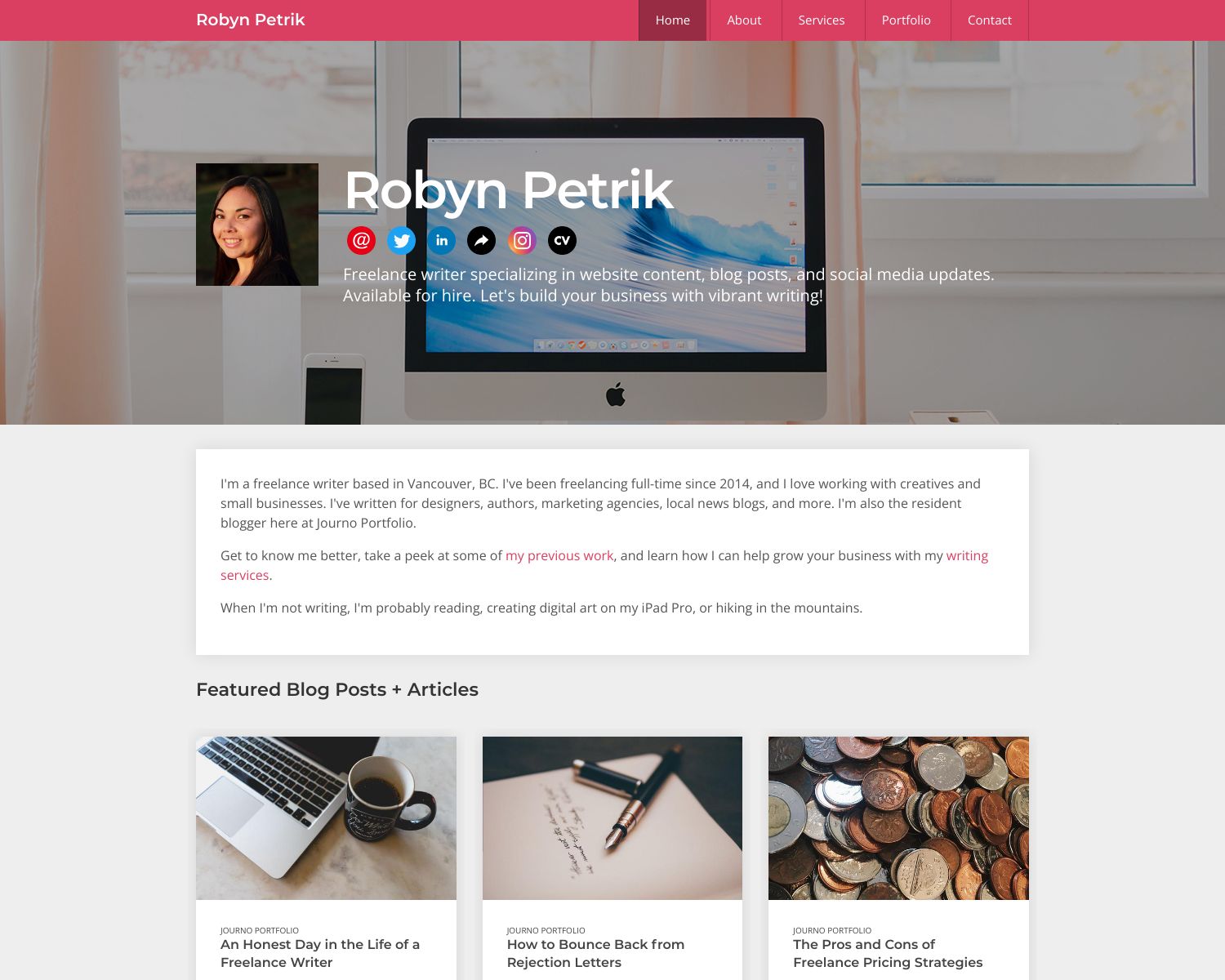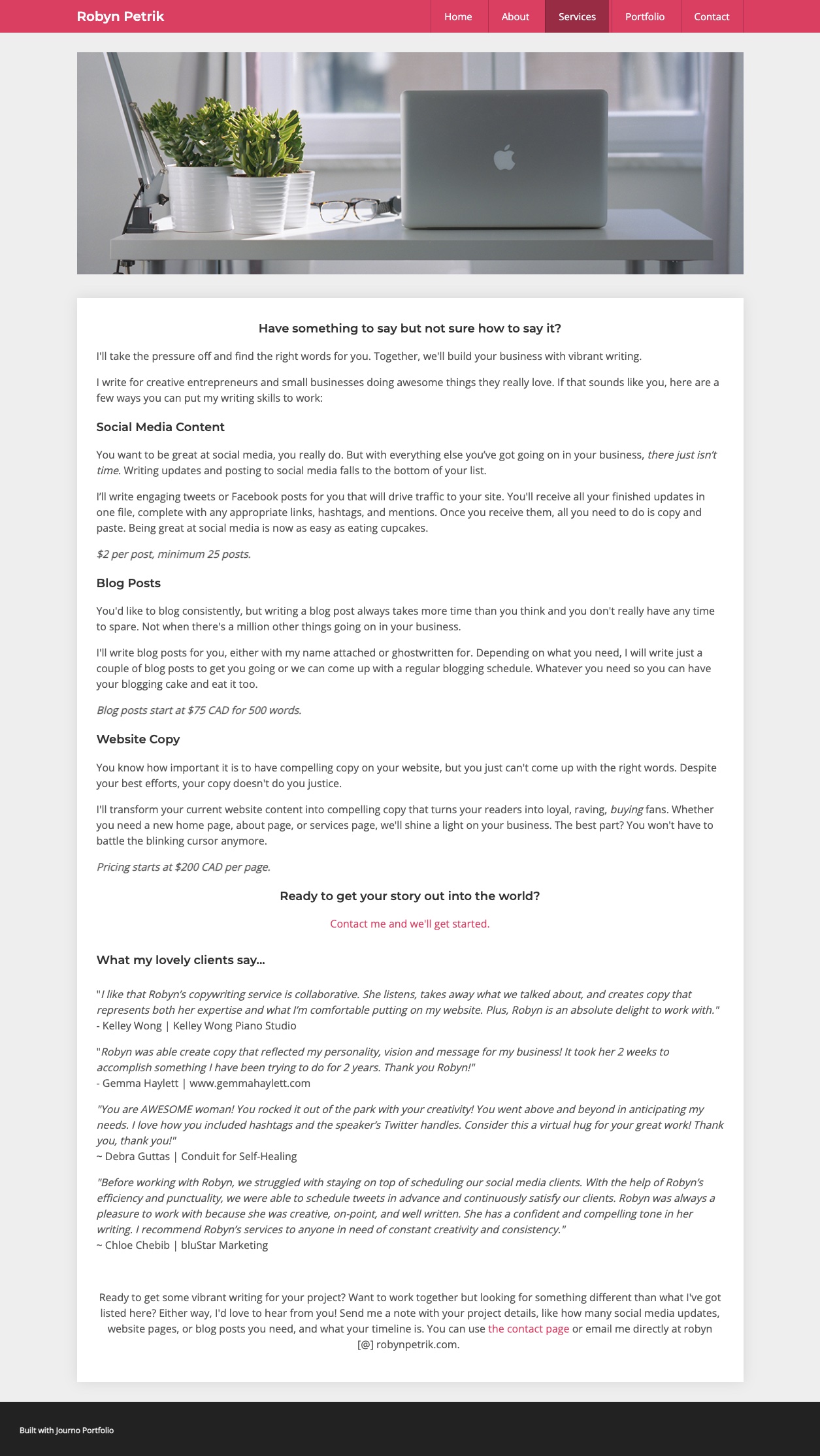 All of the pages on this site are great, but I want to draw your attention to the 'Services' page. By listing the prices and descriptions of the work they offer, potential clients aren't left guessing. And if clients had any questions about the quality of their work, Robyn has multiple testimonials to back up their claims. Plus, you get an idea of their personality simply through reading their website! 'Have something to say but not sure how to say it?' is the kind of catchy line that lets viewers know the tone and style of their writing.
Creating a Copywriting Portfolio
We firmly believe that the best way to get noticed is by highlighting your high-quality copywriting examples and letting them shine. That means your copywriting portfolio should be easy to navigate with suitable sections and you should only include what you want your future employer to read. Showcase the breadth and depth of your copywriting skills by choosing a variety of writing samples, for example long and short form, social media posts and print media, web copy and posters. And don't forget, the site itself is an excellent example of your copy so express your style, tell us about yourself, and make sure you double and triple check your spelling and grammar.
Consider choosing a handful of featured projects to turn into case studies. Write more about the brief you were given and what problems you had to overcome. Then show the finished outcome using photographs, thumbnails, or links. Including a case study means a visitor to your site can get an idea of what your process is and what it would be like to work with you.
Think about what else the viewer wants to know. Have you uploaded your resume? Are your contact details easy to find, or do you have a contact form? What copywriting services do you offer, and do you have any evidence that your copy makes a difference? Or any testimonials?
Our top dos and don'ts
Everyone is different so there are no rules about what should and what shouldn't be included in a copywriting portfolio. It all depends on what kind of clients you want to attract and what copywriting skills you have to offer. You might hear that you have to be active on LinkedIn to land work but maybe the business you want to work for would rather see your tweets. Maybe you were told that if you have no long form copywriting samples potential clients will be put off, but perhaps they are looking for some punchy ad copy? These are our top dos and don'ts after seeing all the portfolio websites created with Journo Portfolio, but you should tailor them to suit the kind of clients you are looking for.
Do
Get a professional-looking profile picture. It's the face of your business after all.
Include a short bio. Potential clients want to know you'll be good to work with and get a taste of your personality, but they don't need a long list of your favourite foods.
Keep your portfolio updated with your most recent work. Wouldn't you be put off if the work on a website was all several years old?
Include logos of any notable brands you've worked with. Even if it isn't your strongest work, it will give you credibility to have worked for a household name.
Get testimonials from previous clients. Everyone wants to read the reviews before they put any effort into trying something new, and your business is no different.
Emphasise your business, not just your previous work – why should they hire you, what do you specialise in, what services do you offer?
Don't
Link to social media accounts you wouldn't want potential clients to see. Or at least delete any images that might be unsuitable for business use.
Put every example of everything you've ever written on to a page. You need to pick the best stuff and then categorise it or it will be impossible to navigate.
Make your site a wall of text. Include pictures of the final product or mockups. If you can't find any visual way to present your copywriting samples include an excerpt on your portfolio and allow access to the full product via a link.
Rely on external websites. Back up your work with screenshots so that if a website is taken down or changed your best examples don't disappear.
Forget to include a contact form or email address. When we have been looking for people to write for Journo Portfolio you would be surprised how many missed out because there was no email address!
Expect every viewer to be on a laptop or desktop. Consider how your site will look on a mobile device if a busy hiring manager is trying to look through applicants on the go.
Have a look at this blog post for other ideas of what to include in your portfolio.
Frequently Asked Questions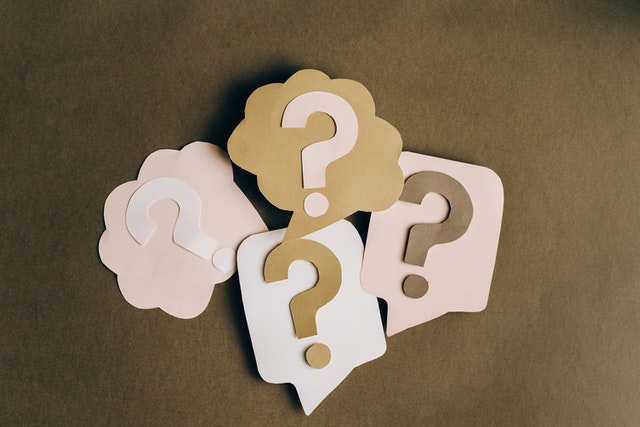 I'm not a very visual person, how should my copywriting portfolio look?
As a writer, sometimes it can be hard to come up with some ground-breaking eye-catching visual ideas to set your site apart. We would advise you to focus on what you do best and wow readers with your excellent copy while keeping the design of your site simple. By keeping the colours and shapes on your site to a minimum your copywriting portfolio will look more coherent and organised.
Look at some examples for inspiration. Some use a hero image at the top. Some use a sidebar. Some have an image with every project while others might prefer to use an icon or a logo. Play around with ideas and ask for feedback from your friends and colleagues.
I don't have much work to display, how do I create a copywriting portfolio with no experience?
Any work that you have done to a high standard can be included, what's important is the quality not the quantity. Think about the type of clients you are trying to attract and display the kind of projects that will interest them. You really want to write advertisement copy but no one has hired you yet? No problem – write a spec ad. That's when you find an existing advertising campaign or make up your own and put your spin on it. You can even turn it into a case study explaining what brief you set for yourself and how your designs improve the final product.
You're a writer, so just start writing! Write about what you love, write about what interests you, write for your friends and local groups. Check out this blog for more inspiration. Whenever you write something that you're proud of, put it on your portfolio. Even if it has never been published anywhere else your passion and skill will shine through.
I don't just write; I have other passions. Should they be included?
If you have something unique and high quality to offer to clients, of course you should showcase it. A copywriter with a good understanding of graphic design or video editing may be more desirable, depending on the business you are pitching to. If it is relevant and it complements your work absolutely include examples on your portfolio, set up a separate page on your site for it, or include it in your resume/CV.
Of course, sometimes people make a portfolio as a record of what work they have done and how far they have come. We think that's an awesome way to play around with ideas for how to present your portfolio and to show off to friends and family. However, it is always useful to feature your best work in a prominent place so prospective clients don't have to wade through tons of content trying to find what you want to show them. You can keep your developing passions on a password protected page or on a different account until they are good enough to feature on your portfolio.
I'm a student. Should I create a student copywriting portfolio?
We may be biased, but we think you absolutely should! After all, it wouldn't hurt. Investing a little time into getting a student portfolio started will pay dividends when you have deadlines coming up and you are trying to land your first job as a graduate. It may even get you hired for some part time work while you study. As with all things, practice makes perfect, and playing around with ideas and designs for your website while the stakes are low will help you to be more confident when adapting and polishing your site when you need it to send to potential clients. Even one page with your name, email address, and a description of what you do is going to make it easier to find you and hire you than no website at all, and on portfolio builders like Journo Portfolio you can do just that with our Free plan.
Final words
After reading this article and probably a few similar ones it can seem pretty daunting to start building the portfolio you need. But we encourage you to get started right away! It is quick and easy to set up an account and you can make a functioning portfolio even if you only have 5 minutes. Here are the first three things you should do:
Choose a profile picture that is suitable for your business
Add your email address or a contact form so potential clients can contact you
Write a short bio explaining what you do and why they should hire you
There, you have done it. Now you can spend time curating your top pieces that showcase the quality of your work and your range of skills so clients can't wait to get in touch.