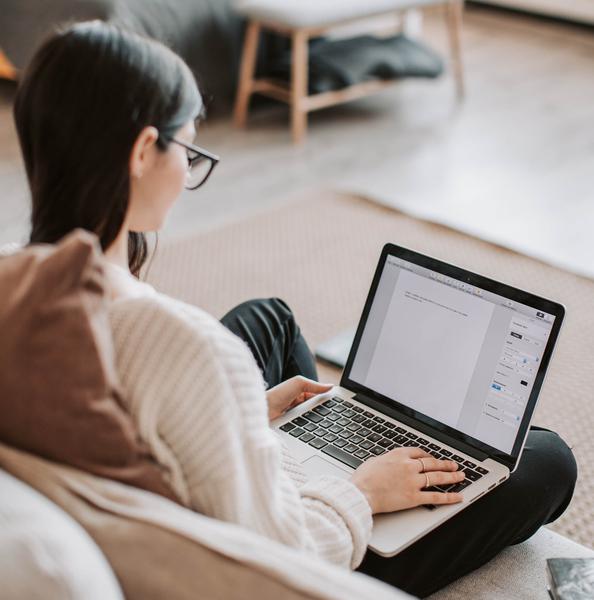 How to Build a Copywriting Portfolio (+Examples to Inspire)
Published on
Unsure how to build a copywriting portfolio that can impress clients and land your next gig? Here's what to include, plus examples to show you how.
If you've been wondering how to make a copywriting portfolio that you can use to impress clients and land freelance copywriter gigs, you've come to the right place.
Creating a copywriting portfolio can feel overwhelming if you've never done it before. However, an online copywriting portfolio is a requirement in today's digital world. In fact, it's a must if you want to get hired for your next gig.
Copywriting portfolios are your chance to show prospective employers and clients the quality and range of your work. The best copywriting portfolios are well-designed, easy to navigate, include high-quality copywriting samples, and highlight your talents and services.
In this article, we'll break down how to build a copywriting portfolio, show you everything you'll want to include in your copywriting portfolio, give you great copywriting portfolio examples to inspire you, and tell you how to choose the best copywriting portfolio website to host your own digital copywriter portfolio.
What does a copywriter portfolio look like?
The best copywriter portfolios keep the focus on your professional copywriting skills. A copywriter portfolio is at its most essential a portfolio of writing samples that best exemplify the types of copywriting you do and the services you offer.
Back in analog days, copywriter portfolios were physical folders that housed all the work samples of a freelance copywriter. Online portfolios have replaced those physical folders, but an online portfolio for copywriters serves the same purpose.
It's a digital portfolio of services, examples of your copywriting, and contact information so clients can hire you for your next copywriting gig.
When you choose a copywriting portfolio template, you'll want one that best displays your portfolio writing. Formats include everything from a one-page copywriting portfolio website that includes copywriting samples, a bio, and contact page to a multiple-page writing portfolio format that showcases different work on different pages.
Your design should be simple enough to keep the focus on your copywriting samples. Portfolios can have some unique flair and personal style as long as it maintains a professional vibe.
Here are a couple of copywriting portfolio examples that nail the professional aesthetic and demonstrate what you can do with different copywriter portfolio templates.
1. Josh Schultz
Visit Josh's Portfolio here: joshschultz.journoportfolio.com
Josh's copywriting portfolio is visually stunning and relies heavily on images to draw clients in. Hover over any image on his site and it shows a summary of content. Click and you can actually view the article or post.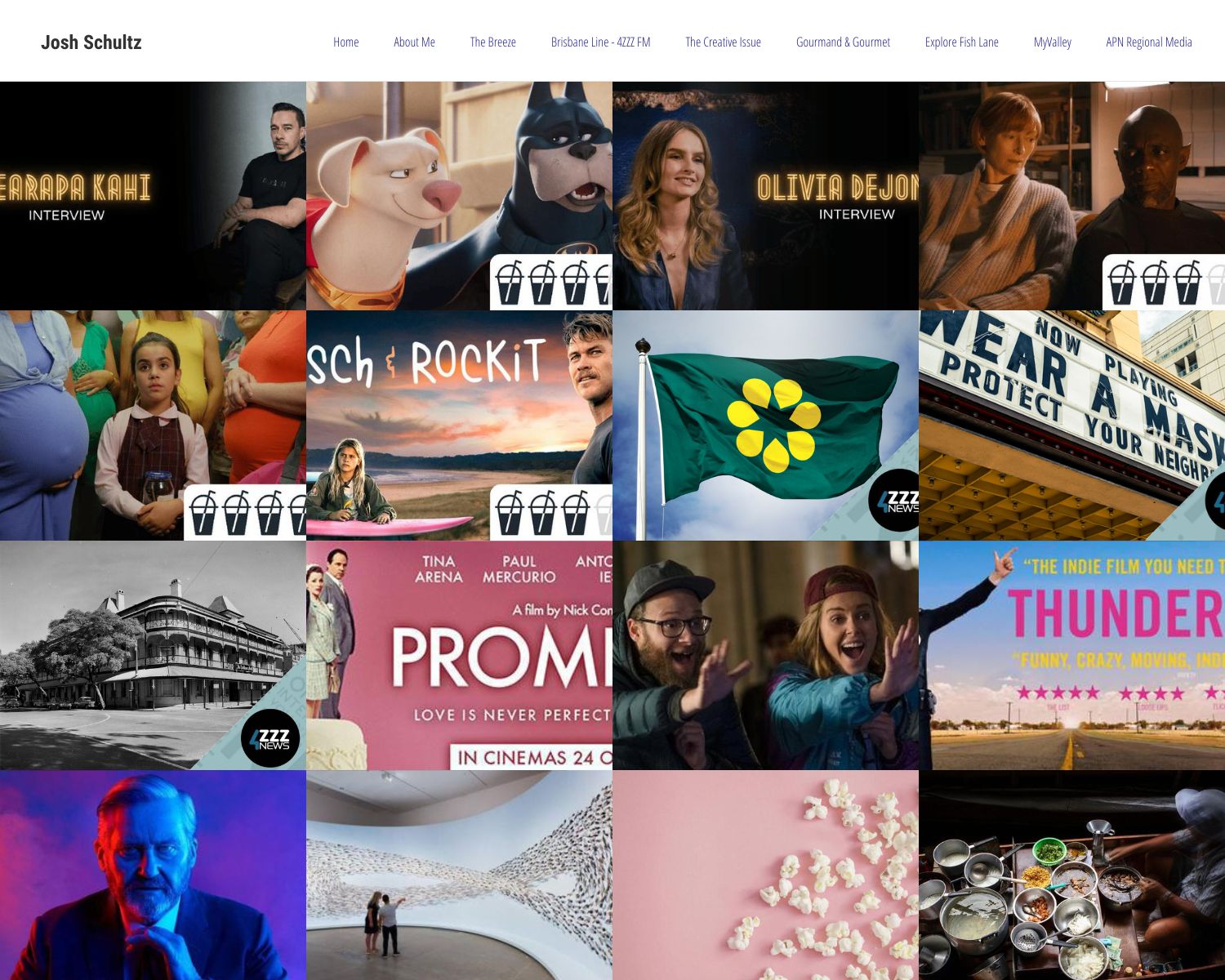 2. Lubna
Visit Lubna's Portfolio here: www.writewithlubna.com
Lubna's copywriter portfolio website takes a completely different approach. Her black-and-olive design uses testimonials and an extensive bio to showcase her skills as a health copywriter.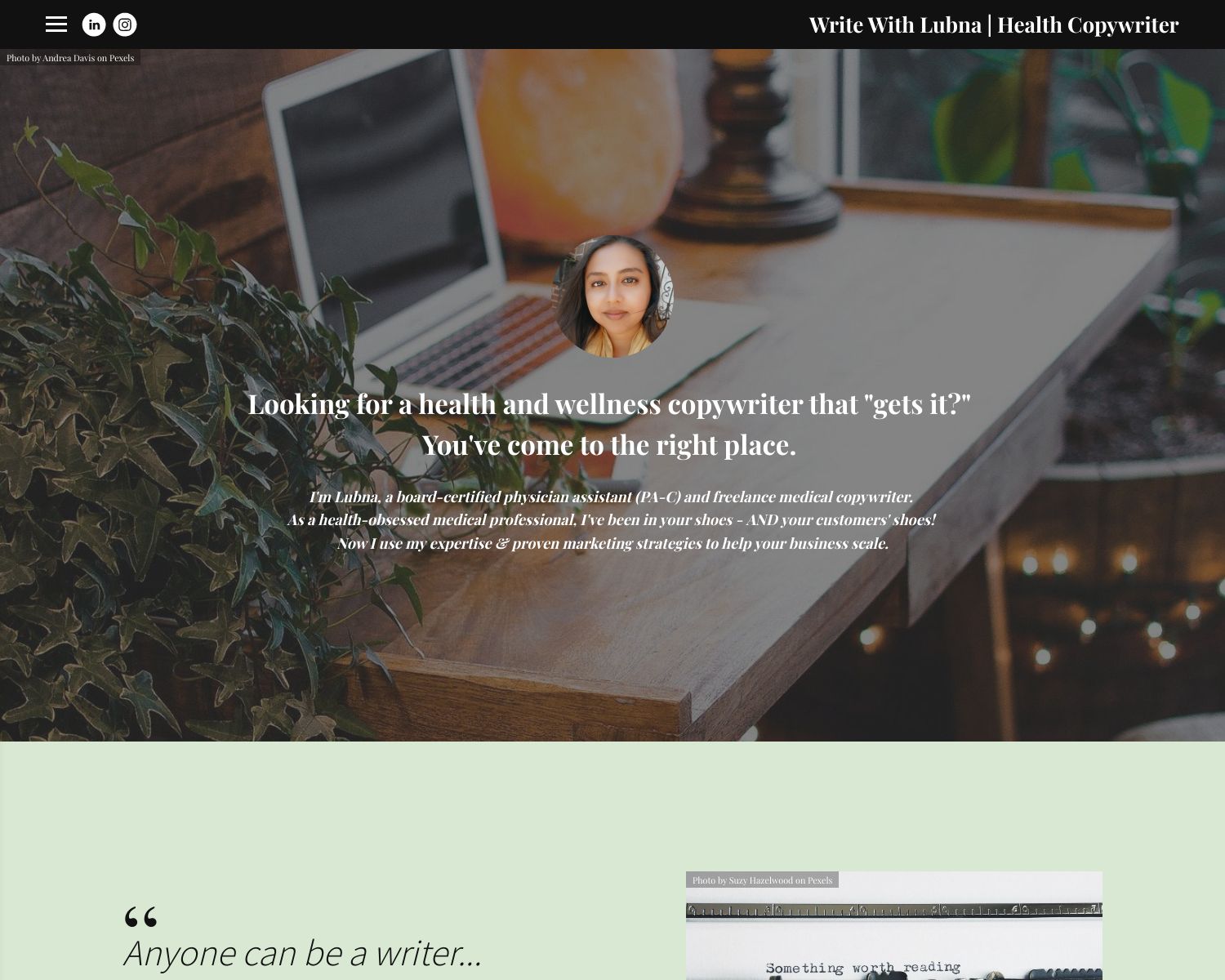 Both of these copywriter portfolio websites are very different and reflect the personalities of the copywriters. However, they are both impactful and effective at marketing their copywriting skills. 
These copywriter portfolio samples prove that your copywriter website portfolio can be unique to you and still appeal to a wide range of potential clients.
Next, we'll show you how to build a copywriting portfolio of your own, plus copywriter portfolio website examples that can help inspire you along the way.
How to create a copywriting portfolio
The best copywriter portfolios display a copywriter's unique talent and personality. However, the most effective examples of copywriting portfolios include the following elements:
About Me
Your About Me can be a full page or just a section. It should include a professional bio and profile pic, along with any educational or work experience that you think is relevant. It's fine to create a friendly tone, but keep in mind that your target audience is the clients that want to hire you as a freelance copywriter.
Portfolios that include an About Me section allow potential clients to get to know you and put a face to the name, which can make them more comfortable hiring you.
How to write portfolio About Me examples:
Here are a few sample copywriting portfolios that have About Me pages that we love:
1. Patrik Longauer
Visit Patrik's Portfolio here: patriklongauer.journoportfolio.com
Patrick's About Me page is friendly and casual, while still emphasizing how he can help Saas businesses succeed. This is an example of copywriting portfolios with an About Me that has accessible yet effective messaging.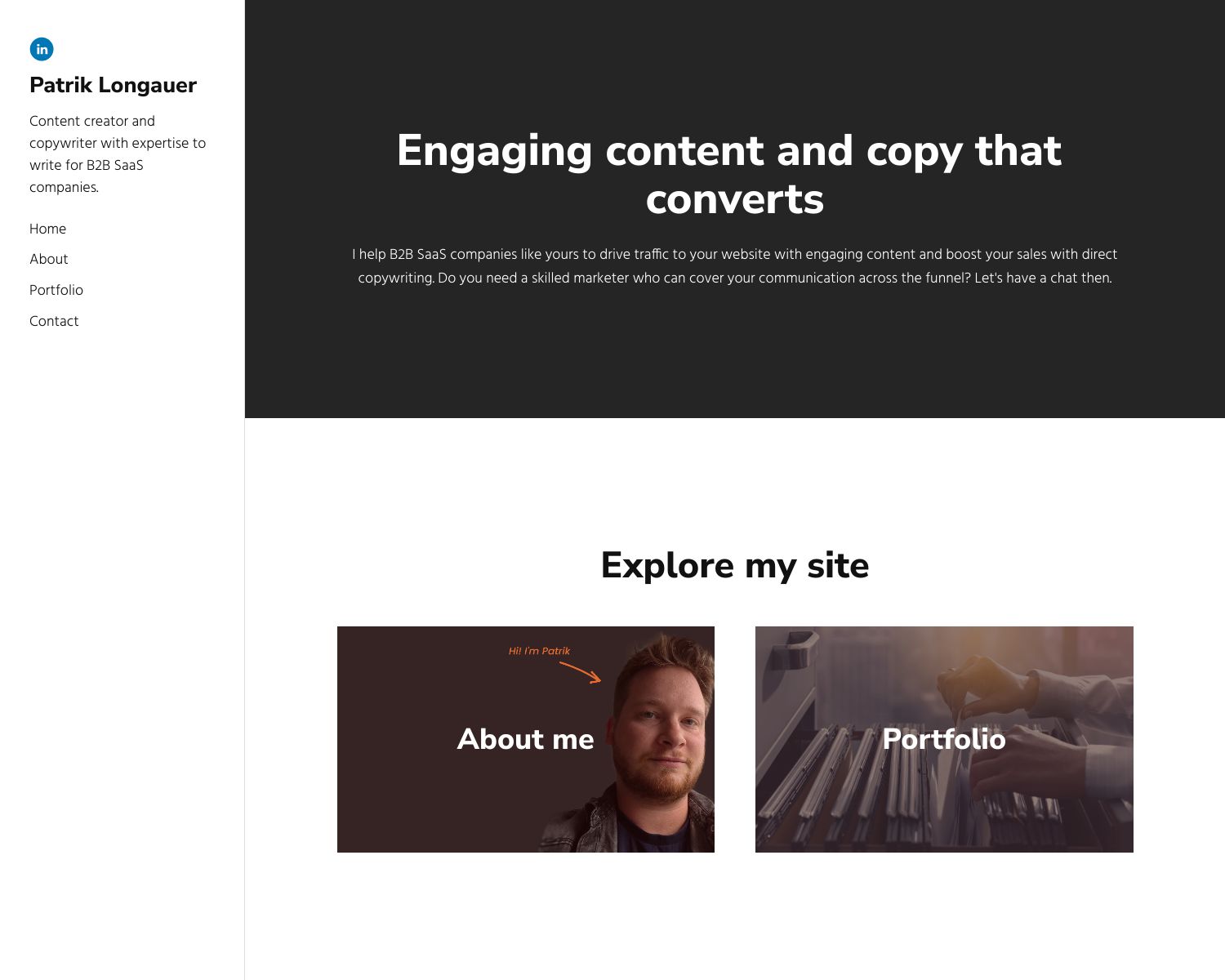 2. Lauren Reece
Visit Lauren's Portfolio here: laurenreececreative.journoportfolio.com
Lauren's About Me page focuses more on her professional experience. This professional portfolio example also features a vivid profile picture, for an impressive design.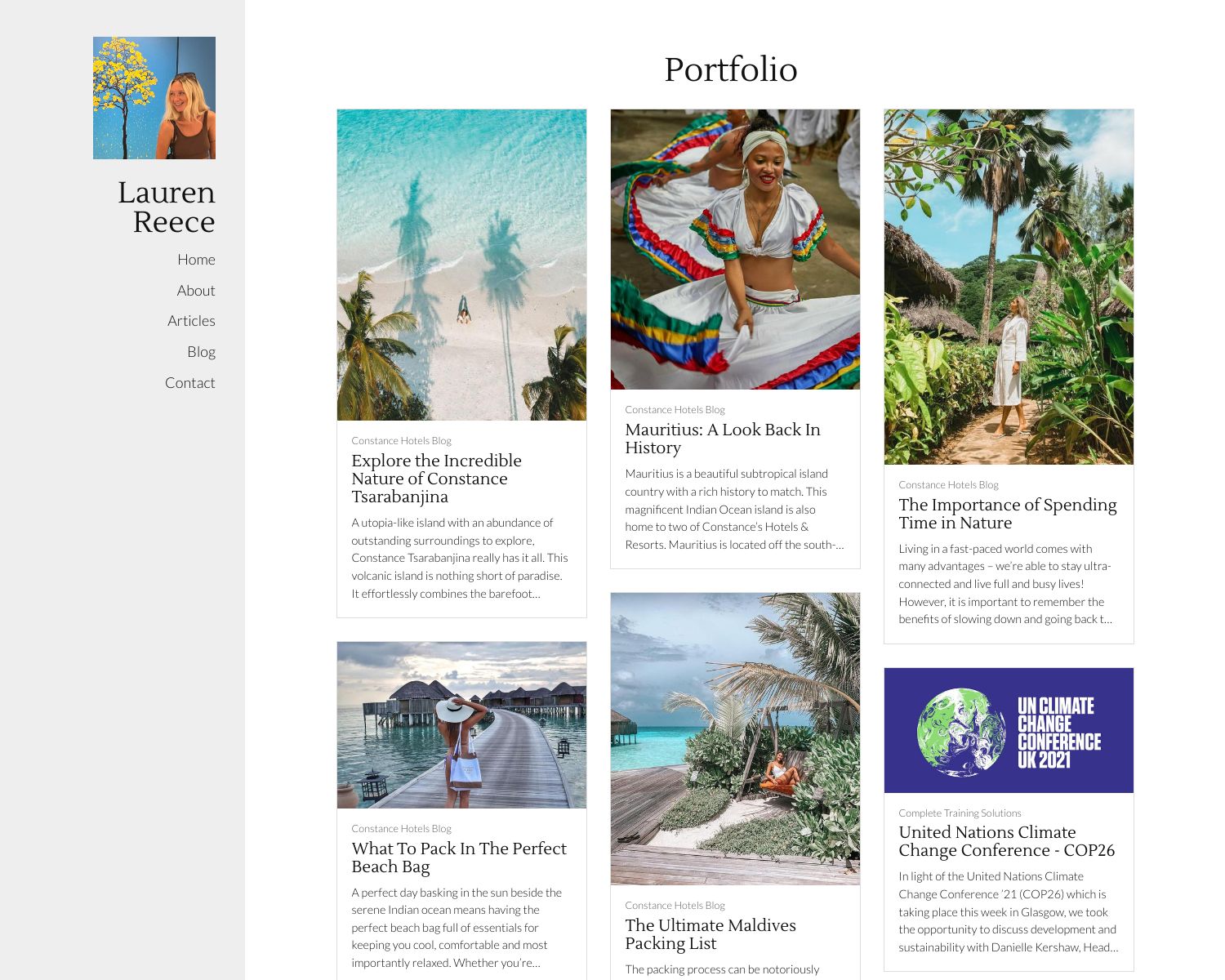 3. Poppy Atkinson Gibson
Visit Poppy's Portfolio here: poppygibson577.journoportfolio.com
Poppy's About Me highlights her educational experience. This copywriter portfolio example is a great way to write your About Me if you are still a student on your way to becoming a professional copywriter. This one of the best writing portfolio examples for students looking to start a portfolio while still in school.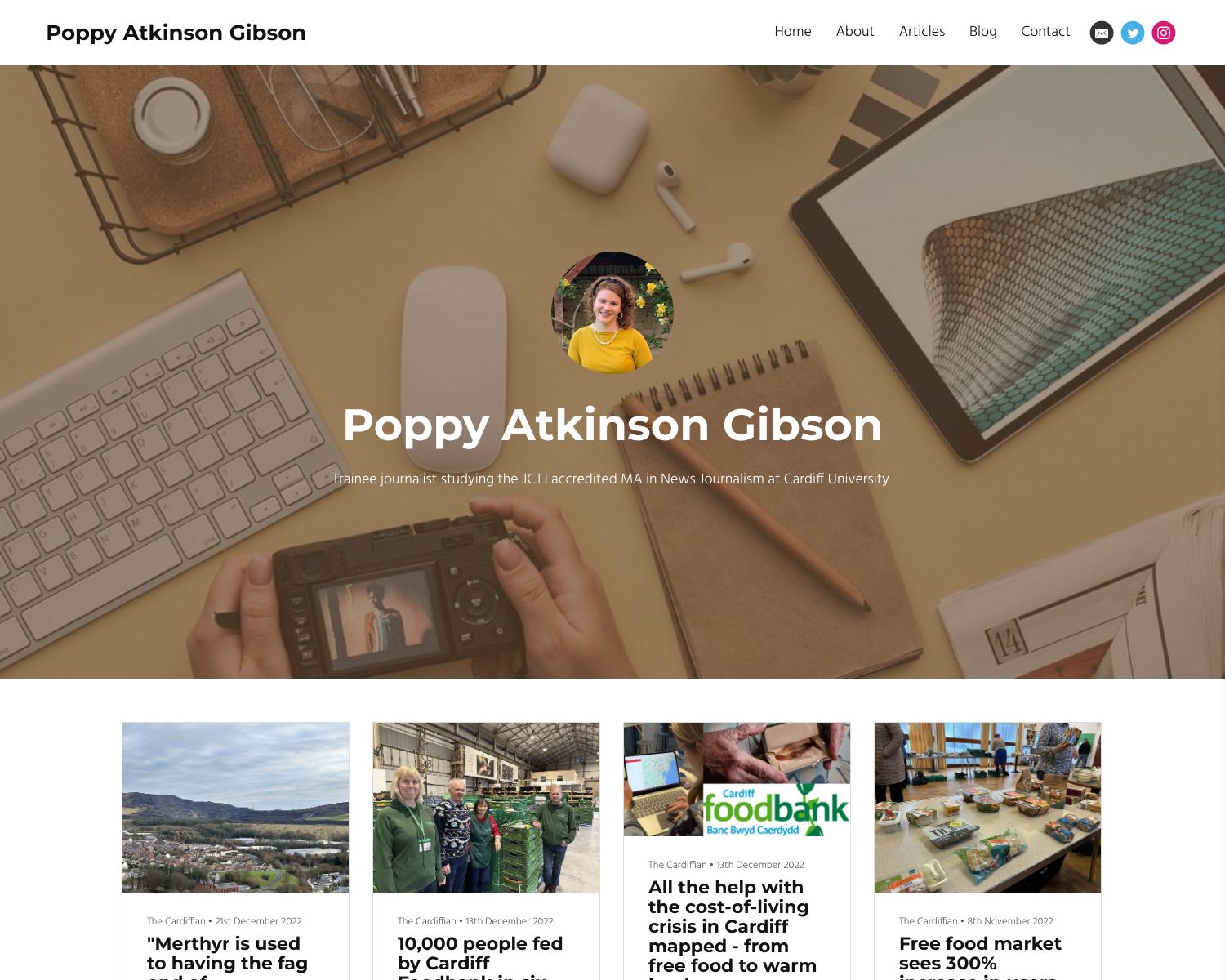 Copywriting Samples
Copywriting samples are the most important part of any copywriting portfolio. In fact, if you want to build a copywriting portfolio that's sure to get you hired, you'll need high-quality writing samples to take centerstage on your copywriting portfolio website.
But what constitutes a great writing sample? Portfolios need to include a range of types of copywriting (web copy, blog posts, white papers, etc), plus show your expertise in any area of specialization.
The best copywriter websites make it easy to find writing samples by dividing them into type of copy and industry. This can be done on your copywriting portfolio Homepage, or by dividing content into separate pages.
Here's some excellent copywriter portfolio examples that display their writing samples in unique and impactful ways:
1. Samantha Colaianni
Visit Samantha's Portfolio here: sammcolaianni.journoportfolio.com
Samantha uses a grid format to display her large number of content writing samples directly on her Home page. Potential clients immediately see her extensive experience, but the great writing portfolio template with large header and organized grid keeps it from being overwhelming.
2. Zach Festini
Visit Zach's Portfolio here: zacharyjfestini.journoportfolio.com
Zach separates his writing samples onto a separate page, accessible via the nav menu and a large button on his Home page. His clean design and straightforward grid layout make it easy to view his copywriting and includes the work he's done in marketing. Portfolio sample projects and mock-ups fill out his copywriting samples.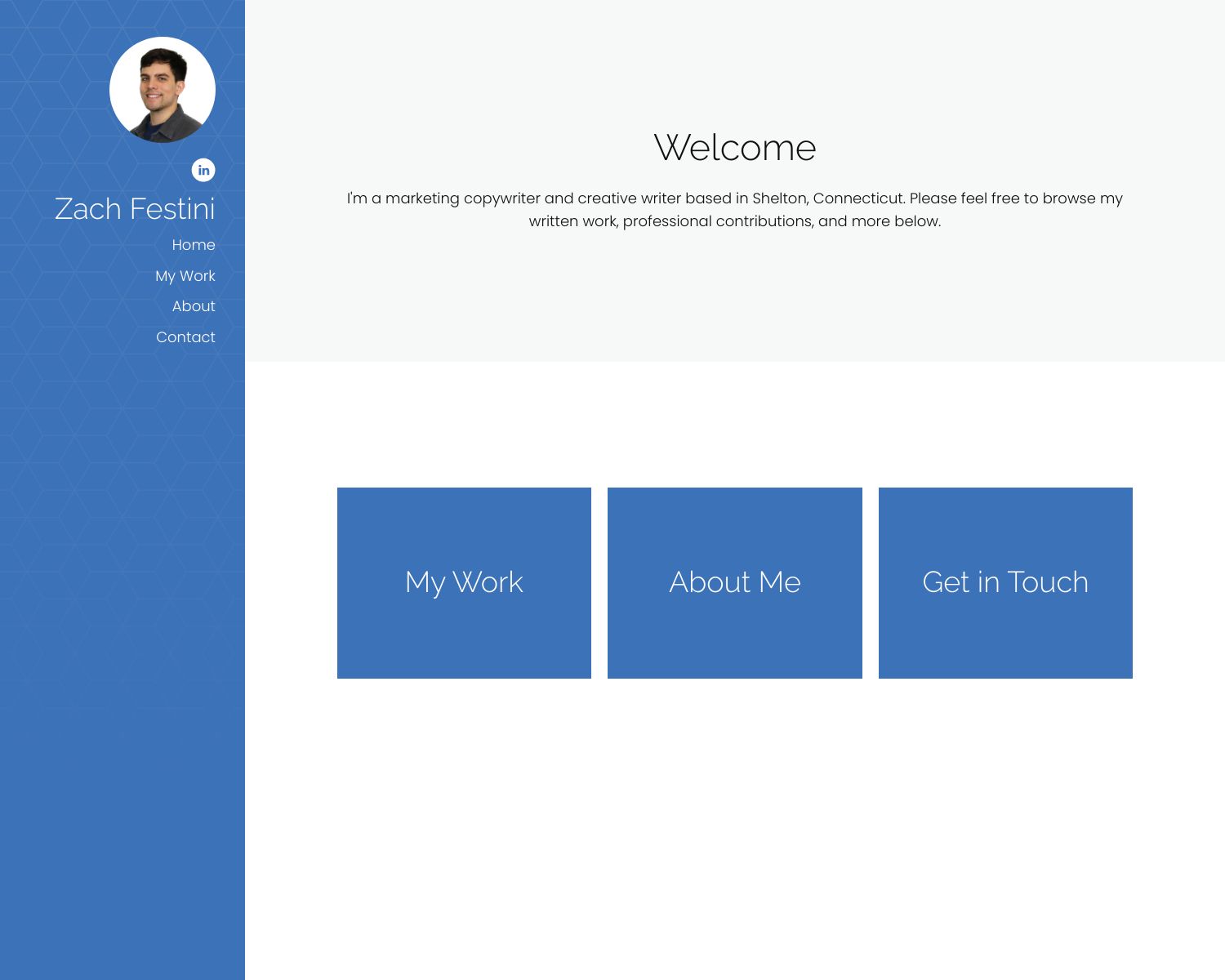 3. Hayley Zielke
Visit Hayley's Portfolio here: hayleyzielke.journoportfolio.com
Hayley places all of her writing samples on her Home page, but she divides her content writing portfolio page into sections such as long-form content and social media content. Each section has a different format which keeps her page visually appealing and easy to navigate by copy. Portfolios for copywriters who have several specialties can benefit from this layout.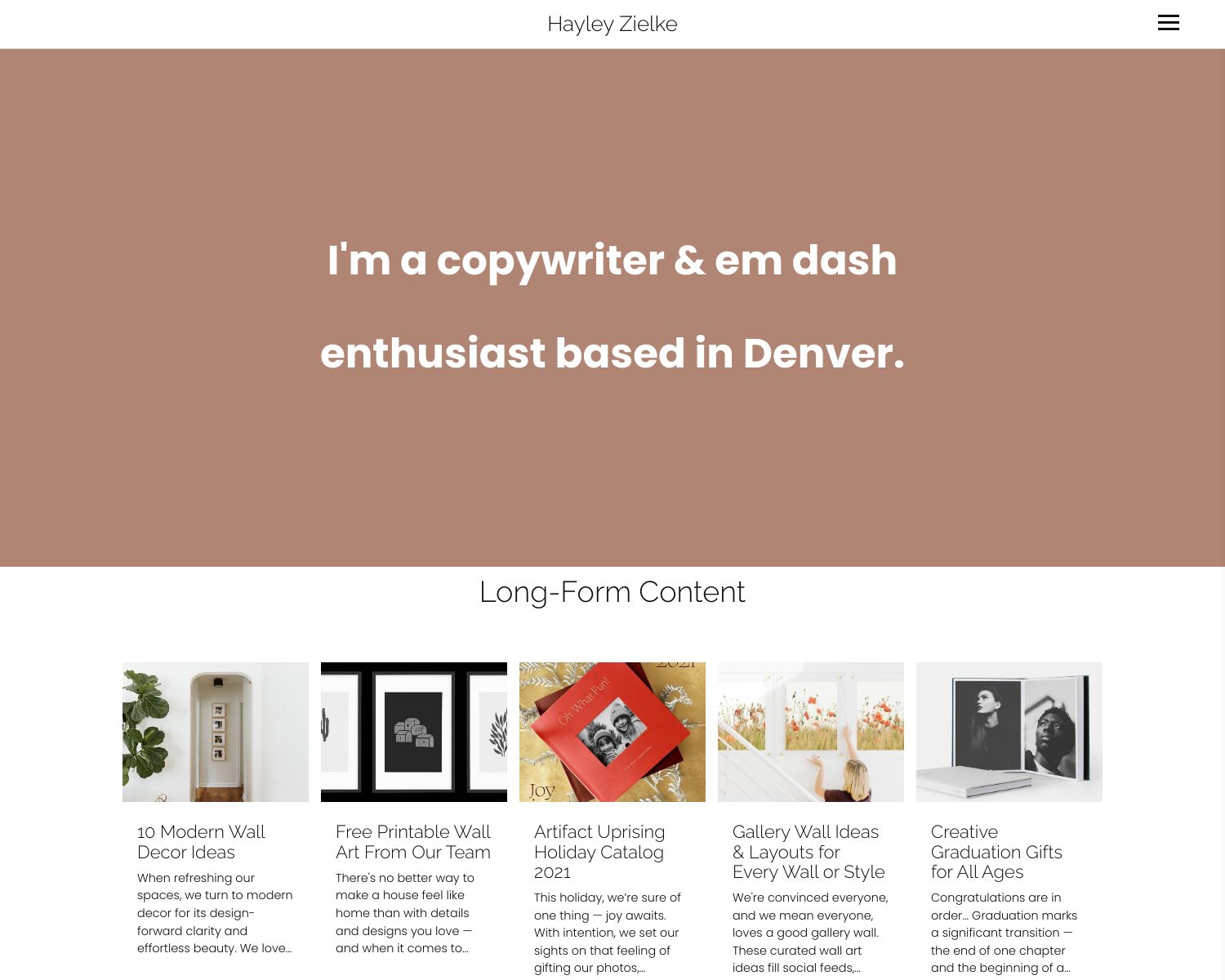 4. Steven Westwood
Visit Steven's Portfolio here: www.spwcopywriting.com
This copywriting portfolio sample excels by making great use of drop-down menus. Under Steven's Services menu, visitors can choose what type of copywriting they're interested in and go straight to a page filled with specific examples. If you have a lot of different copywriting samples to organize, this format might work for you.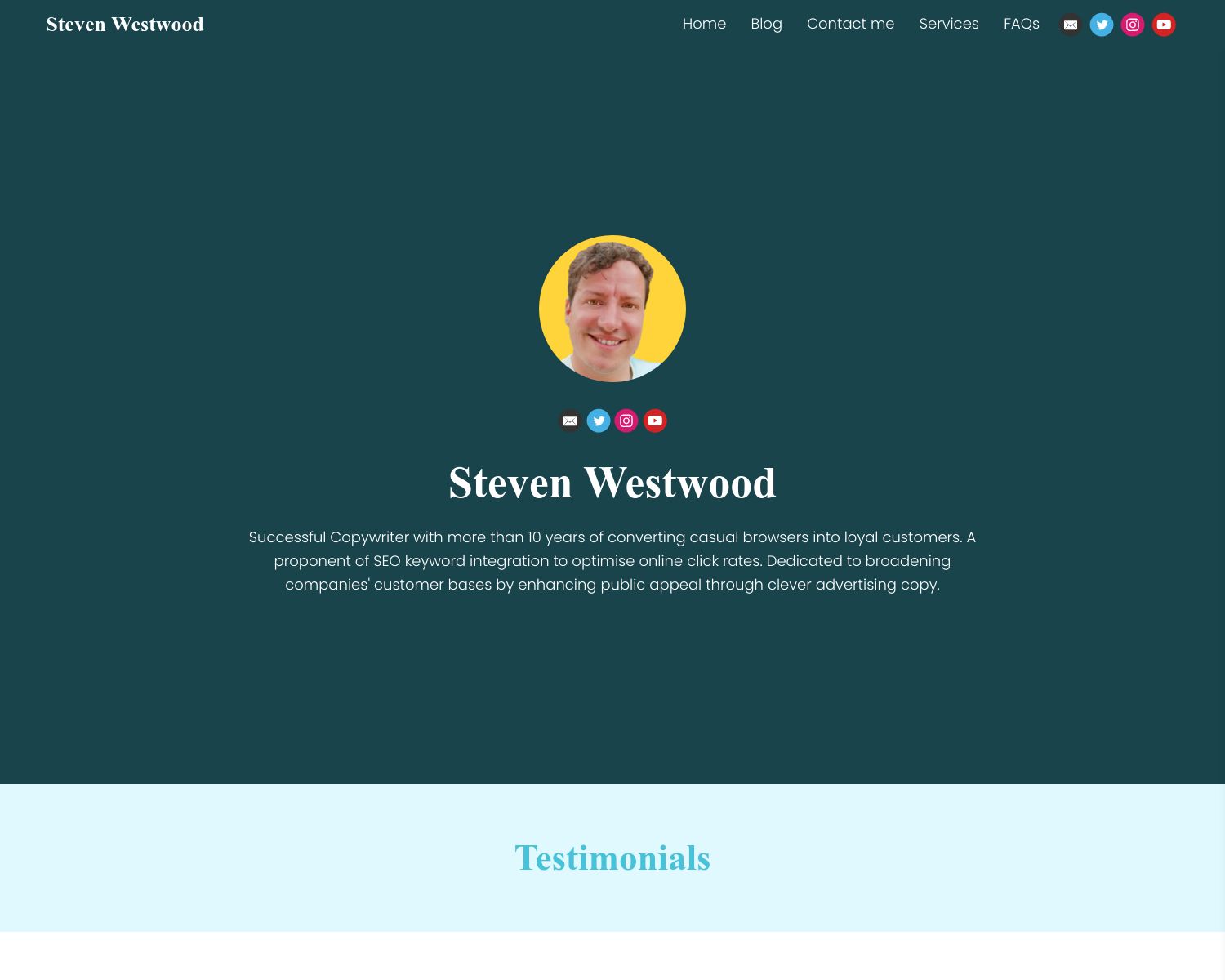 Contact Page
No copywriting portfolio would be complete without your contact information. Whether you choose to have a Contact page or to simply include your contact information in your nav or sidebar menus, make sure your future clients can find you quickly and easily.
And don't forget to include your social media buttons, especially if your portfolio is doubling as a social media marketing portfolio. Examples of social media copy are more impactful if clients can view your own social media accounts and see how you write and post for yourself.
Jolene Cheok
Visit Jolene's Portfolio here: jolenecheok.journoportfolio.com
Jolene not only makes sure clients can connect with her through her Contact page, she also includes a button under her bio that allows you to schedule a 15-minute consultation with her through bookk.me. This is the best copywriter website conversion tactic we've seen, and shows how to make a copywriter portfolio that gives clients multiple ways to connect.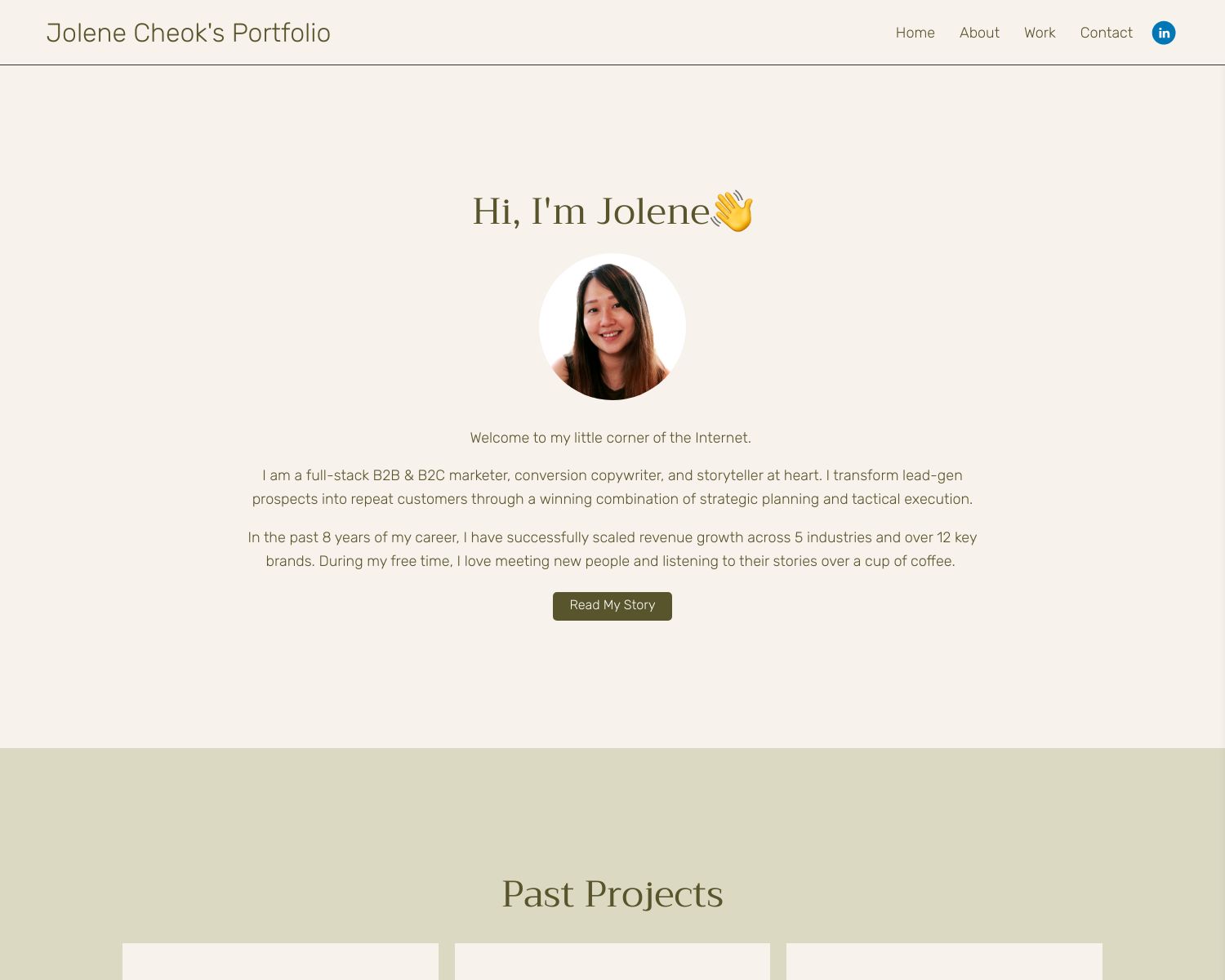 How to make a copywriting portfolio with no experience
You may not know how to build a copywriting portfolio with no experience, but it isn't significantly different from creating a copywriting portfolio when you have tons of professional copywriting experience.
There are two main differences when you create a copywriting portfolio with little to no experience.
The first is to spend extra time crafting an effective About Me page and bio. If you have extensive professional or educational qualifications, be sure to emphasize those. You may even want to include a pdf of your resume. That way, your inexperience as a copywriter is balanced by other positive qualities a client will be seeking.
The second is that you may have fewer writing samples to work with than someone who has been a professional copywriter for a long time. The next section details some ways you can create more copywriting samples for your writing portfolio.
You can still put together a great copywriting portfolio. No experience shouldn't get in the way of scoring some excellent copywriting gigs.
How to create writing samples for portfolios
If you've been a copywriter for a while, chances are you already have professional writing samples to include in your portfolio. If you are new to the copywriting world, you may need to know how to create writing samples you can include in your copywriting portfolio.
Luckily, there are several different ways you can expand your copywriting portfolio samples.
Include mock copywriting samples. Your portfolio writing examples don't have to be from paying clients. Writing samples from copywriting courses also work well as portfolio writing samples. Or find copy on websites and social media posts, and show how you would improve it. As long as you state your writing sample is a mock-up, it is perfectly acceptable to show your copywriting skills this way.

Take part in online copywriting prompts. Many websites for copywriters have prompts that you can utilize to create writing samples for your portfolio. Copywriter examples can include prompts for web copy, blog posts, or social media portfolio samples. This is a great way to create a range of copywriting samples for your copywriting portfolio.

Write a guest post on a blog. If you want to write more for specific industries, seek out opportunities to display your copywriting online by posting on someone else's blog. Google the industry you are targeting (for example, "travel blogs") plus the phrase "submit a guest post" to find blogs you can submit to. It might take a few tries, but this is a great way to create copywriting portfolio writing samples for your writing portfolio.
How to choose a hosting platform for your copywriting portfolio
So you're committed to building a copywriting portfolio. You've gathered your writing samples and written your bio, but now you need to know where to build your copywriting portfolio website.
If you're a copywriter, websites that are complex or include eCommerce abilities are often far more complex than you need. The best copywriters' websites are focused and simple, and can be designed and updated easily and quickly.
A great option for copywriters are portfolio hosting sites. These portfolio building platforms are less complex than traditional website building platforms, but still offer all the functionality you need for your copywriting portfolio.
A huge plus is that they can usually be set up within a matter of hours, and they offer options that are specific to the needs of copywriters.
Here are some features to look for in a portfolio hosting platform:
Domain transfer. If you already have a domain name that you like and connects people to your brand, you'll want to choose a hosting platform that lets you keep it.

Pdf backups. Copywriting, articles, and social media content can disappear easily on the web. Make sure pdf backups are included so you don't lose the best of your samples.

A variety of themes and templates. Making your writing portfolio unique to you is an important part of your branding efforts. Look for a platform that can be adapted to the look and functionality you want.

Mobile-ready format. Many people look up websites on their mobile devices, so you'll want a portfolio that looks as good on a smartphone as on a laptop.
By taking some time to design a stunning copywriting portfolio, you'll be well on your way to becoming a famous copywriter!
Learn more about Journo Portfolio's features here.