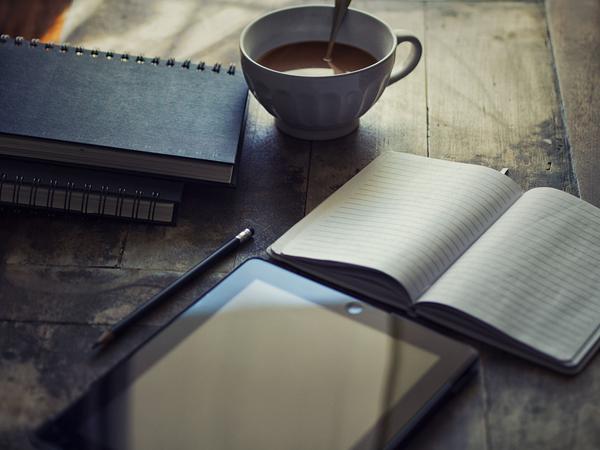 10 Best Copywriting Portfolio Examples 2022 & How to Build Your Own
Published on
Ready to build a copywriting portfolio that gets you hired? Here's our 10 best copywriting portfolio examples and top tips on how to build your own.
Whether you're trying to get hired as a copywriter, you're an experienced freelance copywriter, or you're just striking out on your own, a well-designed copywriting portfolio can be the difference between getting hired or getting overlooked. Building a copywriting portfolio doesn't have to be complicated or time-consuming, and a good digital portfolio platform can provide you with the features you want with a user-friendly interface.
What is a copywriting portfolio?
A copywriting portfolio is a collection of your copywriting work. It can include SEO content, ad copy, social media content writing, blog posts, email campaigns and so on. Your portfolio showcases the best of your work, the range of your work, and what areas you specialize in. It should be designed with prospective clients in mind, keeping your lay-out professional and your content relevant.
Why do I need a copywriting portfolio?
If you are looking to get hired with an agency or as an in-house copywriter, many require you to have a copywriting portfolio. If you're a freelancer, clients want to know the quality of your work and that you write the type of content they want. It displays your skills, competence, and experience.
What if I'm a beginning copywriter and don't have a lot of samples of my work?
It can be even more important to have an effective copywriting portfolio if you're new to copywriting. You can create a blog page that shows clients what you can do. You can also feature sample copywriting work as long as you indicate that it's a sample. Your bio can help sell people on your services if they feel they know more about you.
How do I build my copywriting portfolio?
Once you've decided to build a copywriting portfolio, you'll need to decide which platform to utilize. We like Journo Portfolio because it offers all of the features you might need while still being simple to use, but we'll also highlight a few other digital options that might work for you.
Journo Portfolio has six well-designed themes and a multitude of layouts to choose from. Easy customize, you can add pages and designate where each article is featured. Automatic article import and article back-ups make sure you're not losing content, and different privacy settings can be utilized to make parts of your site private. There's an optional subscribe button so visitors can choose to receive email updates when you add new content. It also comes with built-in analytics. A versatile site that allows simplicity with scalability. Pro plan gets you a domain name or the ability to import one you already own.
A few other options include:
After you choose your platform and design, upload the best examples of your work. A great About You section with a professional profile pic is a must. Make sure your contact information, including social media buttons, is highly visible. Remember, everything in your copywriting portfolio should be designed with prospective clients and employers in mind.
Top 5 Tips Building Your Copywriting Portfolio
Showcase only your best work. Most prospective employers and clients aren't going to take time to review more than a few examples of your work, so make sure they're the absolute best. Testimonials are another great inclusion.

Make sure it's easy to find your work samples and your contact info. The number one reason someone is visiting your portfolio site is to see the quality of your work. You don't want them to have to dig around to find it. A well-designed navigation bar is a must.

An interesting About You section is essential. Having an engaging professional picture and a bio that showcases your personality can make a client glad to hire you and have you on the team. Stick to your professional journey, but add a few engaging personal facts.

Highlight your specialties and range of work. If you write for a few niche markets, such as travel writing or technical writing, make sure you organize your portfolio to spotlight that. If you do a wide range of types of copywriting, such as ad copy, scriptwriting and email campaigns, that experience is an asset.

Keep your site cohesive with a consistent color scheme and layout. Not every page needs to look the same, but each page does need to look like it belongs to the same portfolio.
Top 10 Copywriting Portfolio Examples
Adriana Calado
Visit Adriana's portfolio here: www.adriana-calado.com
Adriana Calado is a freelance copywriter and digital marketer who focuses on human rights, sustainability, and culture. The homepage of her copywriting portfolio includes a detailed About Me section that helps you get to know her and includes interlinks to other parts of her site. Her services page includes 6 subpages that go into detail about each of her copywriting and digital marketing services. This makes it easy for prospective clients to find exactly the information they need without having to dig around too much.
PRO TIP: Use interlinks in your portfolio in unexpected places like your bio. This helps boost site engagement and get prospective clients to important information.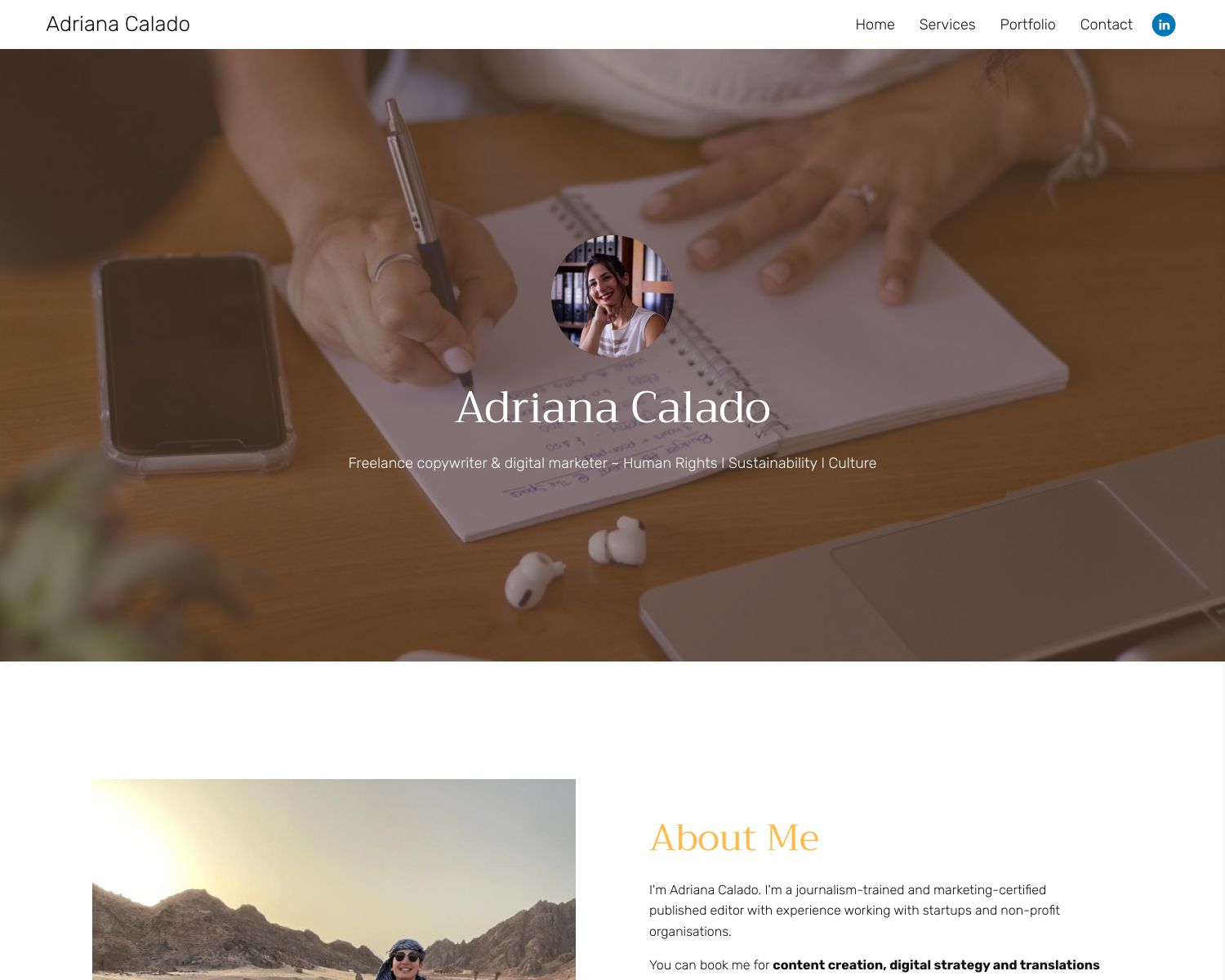 Emily Lasnier
Visit Emily's portfolio here: emilylasnier.portfolial.com
Emily Lasnier is a copywriter based in Los Angeles who does email marketing, videos, and social media work. She created a great copywriting portfolio that showcases these different types of content by giving each category its own separate page. Her navigation bar makes it easy for clients to find examples, and she uses her portfolio to highlight her best work.
PRO TIP: If you excel in a multitude of copywriting areas, consider dividing your work onto separate pages. Then, make them easy to find.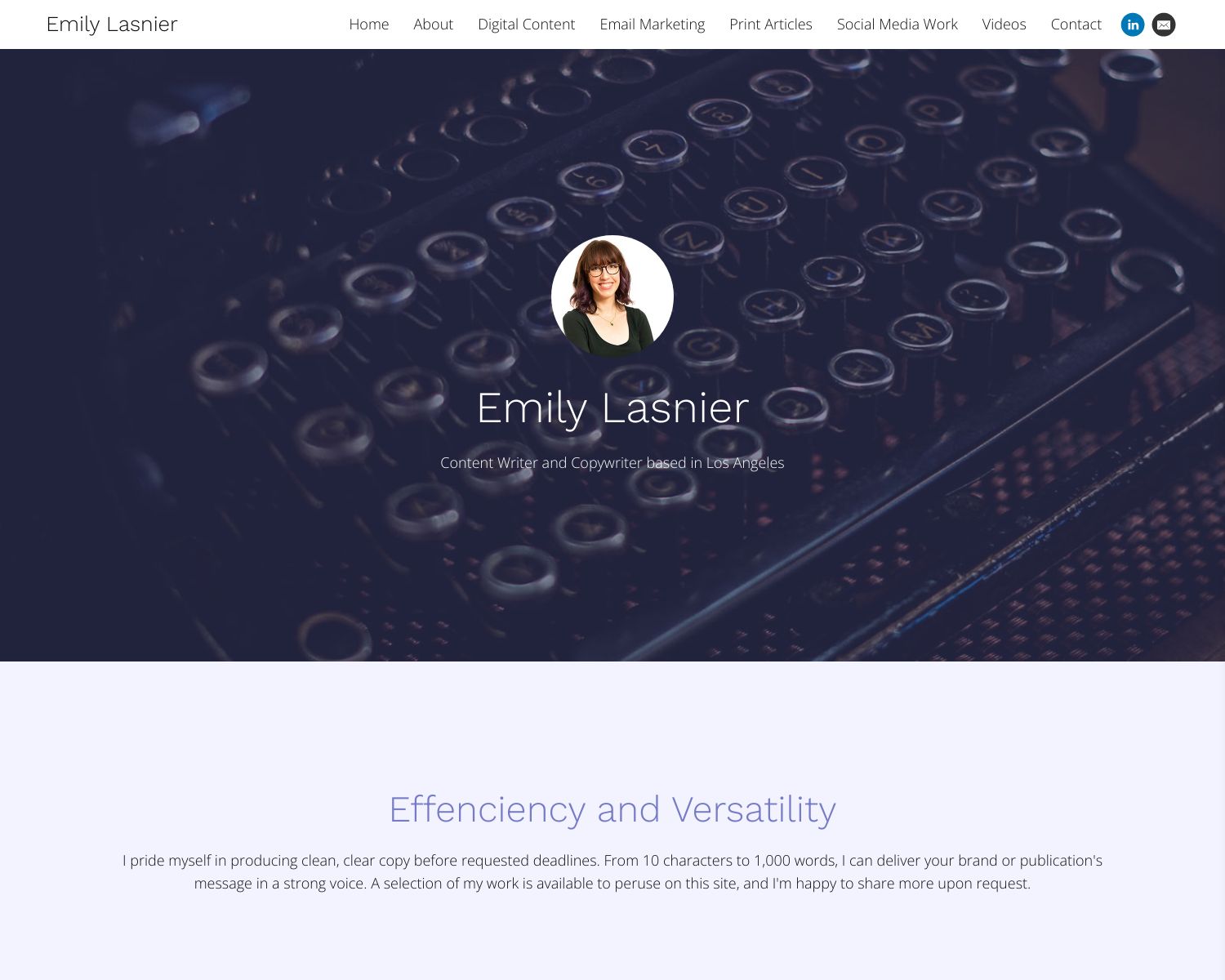 Kunal Sharad
Visit Kunal's portfolio here: kunalsharad.journoportfolio.com
Kunal Sharad works in the social change, nonprofit, and arts sectors as a copywriter, researcher and producer. His homepage is immediately distinctive, using bold colors and eye-catching design. He uses his homepage to display his selected works, so clients are exposed to his copywriting samples right away. He keeps it simple with a well-written About Me page and straightforward contact information, so most of your attention stays with his work.
PRO TIP: Simple doesn't have to be boring. Use bright colors and strong graphics to create visual impact.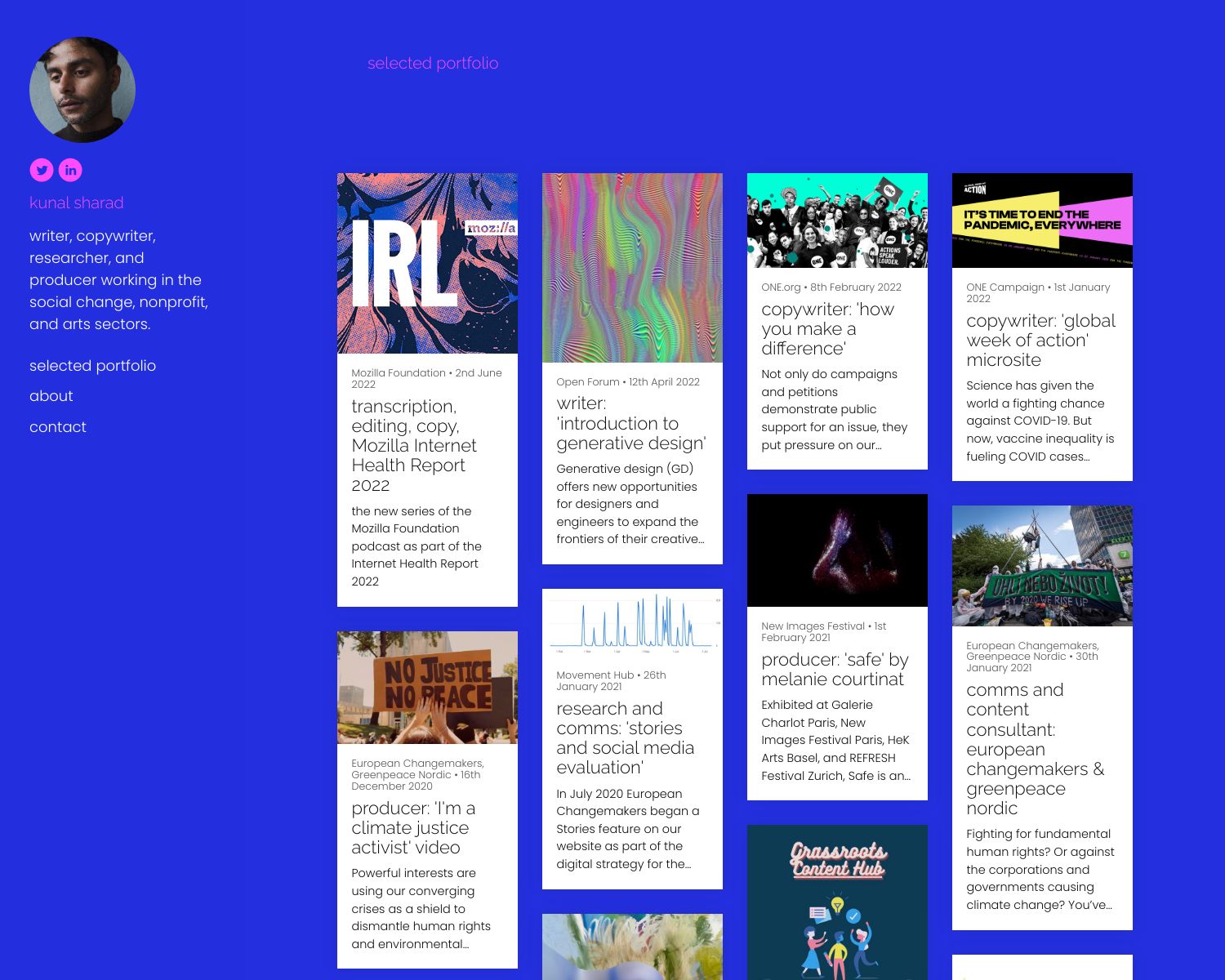 Vinati Sukhdev
Visit Vinati's portfolio here: www.vinatisukhdev.com
Vinati Sukhdev is a journalist, copywriter, and author in India who has worked on multiple advertising campaigns for Compaq, Tampax, Motorola and others. She highlights her excellent credentials by featuring a drop-down menu in her navigation bar of different advertising campaigns, each showcased on their own page with explanation and imagery. She keeps her color scheme simple so your eye is drawn to her portfolio samples and video clips.
PRO TIP: If your copywriting goes beyond articles into campaigns, make sure you give each a chance to shine on their own page.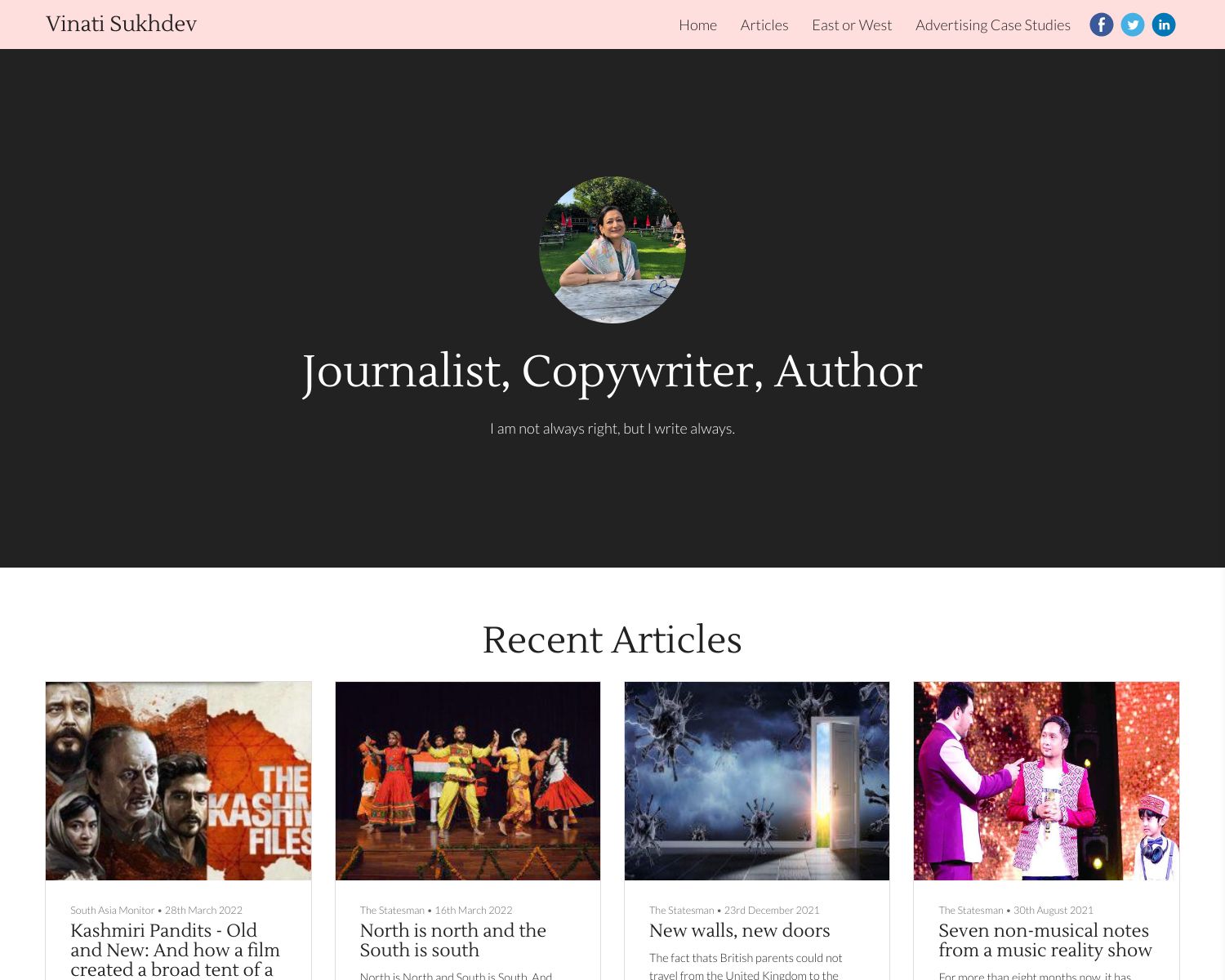 Allen Wildes
Visit Allen's portfolio here: allenwildes.journoportfolio.com
Allen Wildes is a B2B/B2C copywriter and content specialist who has done copywriting for the likes of Nike, Architectural Digest and Trendhim. His portfolio is uber focused on his top-level experience, centering his credentials with a portfolio homepage that displays the brands he's worked with. Clicking on each of the brands sends you to its own page, with detailed descriptions of the projects he's worked on alongside multiple well-chosen images. His top-rated blog articles feature on their own page, and minimal styling keeps the vibe professional.
PRO TIP: If you've copywritten for global brands or been published on well-known platforms, put that experience on your portfolio homepage.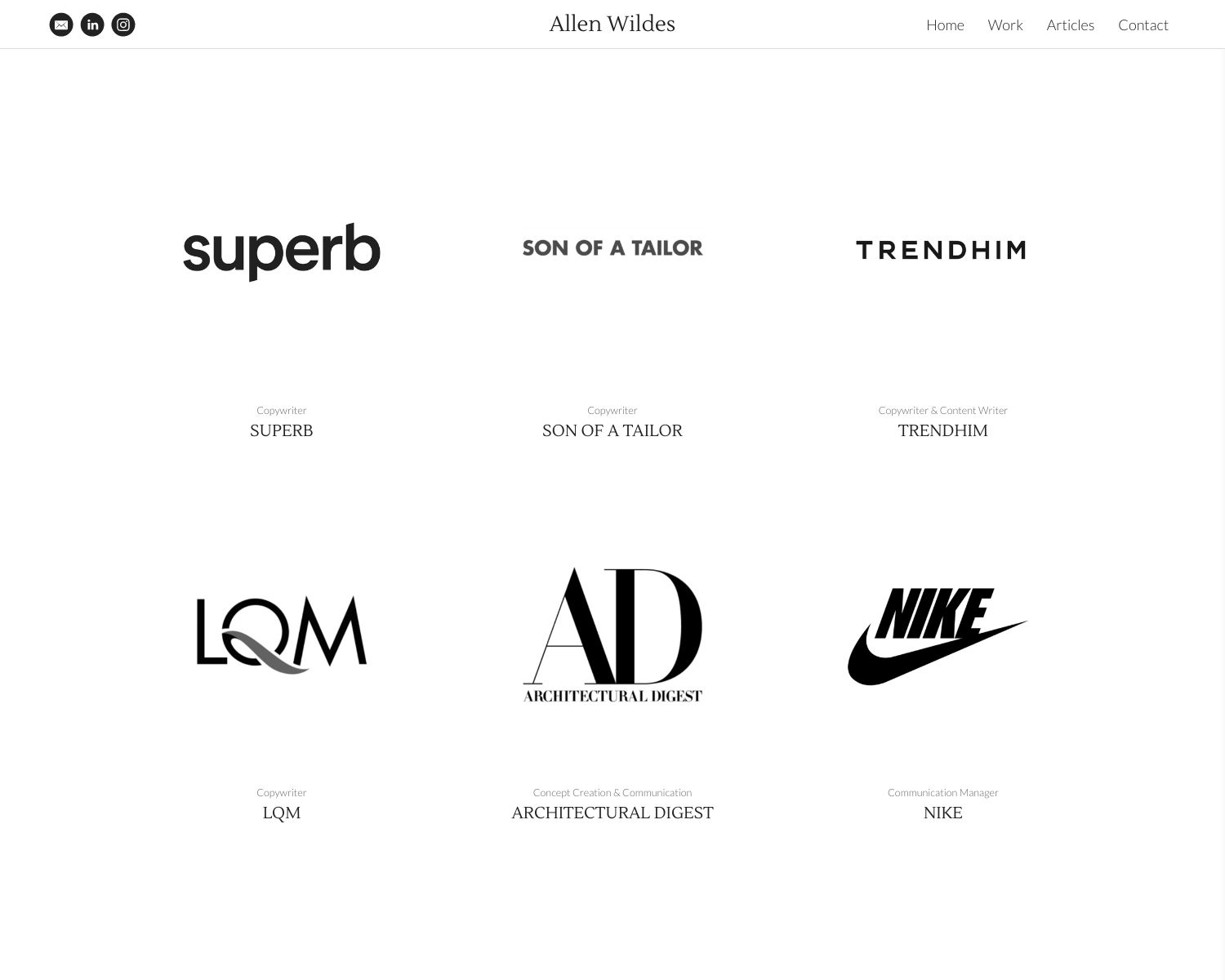 Alice Connolly O'Brien
Visit Alice's portfolio here: www.aliceconnollyobrien.com
Alice Connolly O'Brian is a copywriter, journalist and editor based in Berlin, Germany. She ups the class by choosing textured background images in subdued colors. Because she works regularly with particular outlets, she created a navigation sidebar that lists each outlet separately and sends you to a dedicated page. By making use of both column and grid formatting on different pages, she simplifies pages that feature many samples and boosts pages with sparser content.
PRO TIP: Format each individual page in a way that best suits that page's content. If you stick with your portfolio's overall theme and color scheme, you'll maximize impact while staying cohesive.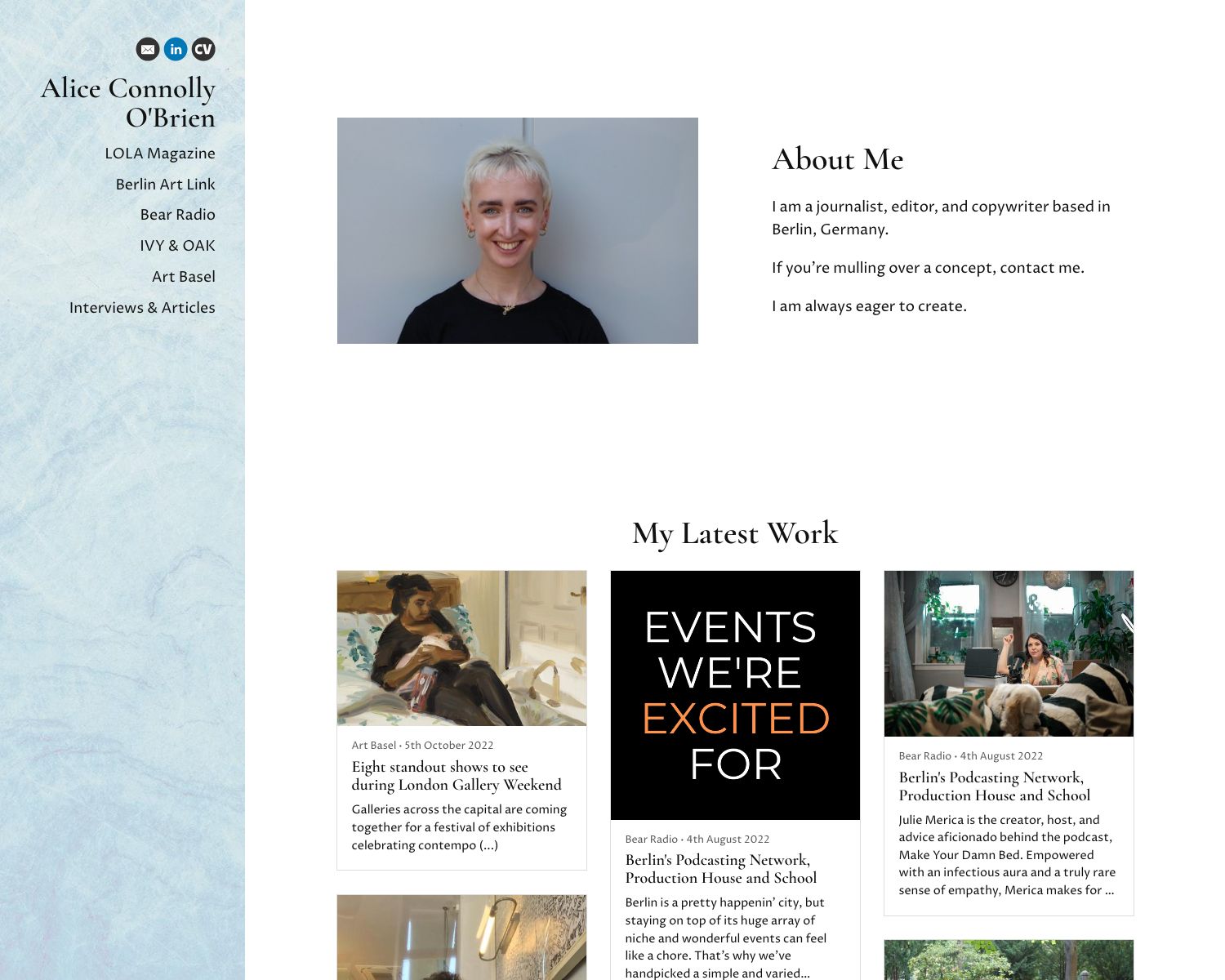 Gracia Kleijnen
Visit Gracia's portfolio here: graciakleijnen.journoportfolio.com
Gracia Kleijnen is a freelance copywriter and Medium blogger from the Netherlands. Her portfolio homepage gives you a sense of her personality with intriguing images, with an introduction to her story and the type of work does. She has a Tools and Resources page dedicated to the platforms and apps she uses in her copywriting career. Ever the entrepreneur, she's included affiliate links that allow her to collect a small commission. Her portfolio also supports a blog for an overall personal yet professional feel.
PRO TIP: Don't be afraid to show a little bit of your personality through unique images and an interesting bio.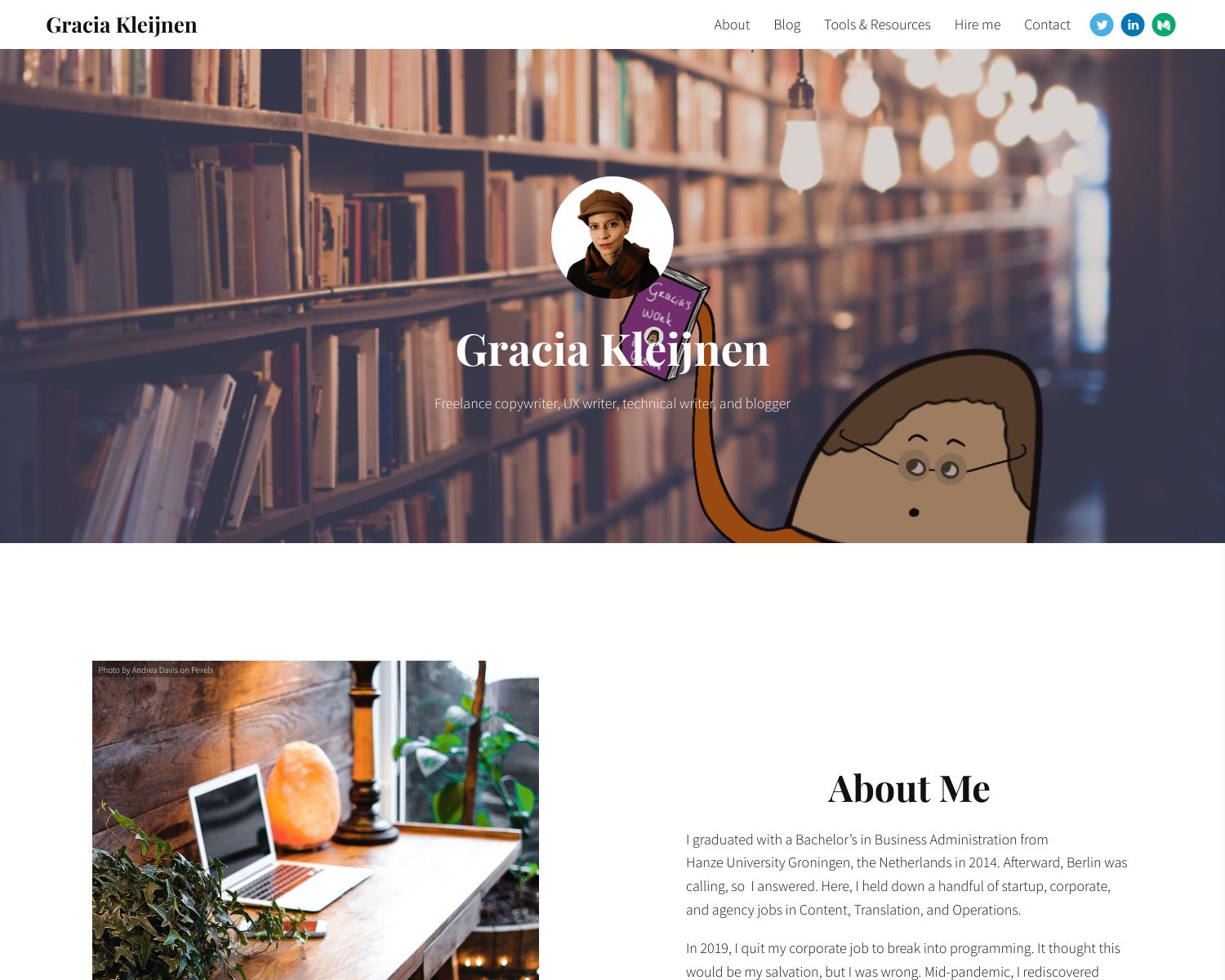 Lubna
Visit Lubna's portfolio here: www.writewithlubna.com
Lubna is a freelance medical copywriter and board-certified physician assistant (PA-C). Her beautiful portfolio homepage instantly points out her niche market specialty and credentials and includes several client testimonials. Dig deeper into her site, and you'll find an articles page with well-focused sample copywriting articles and great use of breathtaking imagery. She has a separate page for services which details what she charges, making it easy for prospective copywriting clients to know what they're getting. Lubna uses natural imagery in her background and personal photos, which highlight her health and wellness copywriting.
PRO TIP: Keep your images consistent with your messaging. If you copywrite for a niche market, make sure everything on your site reinforces that personal brand.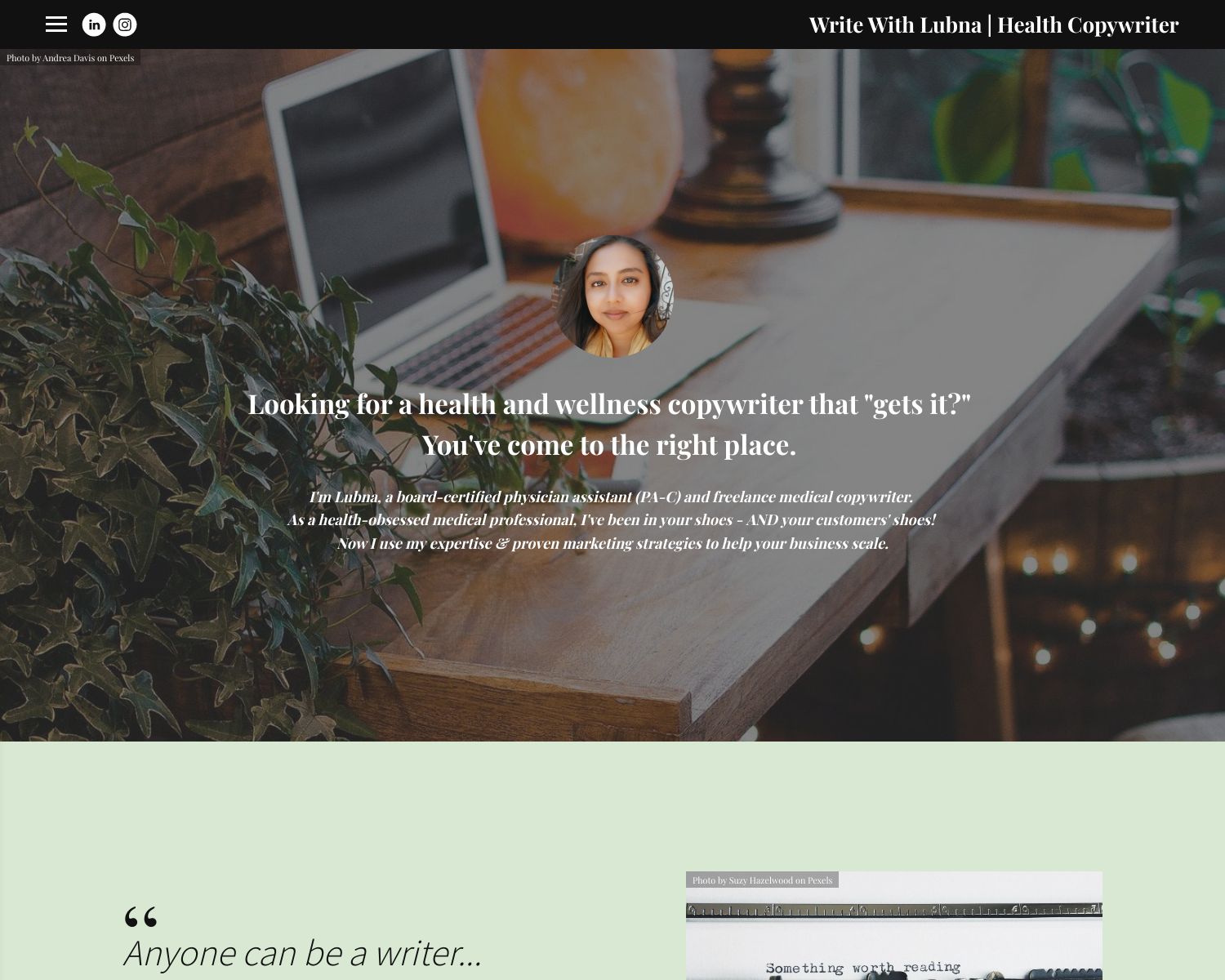 Steven Westwood
Visit Steven's portfolio here: www.spwcopywriting.com
Steven Westwood is a copywriter with more than 10 years of experience, and he shows that experience to great effect in his copywriting portfolio. Steven keeps his tropical color scheme and breezy page layout consistent throughout his site, letting the focus be on his work and not on overly fussy design. He also has his social media buttons front and center, so you can find him wherever he posts. Steven showcases multiple client testimonials on his homepage that back up a convincing pitch for his services. His portfolio is divided up into services offered which are featured on his homepage and a dropdown Services menu in his navigation bar.
PRO TIP: The point of a copywriting portfolio is to get hired. Showcase convincing client testimonials and make them easy to find.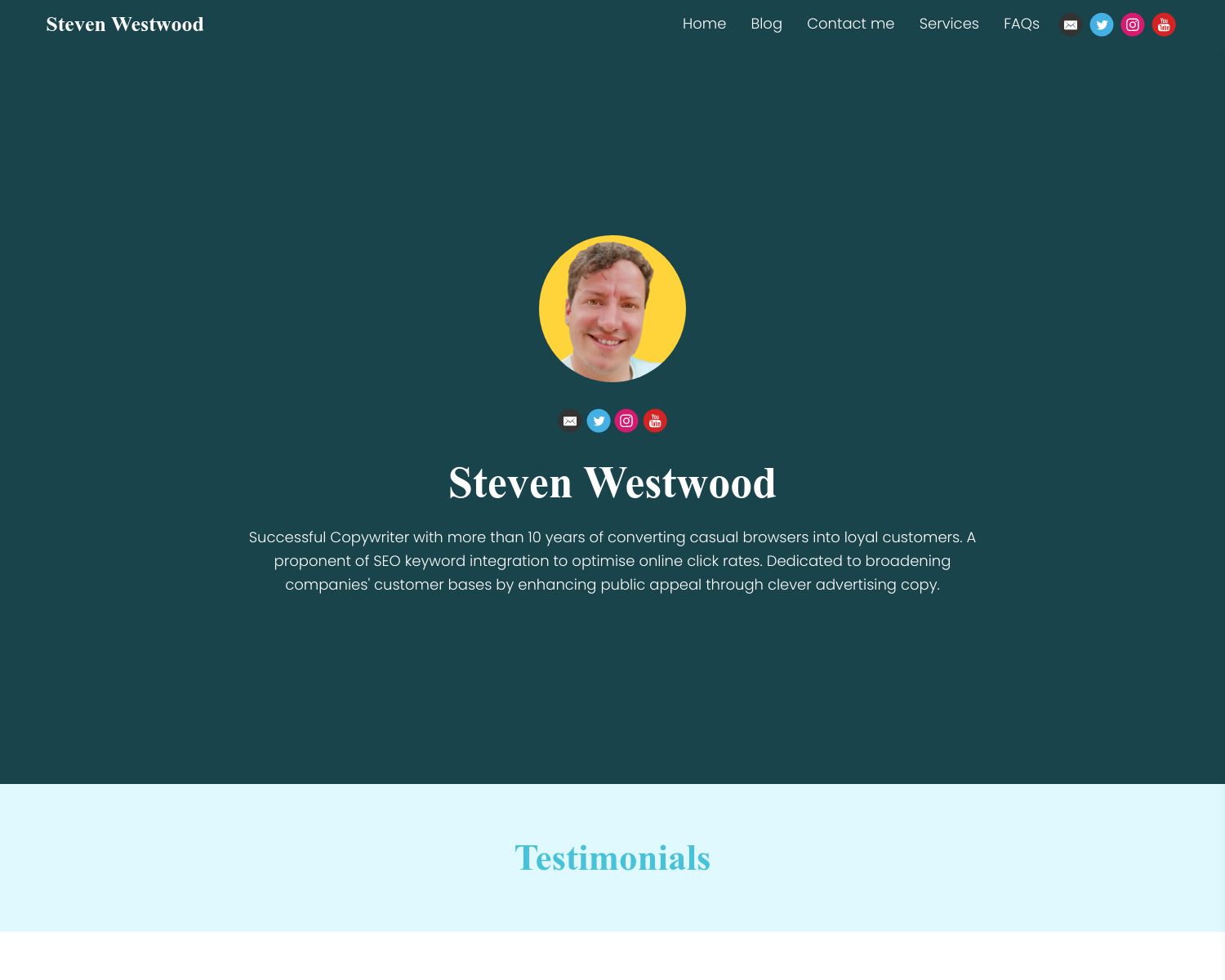 Samantha Hubay
Visit Samantha's portfolio here: samanthahubay.journoportfolio.com
Samantha Hubay is a copywriter and content marketer out of Cleveland, OH. She utilizes the transparent header option to create an understated and organic design. Her choice of imagery perfectly illustrates each page header. She does a great job of linking every page to her portfolio and to her contact page, so no matter where you are on her site, you are encouraged to get in touch. Her site gives a great sense of who she is as a professional while still giving it a personal touch.
PRO TIP: Lead your website visitors where you want them to go. Make each page a funnel that leads to your contact info.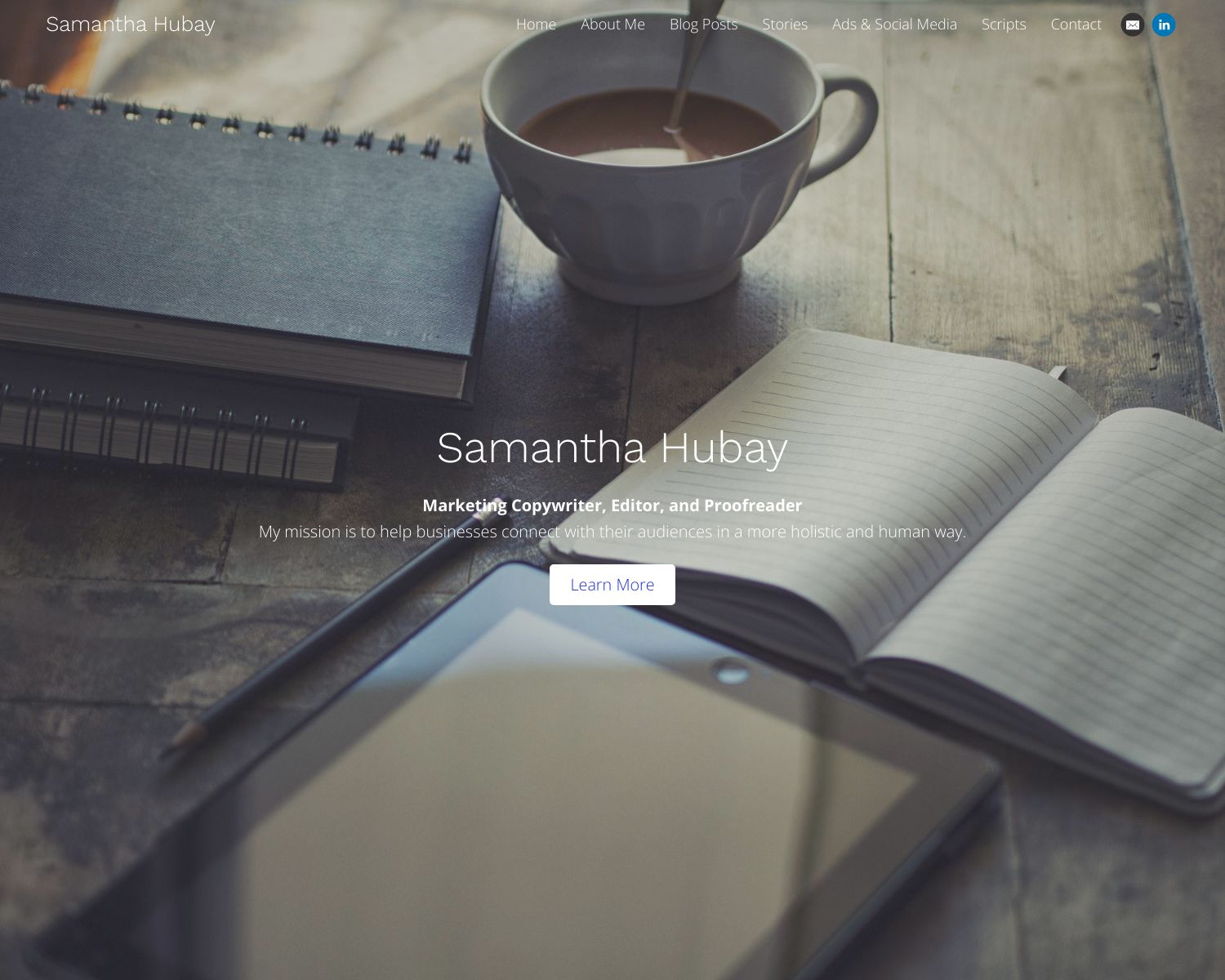 Summary
A digital copywriting portfolio is a must for copywriters. It showcases your work and your style and inspires future clients and employers to have confidence in you. It's often the only thing a potential client is going to look at when considering you, so it's worth taking the time to build a copywriting portfolio that's going to impress.