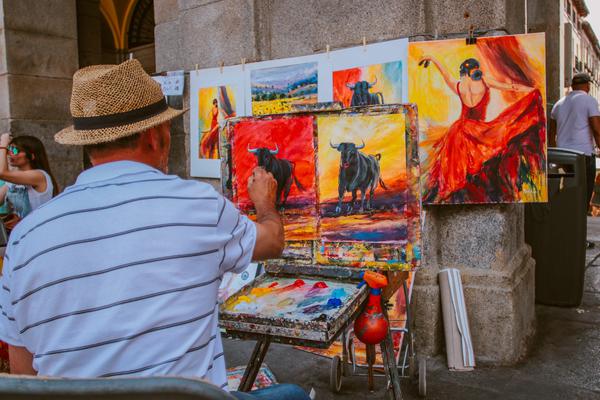 Art Marketing: How to Promote Yourself as an Artist
Published on
Learn how to rock your art marketing strategy with 8 powerful tactics to get your name and art into the public eye, where it rightly belongs.
In the past, struggling artists had to sit out on street corners, displaying their art in hopes of attracting passersby to make a purchase. Luckily, as an artist today, you have other options when it comes to art marketing, which give you a much wider reach than those artists of years past.
Let's look at art marketing strategies, both free and inexpensive, that you can start using today to build your art brand. Some of these are traditional, tried-and-true methods, while others tap into modern tactics that will widen your audience.
8 Art Marketing Strategies That You Need to Know
1. Create an Online Portfolio
A website portfolio is your online home base as an artist.
In your portfolio, you can highlight your featured art and share a little bit more about you as an artist.
Your online portfolio doesn't have to be complicated, with a confusing web of pages. Honestly, a strong online artist portfolio just needs three major things…
A space to feature your art.
An About Me page.
A contact form.
You have several options when it comes to housing your portfolio. You can use a site like Squarespace to build it yourself. An easier route is also to use a dedicated portfolio website like JournoPortfolio, with baked-in design and analytics feature to get you up and running in minutes.
A special note about your portfolio… In addition to displaying your art itself, include pictures of yourself. Many nowadays want to be able to see the creator as well as the creation.
2. Set Up an Online Store
In our digital age, there are so many options when it comes to selling your art online. And these platforms make it simple, handling all of the details behind the scenes to make sure that your art shines and customers feel safe making a purchase.
Here are a few of the top places where you might upload and sell your artwork:
And there are plenty more, depending on what specific features you want and the kind of art you're selling. Do your research and find a platform that works for you!
3. Start a Newsletter
Include a newsletter signup form on your portfolio website.
So, you have a newsletter… But what do you include in your newsletter?
Here you have a few options, including…
Hosting giveaways that are exclusive to your newsletter recipients – perhaps a print, a mug with your art on it, or something else that will delight your audience.
Education about a new technique you're using or the ins and outs of how you create your art.
Photos of your studio, set-up, and other behind-the-scenes treats.
Updates and announcements about upcoming shows and exhibits where people can support your art.
New art that is for sale.
Your newsletter gives you the opportunity to develop the interest of your audience and create a relationship with them. Some artists even report increased sales that were directly tied to their newsletter strategy! Either way, it's a top art marketing strategy that you need to consider.
4. Leverage the Power of Social Media
Social media has the power to expand your small community and gives you access to audiences all around the world.
And social networks like Instagram and Facebook put visual media first. From posting striking snapshots of your art or going live with special, behind-the-scenes events, there are many options to entertain and delight your audience.
Choose a couple of social networks where you feel your art can really shine. Then start engaging with your audience and sharing your work with the world. It's a free strategy that helps you to connect with people whom you otherwise might never meet.
5. Enter Art Competitions
There are competitions for all kinds of art you can imagine – painting, digital, drawing, and even sculpture. While many of these competitions come with a substantial award, they are also a great way to market your art.
Even if you don't win anything, it opens up your art to new audiences, including collectors and critics. If you're a new artist, it can even give you valuable feedback to help you improve and adapt.
Here are a few annual art competitions that you might shoot for…
There are a number of contests and competitions going on at any given time, both locally and internationally. Do a quick Google search to find out which ones you qualify for and find out how to enter. You never know what good could come out of it.
6. Join in on Local Art Shows
Some cities throw art walks and local exhibitions where artists can display and sell their art. This could be within an inside space or even outside along the sidewalk, usually with a small setup fee. This is a great way to get into the local art scene and stay top of mind with local art enthusiasts. You never know where these connections might lead.
But you also need to go prepared.
Create business cards where you include all of your information, including online portfolio, social media profiles, and any online store that you have.
7. Use Every Opportunity to Network
Good art marketing is more than just finding customers and clients. It also involves getting to know everyone on the art scene, including other artists, art brokers, gallery owners, and others.
How can you get your foot in the door?
Attend local art exhibitions and fairs. This will not only give you an idea of what kind of art is popular, but also will facilitate networking with other artists, art enthusiasts, and even gallery owners. You never know what connection might throw you in line for your next big opportunity.
8. Join an Artist Guild
An artist guild is an organization where artists from different backgrounds can socialize and network. Artist guilds regularly sponsor workshops and organize activities for their members. They might even operate artist facilities, such as studios and galleries.
Being part of an artist guild comes with many benefits. It will plug you into the information network, letting you know what exhibitions are going on and what educational opportunities you might qualify for. It will also lend you credibility as an artist.
Each guild has its own fees and structure, so do your research and see if joining an artist guild is a good fit for you.
So there you have it – 8 powerful tactics to help you rock your art marketing strategy! I hope these help you to promote your art and reach your goals as an artist.