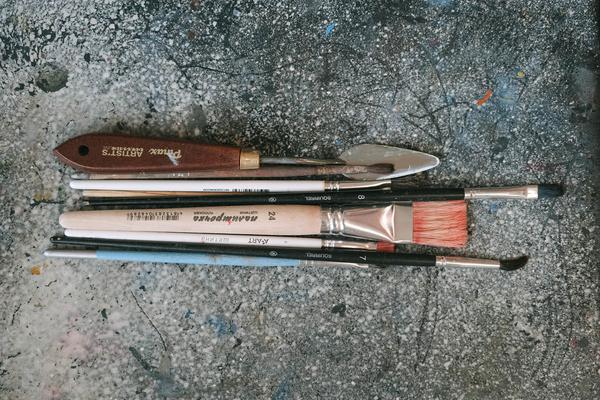 How to Build a Beautiful Artist Portfolio That Attracts Attention
Published on
Learn how to craft an artist portfolio that meets your career and artistic needs, along with great examples that will inspire you.
Your career as an artist is a visual experience. And you need portfolio that will showcase that experience effectively. From applying to art schools to selling your art and getting commissions, your artist portfolio will play a huge role.
That's why it's essential to make sure your portfolio stands out for the right reasons. Let's look at why your portfolio is so important and what you can do to make it the best it can be. Plus, stay tuned to the end of this post to see three artist portfolio examples that are worthy of imitation.
Why Your Artist Portfolio Is Important
Your artist portfolio plays a few different roles. It showcases your imagination and skills. It is also tangible proof of your ability and potential for growth. Who knew one online portfolio could do so much!
Think of your art portfolio as your virtual resume to make it in a career as an artist. At every stage of your career, people will want to see and even admire your work. This includes…
Art schools.
Art galleries.
Clients.
Agencies.
Whether you are just beginning your journey or are a seasoned artist, an online artist portfolio is the best way to connect with prospects and move forward in your career. Forget the days of carrying examples of your art around in a literal portfolio. The ease and convenience of being able to give someone a website URL that they can look at on their own time just cannot be beat.
And no matter what your medium is – whether you specialize in oil paintings, printmaking, children's book illustrations, or something else, a digital artist portfolio is a great way to showcase your professional work.
And even though your portfolio will be unique, there are a few things every artist should keep in mind as they create their own portfolio. Let's discuss a few these details and check out some artist portfolio examples in action.
How to Create an Artist Portfolio That Stands Out In All the Right Ways
1. Organize It Effectively
Don't simply upload your work onto your portfolio. Put some thought into how you will display your work and how you want to organize it.
If you are featuring several different mediums, organize it accordingly. For instance, if you have oil painting, acrylic paintings, sculptures, and drawings, you might organize it under three main pages – Paintings, Sculptures, and Drawings. But if you mainly have paintings, you might organize them according to subject matter or style.
And secondly, label everything clearly and concisely. Don't go too heavy on the details. Keep it to a few words that people can use to reference the piece.
2. Don't Obsess Over Quantity
A secret that often gets overlooked is that quality beats quantity any day of the week.
So instead of rushing to post all of the artwork that you've ever done, take a minute to seriously assess each piece. Ask yourself these questions…
Does this piece truly reflect my skills?
Is this piece going to detract from my other work?
Would I want to show this piece if I had a larger catalogue?
These questions, along with a critical eye, can help you to make sure that you are putting your best foot forward.
Just as a side note… Steer clear from displaying a piece of art that imitates another artist's work – your portfolio needs be entirely original. People who look at your portfolio want to see your own individual creativity, not an imitation of someone else's creativity.
3. Show a Direction
This is especially important if you want to use your portfolio to apply to art schools. You want to have a well-rounded portfolio, but you also want to indicate your interests and potential career choice.
For example, if you would like to focus on graphic design or animation, include examples of this kind of work in your portfolio. It will help admissions teams to know that you have a direction in mind and exactly where your interest lies.
4. Be Ready to Discuss Every Piece
You never know when you will be called upon to give the background or describe the technique you used on a particular piece. So know your portfolio inside and out. Make sure that you can remember key details about each. You might even rehearse a little so that you can expand on it without stumbling on your words.
Along the same lines, don't display pieces from too long ago. Otherwise, you risk forgetting key details.
5. Pick a Portfolio Site to House It
Now we get into the technical aspects of your portfolio. You have the work you want to display, now you want a site that will allow you to display it to its best advantage.
You have a few options here.
You could pick a website builder like Squarespace or Wix. These allow you to pick from many design templates and also give you the freedom to design certain elements from scratch. While these do come with a heavier price tag, it can be worth it for those who prefer to design their website in a certain way.
Another option is to go with a portfolio website. These are specifically set up to display a portfolio of work, with key features to support it. Journo Portfolio is an example of such a website, with free and budget-friendly options for students. Here, you can pick from several templates, upload your work into visually appealing displays, and even create a bio and contact form for people to learn more.
6. Write an Effective Bio
Your artist portfolio is more than a place to store your art.
When people visit your portfolio, they also want to know about the person behind the art. How did you become an artist? What are your favorite mediums and subject matter? Where did you train? What projects are you most proud of? What do you enjoy doing when you're not creating beautiful works of art?
All of this information will help people to appreciate the entire package – who you are as an artist. It's sometimes these details that help you to stand out and land a spot at your top art school or convert a curious visitor into a paying client.
So even if writing isn't really your thing, take the time to write up a little bit about yourself. It will pay off in the long run.
7. Showcase Your Accomplishments
Show people that you're a hot commodity. When people see that others admire your work, it can elevate their opinion as well.
In addition to your artwork itself, include any publications that reference your art or you as an artist, as well as any awards you've earned.
And this doesn't have to be long and fancy. You can simply have a section on your Home page or Bio page that simply says, "Awards" or "Accolades'. List all that apply and link to any online websites where you are cited.
8. Ask for Input From Others
Sometimes as an artist, it's easy to get so wrapped up in your work that you miss some key details. That's why it's a good idea to have someone else look over your portfolio before it goes live.
Ask a family member, a mentor, or a fellow artist to give it a look. Ask them what they would think of it if they didn't know you – would they understand the layout and descriptions you use? Do they agree with your choices in the art you display? Asking key questions can help you discern how they perceive your portfolio and make sure it aligns with how you want to be viewed.
Remember, any criticism is a positive – it helps you to improve your portfolio and work out any kinks before it goes in front of anyone important.
9. Include a Contact Page
A contact page is a crucial element of any portfolio. After all, you don't just want people to come to your digital artist portfolio to admire and go on their merry way. You want to foster a professional relationship – and it starts with them contacting you.
Your contact page should be fairly simple and straightforward with welcoming language. You could use something like, "Get in Touch" or "Feel free to reach out to me with any questions or to get a quote."
And don't complicate your contact form with too many fields. If you ask too many questions, you run the risk of turning away visitors. Instead, keep it simple with the basics, such as name, email, and a space for them to write a message. If you need to ask more questions, you can do so on a follow-up email.
10. Use a Call to Action
A call to action, or CTA as we call them in marketing, can help to drive your portfolio visitors to the next step. Would you like them to visit a shop you've set up on another website? Would you like them to contact you about a commission?
A CTA can help to move someone to take such an action.
You can do this with a button strategically placed throughout your portoflio. This button could say something like…
Learn more about the artist
Visit my shop
Sign up for my newsletter
Follow me on social media
A CTA doesn't necessary lead to a purchase. It might simply allow you to nurture the relationship with that person until they do make a purchase or become a paying client or patron. You never know where it might lead – but it's important to direct their interest somewhere.
3 Amazing Artist Portfolio Examples That Will Inspire You
Ricky is an illustrator who works mainly with crayon pencil – but that hardly expresses the breadth and depth of his work. From the moment you enter his portfolio, you get the sense of the kind of artist he is, with his best work meeting you at the door. He has also organized his work into sections such as illustrations, fashion, and GIFs.
And although his About page is fairly brief, he uses the space well to list his accomplishments and awards. This shows to any new visitor that he is a seasoned and recognized artist.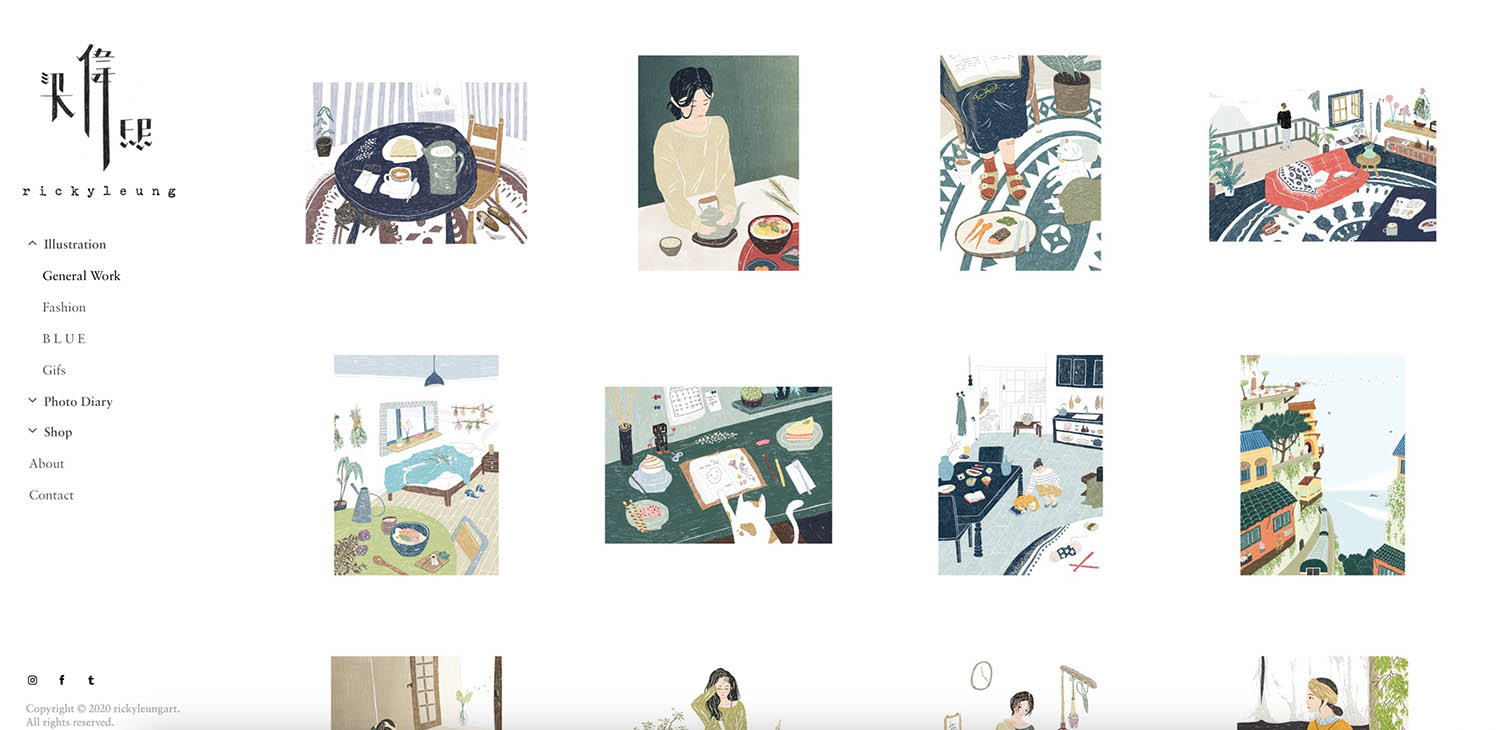 Erin Stead is an illustrator of children's books – a fact that becomes apparent as soon as you enter her home page, with colorful pieces that scream lighthearted and whimsical. Her entire home page is very visual, with illustrations that, when clicked, lead you to the inspiration for each one. I can't help but admire her simple and art-forward design.
She also has a straight-forward bio and contact page where visitors can get in touch.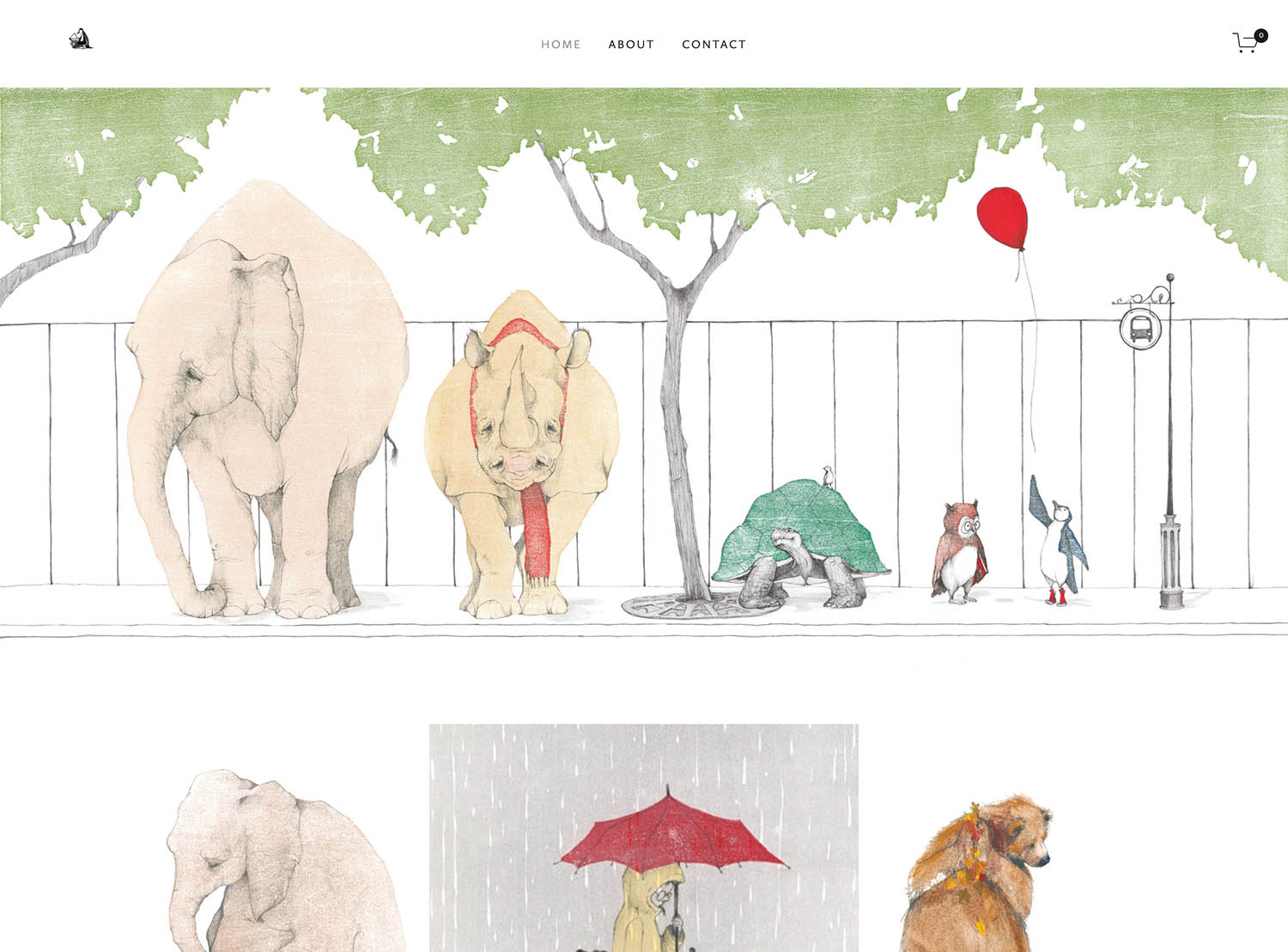 Markus Lewis is well known for his quirky paintings and local murals. And when you visit his profile, you feel like you are getting to know the person behind the art. And what a nice variety of art he has – he actively displays a wide range of art and mediums, including murals, paintings, and digital art.
I love this portfolio as an example of what it means to be yourself as an artist, while still giving people all the details they want when they visit your artist portfolio.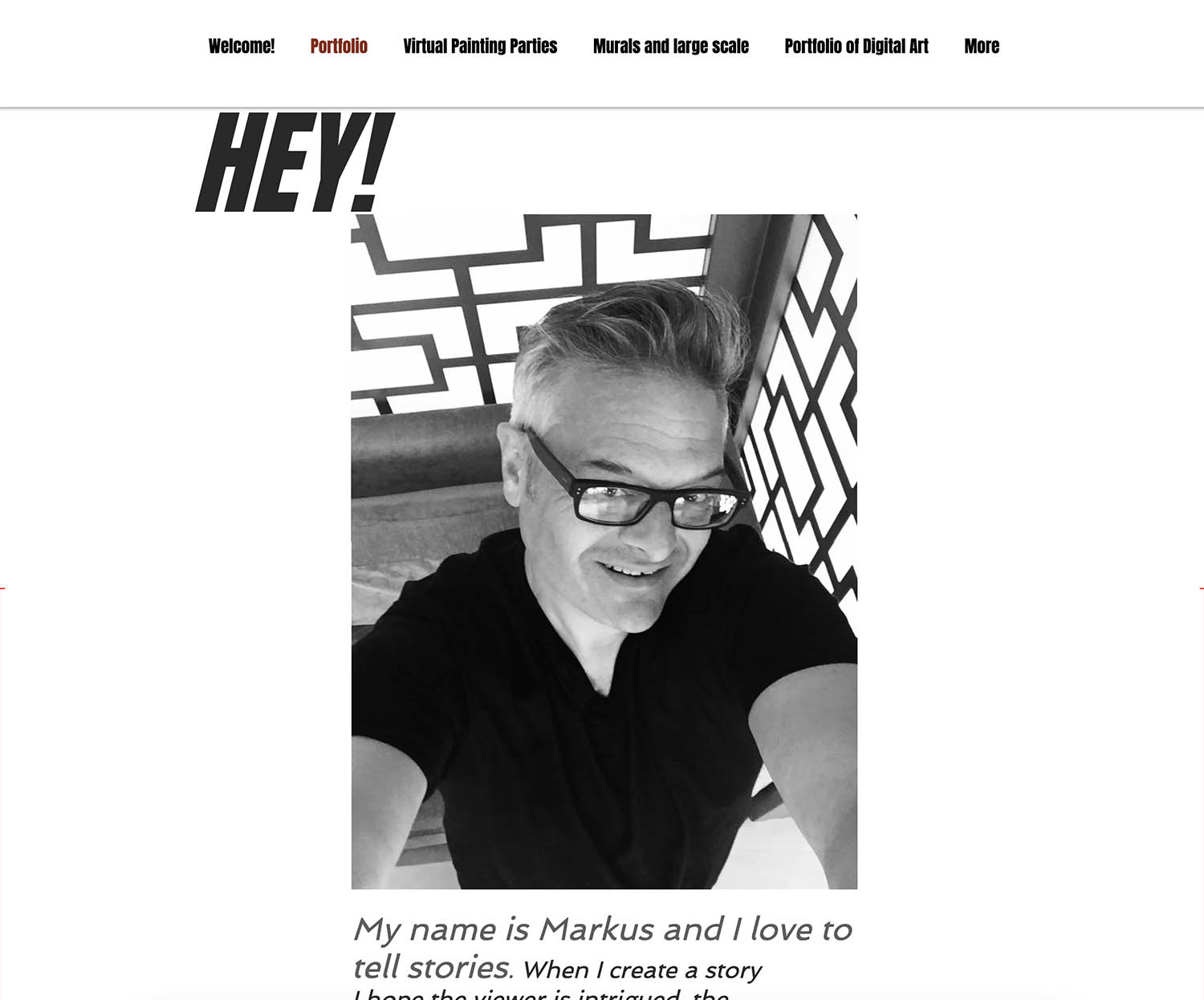 Concluding Thoughts About Your Artist Portfolio
If this article and the examples we've discussed teach us anything, it's that art is such an individual thing. Whether you want a more contemporary artist portfolio or tend toward a more classical design, your portfolio should represent the kind of artist you are.
Whatever your medium or career goals, your artist portfolio is a tool that can help you get exactly where you want to go.