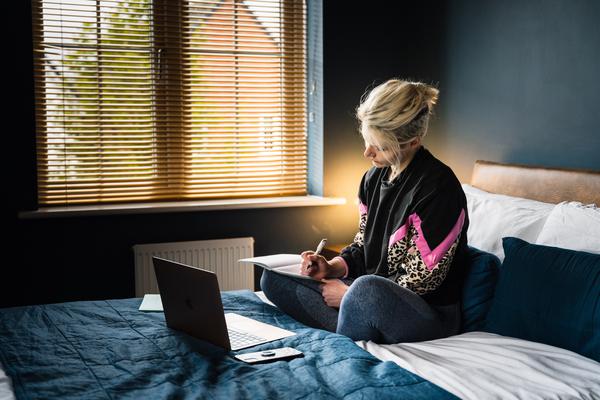 How to Create a Writing Portfolio for Freelancers
Published on
We'll show you how to build a stunning writing portfolio whether you're a professional or you're just starting out. Plus, examples to inspire.
If you're a journalist, you need a way to showcase the articles you've published, the types of journalism you specialize in, and the publications you've written for. If you do creative writing, you want a place you can send publishers, agents, and readers where they can access your writing. And if you're in the copywriting or content writing industry, it's essential to have a digital body of work to show potential clients your expertise.
That's where a great writing portfolio comes in. An online writing portfolio gathers your best work in one place and makes it easy for publishers, clients, and your audience to find you. Whether you have many publications and projects under your belt, or you've just started out, a writing portfolio is a key to your professional success.
What is a writing portfolio
A writing portfolio is a collection of writing samples that you can show to potential clients and publishers. It includes information about you as a writer and any experience and educational background that's relevant to the type of writing you do. It's designed to look professional and be easy to navigate, so visitors to your site can easily find what they're looking for. And it's a chance to develop your professional writing brand for your clients and audience.
These days, most writing portfolios are digital, which makes it easy to send out and share. There are several writing portfolio websites you can take advantage of to host your portfolio. They usually offer different writing portfolio templates and straightforward design options, so you don't need to be a web designer to create a great looking, professional portfolio in very little time.
Why use a writing portfolio
Freelance writing can be divided into two main categories.
The first category includes writing fiction or non-fiction that's published by online and print media or on platforms such as podcasts and television. Often, publishers want to know more about your experience, quality of work, and style of writing. An online portfolio allows them to check out your previous work to see if your writing is a good fit. It also conveys a sense of professionalism so they know you're a skillful writer.
The second type of freelance writing encompasses content writing, copywriting, and ghostwriting. This commercial style of freelancing is usually done on a contract basis, so clients want to see your experience before they hire you. A writing portfolio gives potential clients the opportunity to review your skills and learn more about your services. A good portfolio can be the difference between getting hired and getting overlooked.
Online writing portfolios are also a great way for your readers to keep up with your latest work, and can be included as a link in your author bio when you get published. Not only does this help you develop a following, it can help you get published or hired by other outlets who see your work.
Whether you're a creative writer, a journalist, a copywriter, or a ghostwriter, writing portfolios convey expertise and allow you to collate your best writing samples in one place.
What to include in your writing portfolio
Your portfolio doesn't need to be complicated. In fact, it can benefit from a simple format that allows your work to speak for itself. However, standard writing portfolio formats usually include the following:
1. Writing Samples
The most important thing to include in your portfolio is examples of your writing. There's no need to include all of your published work. It's often more effective to include only your best writing for potential publishers, clients, and readers.
If you have quite a bit of published writing or work in different sectors or types of media, it can be beneficial to divide your writing samples onto separate pages. You can divide pages by type of content, by publisher, or by type of media.
It can also be helpful to add a Home page or a Featured page that exhibits your latest and best writing samples.
2. About You
Your About Me section is an extended author bio that gives people a chance to get to know you better. You can keep it professional by sticking with your writing experience, publication history, and educational background. You can also choose to make it a little more personal by including interesting details about yourself and your writing philosophy.
Your About Me can be its own page, or it can be a section on another page. And be sure to include a professional and on-brand profile picture with your bio.
3. Contact Information
You'll want to include contact information that's easy to find. You can have a separate Contact page with a contact form, include your email address on all your pages, or both.
Nowadays, contact information goes beyond email information or a contact form. It also includes links to your social media accounts. Social media buttons should be included on all pages of your portfolio, and should only link to social media that's relevant to your writing.
Type of content to feature
Portfolios can showcase everything from poetry to think pieces, white papers to blog posts. The content you feature will depend on the type of writing you want to get hired for or that you want to have published.
Decide who your target audience is and choose your best content that appeals to that audience. For example, if you write articles for the fashion and beauty industry, highlight writing samples in that industry. If you create blog posts for tech companies, you'll want to feature those. And creative writing portfolios will do best with your fiction and thought pieces at the forefront.
If you write multiple types of content as many writers do, a writing portfolio template that divides types of content onto different pages is ideal.
Designing a portfolio if you have no experience
What if you have no experience as a freelancer or you haven't been published yet? Portfolios are a great way to display your potential while you're still building out your publication experience.
Once you know what type of writing you want to do, you can include unpublished samples of that kind of writing. Blog posts work well for this as do writing projects you've done for school. 
If you're focusing on commercial writing, you can feature mock sample projects as long as you define them as such. There are also copywriting prompt challenges you can participate in and use as samples.
It can be challenging to land those first few writing gigs. But remember, you only need a few high-quality examples to get started. 
Freelance writing portfolio examples
1. Kenneth Seward Jr
View Kenneth's portfolio here: www.ksewardjr.com
Kenneth Seward Jr. is a freelance writer, editor, and illustrator who specializes in games, movies, and more. He's also a co-host of a podcast called The G.A.M.E. Cast. His work has been featured in IGN and Gamespot, among others.
Kenneth has a great publication CV in the entertainment and gaming genre. Because he has many publications under his belt, he's divided his portfolio onto separate pages, depending on content. His latest work is on his Home page, and he has a Featured page for interviews and long form content. He also has pages for News, Previews, Review and Listicles. He even has a page dedicated to his podcast with an embedded video of a sample episode.
His portfolio shows not only the depth of his expertise, but his ability to write about his subject matter in a range of styles.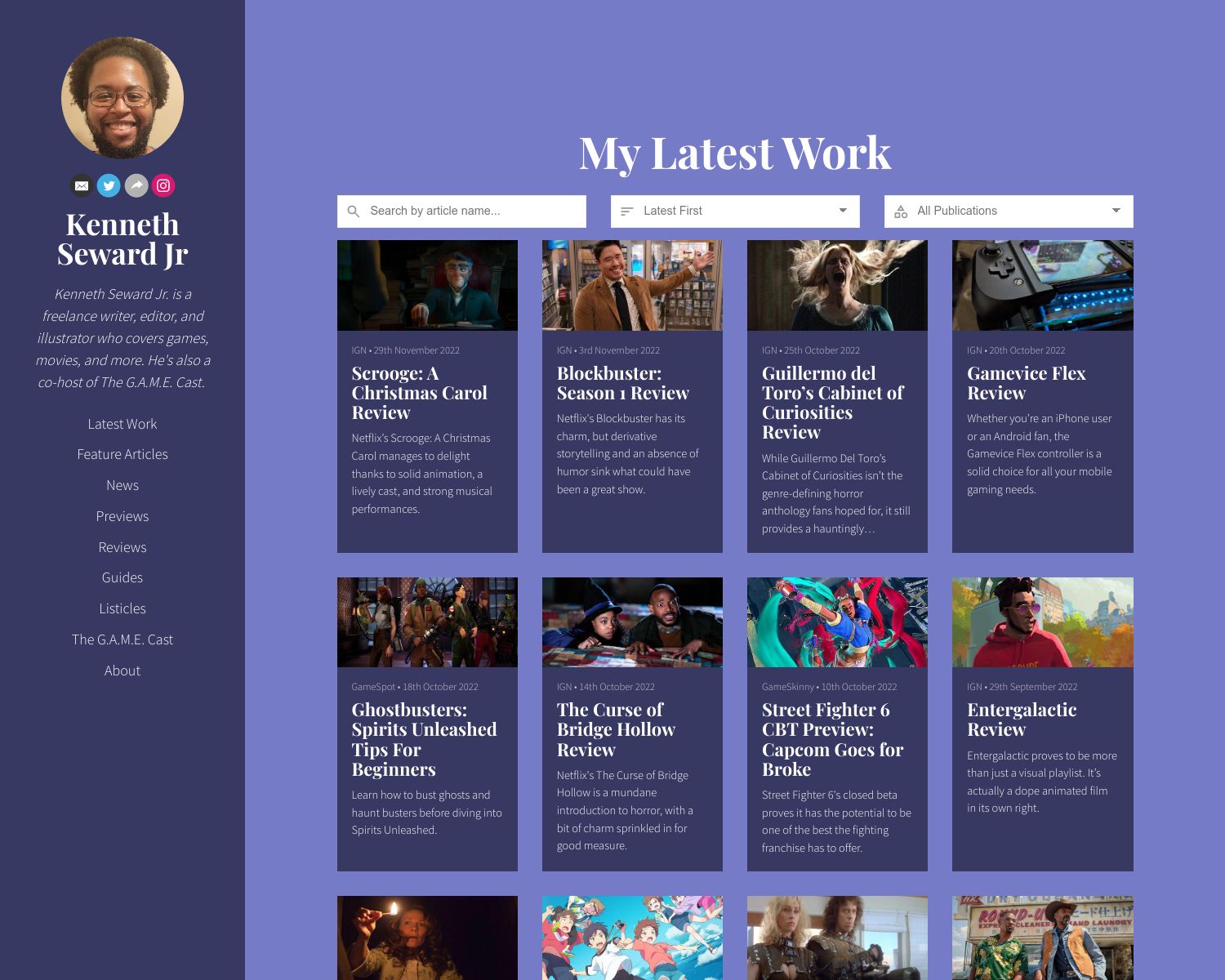 2. Shelby Stewart
View Shelby's portfolio here: shelbystewart.journoportfolio.com
Shelby Stewart is a freelance journalist, copywriter, public speaker, and on-air host based in Houston, TX. She writes about entertainment, style, beauty, music, film, and culture, and has interviewed Monaleo, Megan Thee Stallion, and G-Herbo, among others.
Shelby's portfolio immediately spotlights her extensive entertainment writing. Her landing page displays her many published works in a large grid format on a white background, so the articles and images really pop. Her header is small and elegant, which keeps the focus on her writing samples.
Her Work page utilizes impressive images to illustrate the campaigns she's been a part of. It also includes a beautiful series of photos that showcase her role as the co-founder of the Houston Hip-Hop Museum. Her work page is an excellent example of how to showcase all of your creative projects in one portfolio.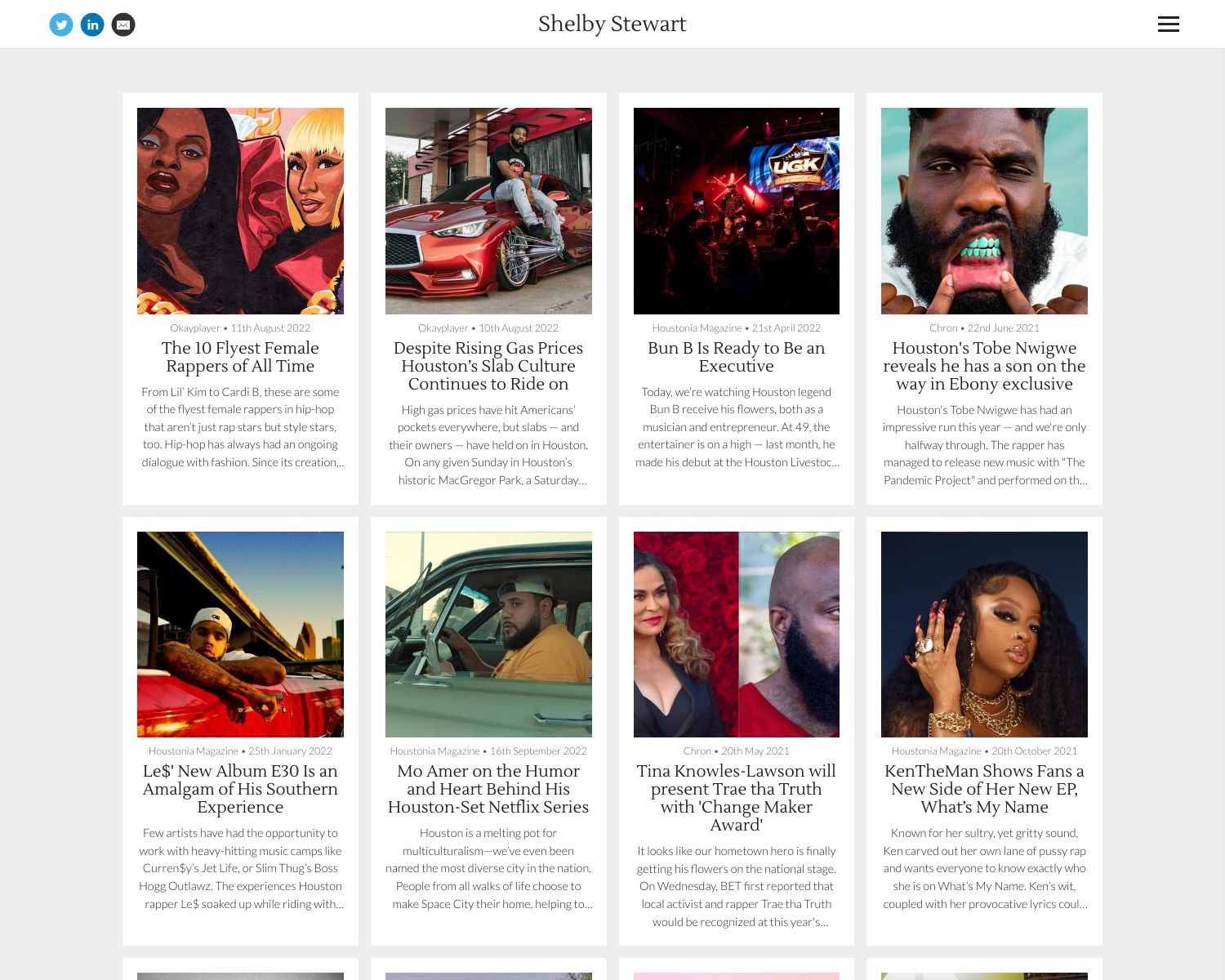 3. Eleanor Wilson
View Eleanor's portfolio here: www.eleanorwilsonjournalist.com
Eleanor Wilson is a freelance journalist and writer based in Naarm/Melbourne, Australia. She's written for ABC news, Fashion Journal and Global Hobo, among others.
Eleanor starts with her bio, highlighting internships at Fashion Journal, ABC Ballarat and SBS/Princess Pictures. She also gives information on her educational background in journalism. This is a great example of leveraging your educational and professional experiences.
Her Work page features 3 large buttons that take you to separate pages for her online, radio, and TV work. These pages all feature some of her best work in each area, as well as brief explanations about the works themselves.
Eleanor opts for a simple black-and-white color scheme, but uses different formats on each page to keep her portfolio visually interesting. This way, her portfolio comes off as professional yet engaging.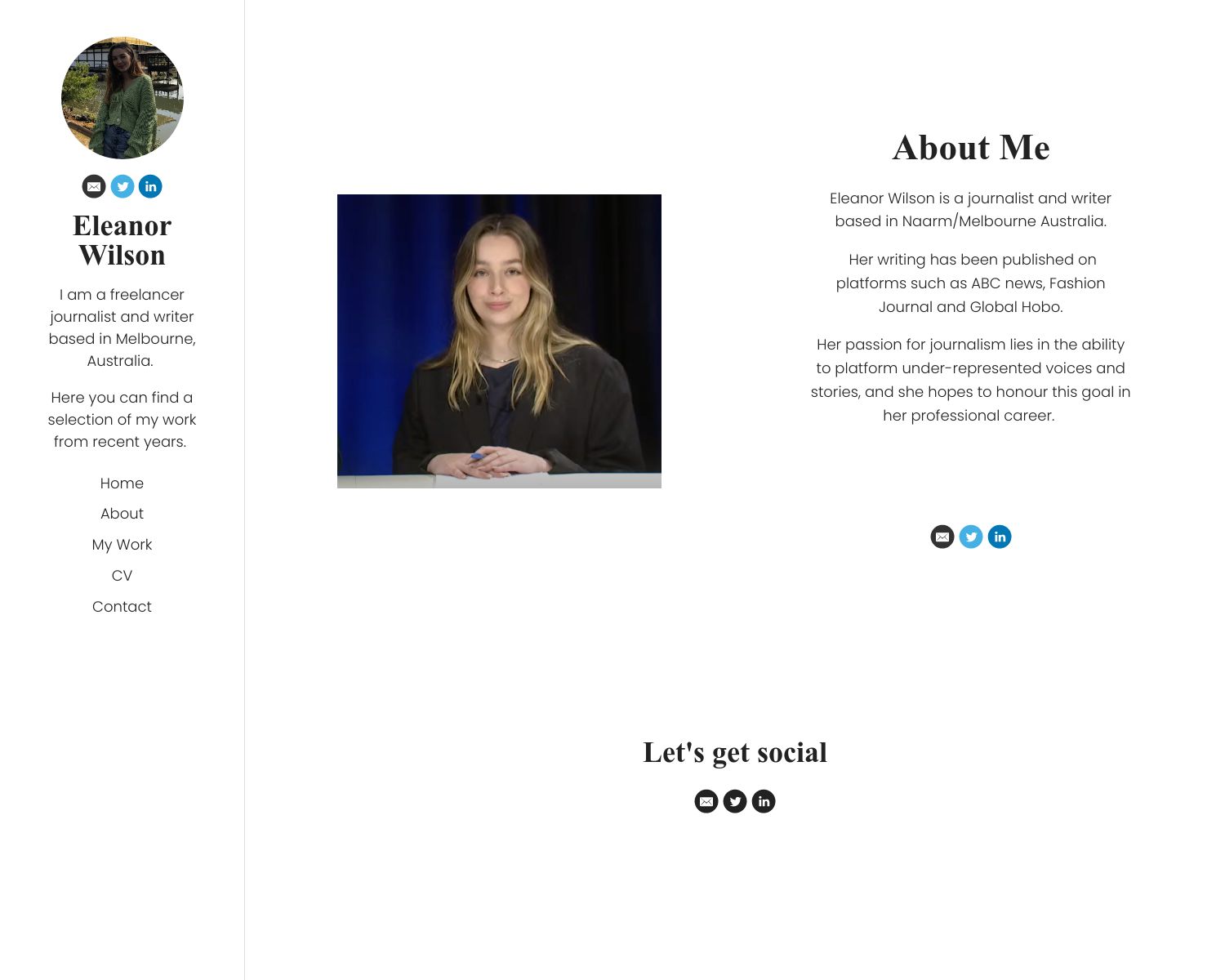 4. Allie Nguyen
View Allie's portfolio here: allienguyen.journoportfolio.com
Allie Nguyen grew up in Vietnam and is now based in London. She is a writer, editor, and artist who's currently working on her first YA novel.
Her featured articles include some of her own well-written blog posts, an excellent example of featuring work on her portfolio as she builds up her publishing credentials.
Allie includes a page dedicated to her incredible art, which adds a visual flair to her portfolio. A simple yet personable About Me page helps visitors get to know her and the direction she's taking her writing. She also includes a short bio statement in her sidebar menu, so she establishes her brand throughout the site.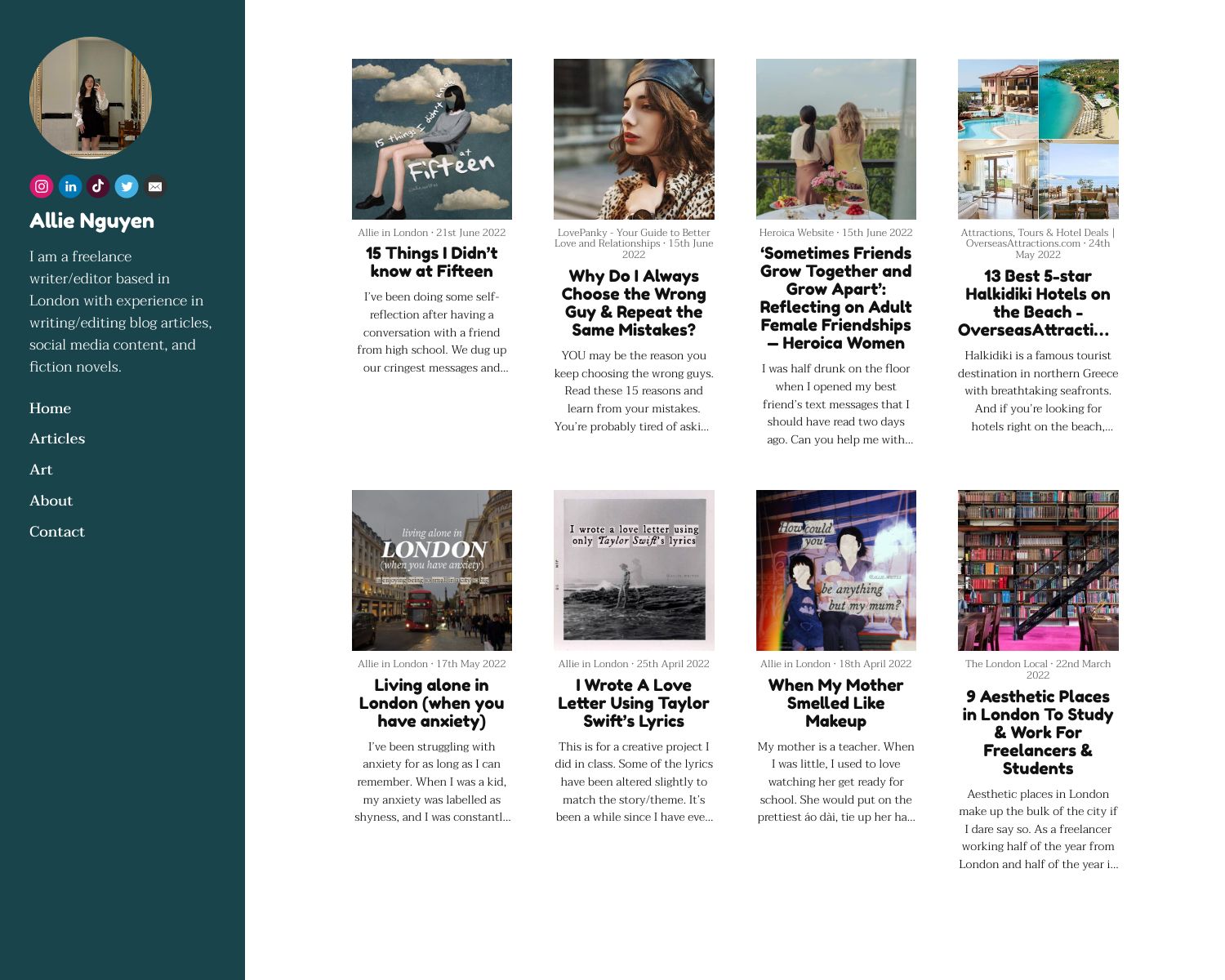 5. Madelyn Lindquist
View Madelyn's portfolio here: madelynlindquist.journoportfolio.com
Madelyn Lindquist is a freelance proofreader and editor based in Dallas, Texas. She's worked in book publishing and journalism, copyediting full-length manuscripts and proofreading magazine pages. Because her writing career is focused on editing, she uses her portfolio to display her editing projects alongside her writing samples.
Her portfolio makes use of varying formats on different pages to showcase each type of work to best effect. On her Books page, the images of book covers from the books she's worked on serve as buttons that link to each book. When hovering over each button, a brief sentence describes her role in the creation of the book. Her journalism page showcases her role for 3 different publications.
Madelyn also makes excellent use of testimonials by featuring a Comments page where she quotes authors and writers she's worked with on various projects.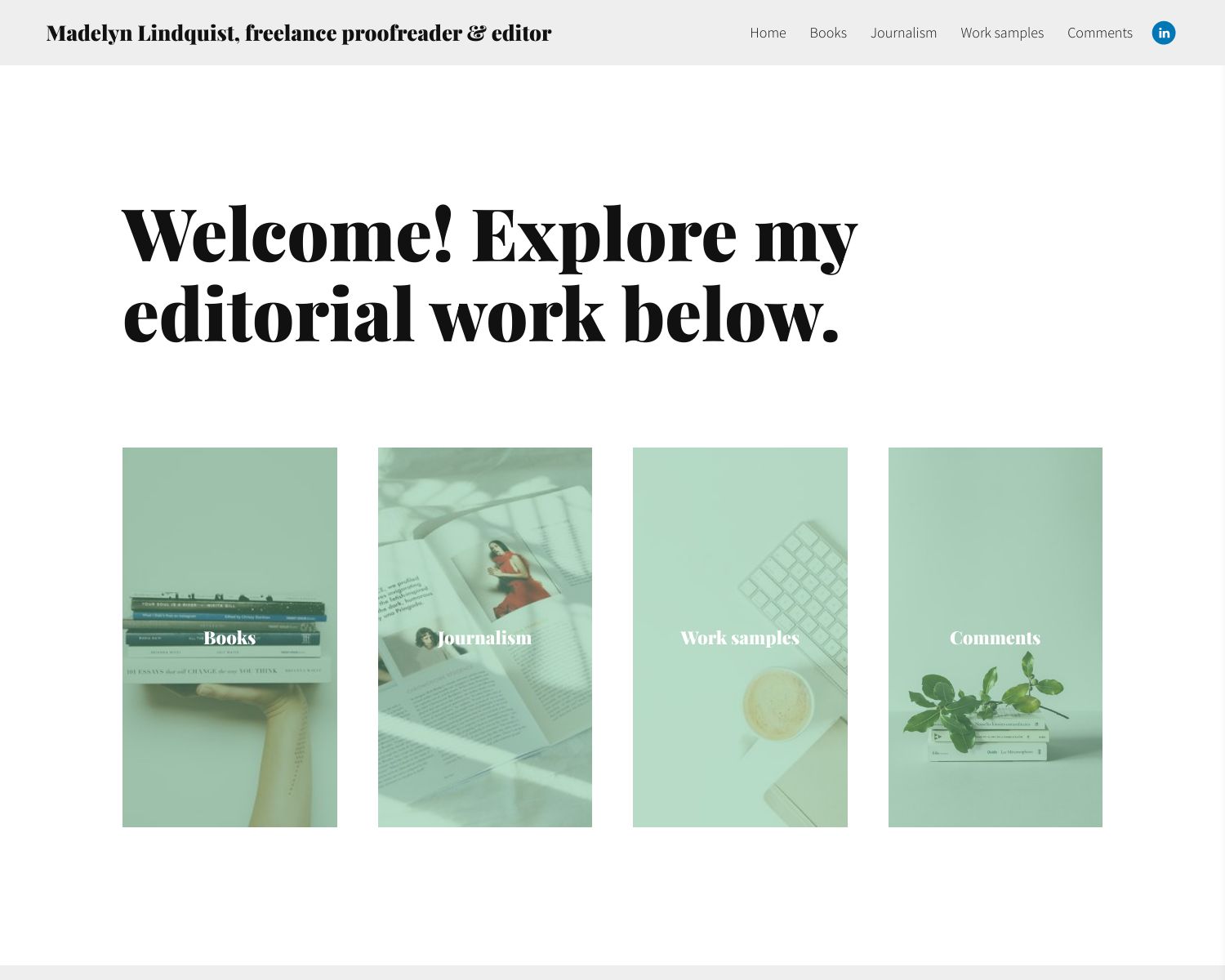 6. Emily Dean
View Emily's portfolio here: www.emilydeanwrites.com
Emily Dean is a content writer and copywriter with a background in teaching and marketing. She specializes in relationship and personal development content as well as digital marketing.
As a commercial writer, her portfolio makes extensive use of her personal brand. Emily displays her brand logo on a wide black header which creates immediate brand recognition. Her landing page features a professional profile picture and a concise About Me, establishing herself and her credentials. Creating a brand-conscious portfolio helps her advertise her services and makes her portfolio itself an example of her digital marketing skills.
In addition, she has a Services page that lists the different types of writing she specializes in. This allows potential clients to see if she writes the type of content they need. She also makes impressive use of CTA buttons throughout her site that link to her contact form, making it easy for impressed clients to reach out and hire her.
Conclusion
Every writer needs a professional way to showcase their writing. Online portfolios are simple to design, easy to keep up-to-date, and provide an opportunity for your target audience to get to know your work.
If you're ready to explore designing your own portfolio, check out Journo Portfolio's selection of themes here.