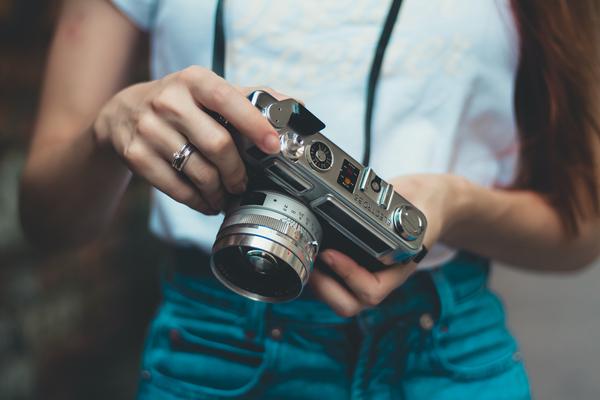 9 Tips to Build a Professional Photography Portfolio
Published on
Where do you get photos for your professional photography portfolio when you're starting out and have no experience? Learn some tips that will help!
You have the skills, knowledge, and expertise to be a professional photographer. But many new photographers struggle to get paying clients without having a solid portfolio of work. Which begs the question, how do you build up your photography portfolio when you're new to the field and don't have professional experience?
Let's go over a few tips and tricks that will help you to build up your portfolio with crisp and professional photos, even when you've never had a paying client.
But first, let's look at why having a portfolio website is crucial to any photographer's brand..
Why Your Brand Needs a Photography Portfolio Website
A portfolio website is a versatile tool to have in your toolbox as you grow your photography brand. It is the one-stop-shop for people to see your skills, your body of work, and even your background information.
And there are many situations where a professional portfolio website will help in your career. For instance you might use it to…
Apply to an art school or program.
Enter a contest.
Apply for a high-profile photography job.
Give to clients as evidence of your work.
Promote yourself on social media and other sites.
A portfolio is a worthwhile investment in your future. It's never too early to start a portfolio, because you never know what doors it could open for you in your professional photography career.
What Should You Include in Your Photography Portfolio?
What does a well-built portfolio include? For starters…
A home page with your feature work and basic information about yourself.
A gallery with highlights of your best work.
An about me page so people can read about you and your background.
A contact page so people can easily get in touch about work opportunities.
A pricing page, if applicable, to display your packages and rates.
These are the ingredients for a successful photography portfolio.
When Should You Start?
Should you hold off on creating a professional portfolio until you have everything in place?
Not at all!
Start your portfolio now. Use the shots that you already have as your foundation. You can always replace them with better shots later on, as you gain more experience.
Having a portfolio in place will help you as you learn and grow in your skills. It can even help as you get more active in the field. You never know when someone will ask for it – and even having a fairly thin portfolio is better than nothing at all.
Plus, starting your portfolio early will give you time to tweak it into the kind of portfolio that you want. You will have the time to adjust your wording, get the layout just right, and be completely confident in it by the time you go to use it professionally.
But now to the heart of this post – how do you actually get the photos to use in your portfolio when you've had little to no experience?
There are plenty of ways for you to build a solid photography portfolio with actual, professional photos, even without the actual paid experience.
Let's look at a few general tactics you can use. These tactics are not specific to any one niche, so some of them might not directly apply to your niche, but hopefully you will find some helpful tips to get you started.
9 Tips to Build Your Photography Portfolio With No Professional Experience
1. Know Your Niche
This is a good first step. Look online and on social media platforms like Instagram. Search for and follow other photographers within your niche. Look through their feed and take note of what is trending within your niche.
Don't be intimidated by others' photos – remember, you will have the same quality of work and samples in time. In the interim, look for ways to grow and imitate the shots you see.
As you familiarize yourself with your niche, reach out and get to know other photographers. You never know when a simple acquaintance could blossom into a friendship and lead to greater opportunities in your field.
2. Set Goals
Without goals, it can hard to know where to direct your blows. This applies to so many areas of life, but particularly to your career.
Part of these goals should be laying out your specific niche, if you don't already have one. Don't make the mistake of spreading yourself too thin and wearing yourself out trying to do weddings, wildlife, and sports photography. Choose one and stick to it.
Once you've chosen a niche, decide on how many photos you want to contribute to your portfolio within the first year. Then, plan out opportunities where you will get these photos – more on this below!
Laying out goals like these can give you mile markers by which to measure your progress and maintain your motivation.
3. Get the Word Out Online
Let people know that you are open for business and free to do work. You might set your prices very low or even offer to do work for free, in exchange for being able to use the shots in your portfolio. This depends on you and your personal situation and goals.
There are several places where you can do this. You could…
Share a post to your friends on social media.
Post an ad on Craigslist or some other local goods and services site.
Post a notice on a local community website.
There are probably plenty more opportunities where you can get the word out. Keep your eye out for places online where you can promote yourself. You might even look on job boards for individuals and event organizers who are looking for photographers – some might not even care about experience.
Who knows -- you might even go old school and post a flyer in your local coffee shop. Those can still work, too!
Be creative and start looking around.
And don't forget – once you have an opportunity, reach out to ask for a testimonial. Many people are more than happy to help out a new photographer with a written testimonial or even some good word-of-mouth.
4. Join Niche Facebook Groups
There are Facebook groups for almost every passion under the sun. And there are facebook groups dedicated to photography niches. I've found groups for wedding photography, portrait photography, sports photography, and so much more!
These groups can help to build your brand in a number of ways.
First of all, you never know what tips and tricks you can pick up that will improve your skills or even help you to deal with the ins and outs of the business.
Second, it will give you connections. As people see your skills and you connect with them, you never know what opportunities it might bring.
And third, if you find people in your area, they might very well be able to point you to work opportunities close to where you live.
5. Ask Family and Friends
Friends and family can be a great resource to help you gain both experience and samples to use in your portfolio.
And this method works for a couple of different reasons. It will allow you to work out any kinks or issues before you meet with real-life clients. It also allows you to get comfortable working with people in a relaxed atmosphere – let's face it, working with paying clients can be intimidating in the beginning.
But just because it's family and friends doesn't mean that it's not serious business.
Do the leg work ahead of time, possibly doing research to get ideas of the kind of shots you want. Lay out all of the details, including where you're going to do the shoot, who is going to be in the shoot, what clothes they will wear, and what poses you want to achieve.
You don't even have to organize an official shoot. Your friends and family can still be great subjects to use in your portfolio. Bring your camera with you when you go out and be ready to capture any moments that you could later use in your portfolio.
6. Stage a Mock Event
This calls for a little creativity. But sometimes, if the opportunity doesn't come to you, you can create one.
Whatever you want to photograph, make the plans to do it yourself. This will get you both the experience and the samples to use in your portfolio.
And this can work with a number of different photography niches.
For example, if you want to get into wedding and engagement photography, ask your friends to play dress-up for a day. Corporate headshots? Get people you know to put on their professional best and smile for the camera. Outdoor activities? Ask your mountain biking friend to let you tag along with your camera.
You are only limited by your imagination here.
Even for something official, like a wedding, you can oftentimes rent the clothes you need and find a free or low-cost venue where you can hold it.
Doing mock events like this can help you in a couple of ways. Of course, as we mentioned, it can give you great shots that you can leverage as you begin your career. But it will also give you the opportunity to perfect your craft and get used to dealing with people in the context of photography.
7. Ask to Assist an Established Professional Photographer
Look for photographers in your area who work in your niche.
Many times, wedding photographers will look to hire on another hand for big events. They might want an assistant or even a second shooter to make sure they get the best angles.
Getting a gig as a second shooter can open many more doors for you. For starters, you might be able to use any shots you take in your portfolio. But it's also a great way to get on the industry radar. Once the photographer sees your skills, they will very likely be comfortable recommending you to clients whom they cannot fit into their schedule. Or they might even want to hire you on for more projects.
Either way, this tactic has the potential to expand your photography business.
8. Be Willing to Work for Next to Nothing
You need experience. People need a photographer – and some people are looking to save money wherever they can.
This creates the perfect opportunity for you to step in and fill that role.
In the beginning, you might accept lower rates – or even the offer of a meal in exchange for your services. It's a great learning experience and opportunity to get the shots you need for your photography portfolio.
Now, this comes with a warning label. Clients could fall into the pattern of taking advantage of this offer. And while it's good for the short term, don't allow clients to undervalue your services, even if you are a beginner. Once you have established yourself, know your worth and stand your ground.
9. Visit Local Events
There are countless events that could be an opportunity to get more professional shots to use in your portfolio.
For instance, if you would like to get into sports photography, visit your local high school football game. If you would like to be a fashion photographer, see what fashion events are happening in your community.
You might even talk to your local newspaper and offer to cover certain events when their normal photographer is unavailable.
Some Final Thoughts
In the beginning, it can be a daunting task to get the experience you need as a photographer. But by putting in the hard work and taking the opportunities that come your way, you can build up a successful and profitable business.
No matter what your niche is, there are ways for you to get real, hands-on experience and also get shots that you can showcase on your photography portfolio.
Now that you know some of the free tactics at your disposal, it's time to go out and turn your photography business into the success that you've always wanted. We can't wait to see how it goes!