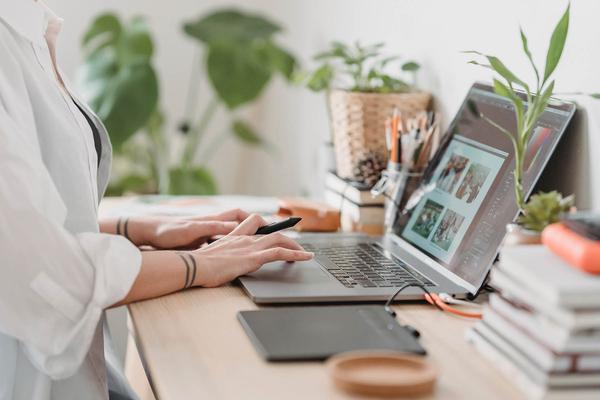 How to Craft a Stunning Photography Portfolio From Scratch
Published on
Learn how to craft the perfect photography portfolio to best show off your brand and get the business you want
You have worked hard to hone your skills as a professional photographer. You have a memory card full of stunning shots and the expertise to branch out in your career. The natural next step is to create a photography portfolio to show off your brand to its best advantage.
But what is this portfolio and how do you go about building one for your brand?
What is a Photography Portfolio?
This is a website where you can house all of your incredible photographs in one place. Potential clients can then come, check out your work, and read more about you.
The great thing about having a portfolio website is that it is available whenever and wherever your audience needs it. They can view your most recent shots and even reach out to you with questions and hiring requests, all from your website.
Why Invest in a Dedicated Photography Portfolio?
A portfolio can help you stand out as a serious photographer. In fact, many photography clients and publications will ask to see your portfolio before they hire you for a project If you don't have one, it can seriously hamper your prospects for finding work.
And portfolio websites make it incredibly easy to set up and share your work. You can udpate it regularly with your most recent shots and customize it to fit your personal brand and style.
In essence, your portfolio website is your business card for the digital age. It not only helps people to find you but also learn as much as they can – including your work, skills, and background -- before they hire you.
But what goes into creating a portfolio website? Let's look at what you need to know to build a stand-out portfolio and some of the best practices that will help you succeed.
How to Create an Amazing Photography Portfolio
1. Outline Your Goals
Setting goals is never the fun part of branding. It involves sitting down and reflecting seriously about your career and what you want out of it. It can be difficult. But it's necessary. Once you lay them out, goals will help you to navigate several important decisions as you build your photography portfolio.
What goals should you be setting? Here are a few questions to help you set your initial goals
Who is your audience? Knowing who your potential clients are will help you to design your portfolio with them in mind – and even target them in the future.
What are your strengths? Perhaps you are a strong landscape photographer or you shoot stunning black and shites. Whatever your strengths are, be honest about them. This will help you determine what to feature on your portfolio.
Where do you see your business in 5 years? This is important, because you may need to lay out a plan to refine your portfolio over time to meet your goals. Perhaps you want to get into shooting sports photography. The shots you feature and the language you use will be vastly different from, say, a fashion photographer.
2. Build Up Your Work
To make your photography portfolio truly impressive, you need a good-sized catalog of work. This will help you to look more experienced and established – both of which will make you more appealing to potential clients.
When building up your work, look for ways to showcase your various skills. These could be composition skills, such as color, balance, and lighting. Or you could showcase your ability to work with people by working with models in your photography.
Word of caution, though… Sometimes less can be more. What do I mean? While you want a solid block of photographs that show off your skills, too many photos can also be a problem. Find the right balance for your brand.
And do not fill your portfolio with redundant shots. Thirty photos of the same lighthouse, even if it's stunning, will mark you as an amateur. Instead, fill your portfolio with a variety of unique shots.
And, depending on your brand, you might need to organize your photos into several categories. If you do portrait photography, for example, you might organize them into categories like children, family, and wedding.
3. Choose Where to House It
There are several options out there when it comes to photography portfolio websites.
First, there are sites that allow you to build your own website. These include Squarespace, Wix, or even a Wordpress website, depending on your skill level. The beauty of these options is in the flexibility of design and ease of use. But they can get pricey and, depending on the design aesthetic you want, you might find yourself face-to-face with some complicated coding issues.
Another option is to house your portfolio on a website that is specifically designed for portfolios. These sites include specific features to help you showcase your photography in its best light and increase brand awareness. These include such sites as Journo Portfolio and ZenFolio.
Are you feeling a little overwhelmed by which one to choose? List out all of the features that you want and look at your budget. Then compare each plan with this list to make sure you're getting the best plan for your growing photography brand.
Some features that you will want in a photography portfolio website include…
Easy-to-use layouts – These take the guesswork out of creating and coding a website.
Customization feature s – You want to individualize it to you and your brand, after all.
Video capability – Video is becoming more and more popular. It's good to have the option to branch out into video whenever you may want to.
Analytics – You need to see who is visiting your site, where they're coming from, and what pages are the most popular.
Customer service – When something goes wrong, you need to be able to reach out for help.
Free trial – Make sure it's right for you before you make the full investment.
4. Design It to Stand Out
Design is what's going to distinguish your brand from other photographers. Let's talk about a few ways you can do this.
Choose a design that will put your photography on center stage. People should know that you're a photographer and what kind of photography you do as soon as they enter your site.
Show off your unique personality. Steer clear of a cookie-cutter site that looks like everybody else's – individualize it as much as possible. This could be with photos of yourself or distinctive colors and fonts.
And make sure your site is well-balanced and organized. Weave in text that highlights stories behind your photographs when appropriate. And organize your work to make it easy for potential clients to find what they want.
If you're not quite sure what direction you want to take with your portfolio, don't stress! Just do a little research.
Look at other portfolios by top-tier photographers in your niche. Determine what you like about their portfolio and how you might imitate it in your own portfolio. You might create a folder with screenshots of elements of your favorite sites for inspiration once you're ready to design.
5. Choose an Eye-Catching Feature Photo
Take your time on this step. You want to choose the very best photo to showcase front and center on your portfolio. This photo should show off your skills as a photographer and should have a distinct subject matter.
As soon as a client sees this photo, they should be convinced of your skills. This will move them to peruse your site and learn more about you.
If you're having trouble choosing just one photograph, you might go with a few that highlight different aspects of your work. But I don't recommend using any more than five photos. Otherwise, you risk overwhelming your visitors as they enter your site.
6. Tell Them About Yourself
Every portfolio should have a bio or About Me page. Sure, you're a photographer, not a writer. But your audience will still want to know more about you, the person behind the photos.
This doesn't have to be super long and drawn out, but it should be more than a dry list of facts. Use a warm and friendly tone that will resonate with your audience.
Use this page to tell a story. Explain what first drew you to photography, why you enjoy it, and even some of the experiences you've had along your journey. If there are funny or meaningful stories, share those with your audience.
Not sure what to write? Talk it over with someone who knows you well. They might have insights and stories that you missed.
And if writing really isn't your thing, consider doing a video introduction. This will capture your personality and mannerisms in a way that is relatable and genuine.
Why is this important?
Clients don't just want someone to point and shoot a camera. They want to know the person with whom they'll be working. Oftentimes little details like an About Me page can distinguish you from other photographers and make the difference between landing a gig and not.
7. Include a Pricing Page in Your Photography Portfolio
A pricing page helps to make things as transparent as possible – a feature that many audiences appreciate! After all, they're busy people. And many today will not take the extra step to call or email. If you don't lay out your basic pricing structure, you risk losing some clients who don't have the time or inclination to reach out.
Keep in mind, your pricing page doesn't have to get into the nitty gritty of your services. Just list your basic services with starting prices. This will give them a general idea. Then encourage them to call for more details or to talk about a custom job.
8. Make It Easy for People to Reach Out
People see your photos and expertise – now what?
Now you want to make it easy for them to reach out with questions and even put in requests.
This is where a Contact Page comes in.
Create a page that makes it easy for people to reach out to you. Include a basic form where they can input their name, email address, and a brief message.
Don't forget to also include other means by which they can contact you. Include your email address, phone number, mailing address, and links to your social media. This gives them several options to reach out, according to their preference.
9. Review Your Portfolio Site
It's always a good idea to go over your photography portfolio to make sure everything is in the right place before you share it with the world.
Review each photograph with an eagle eye to make sure you are putting your best foot forward. Read over your captions and any text on your page to make sure spelling and grammar are all in tip-top shape – if this isn't your thing, use a free tool like Grammarly to help you out.
Once you've reviewed everything, ask a close friend or family member to go over it. They might be able to offer a fresh perspective or necessary criticism to improve it. Choose someone that will be completely honest – if there are mistakes or ways to improve, you want to know this now, before your portfolio goes live.
10. Don't Let It Go Stale
Your portfolio should keep step with you at every point in your photography career. You don't want someone to visit and feel like they've stepped back in time.
Update your photography regularly to make sure your best and most recent shots are on display. Re-evaluate your photography catalog and make sure it's organized in the best way possible.
And review the photos of yourself and your About Me page regularly – you never know when new details might need to be added or when your personal photos might need an update.
I hope this post has helped you to create your own portfolio website and expand your photography brand.