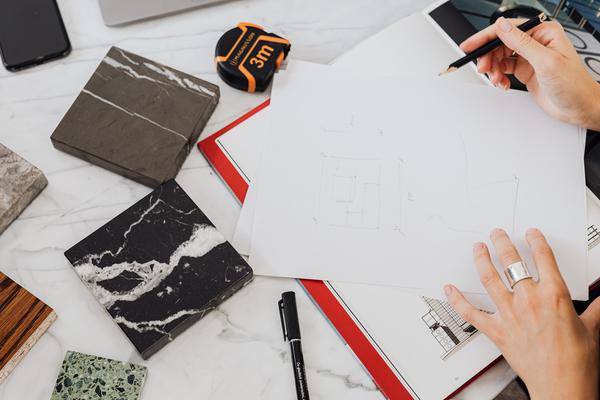 How to Create a Stunning Portfolio for Interior Design
Published on
Whether you are a seasoned professional interior designer or a beginner just starting out, you need a portfolio that can showcase your designs and win you clients. We'll show you how to build one and what to include.
If you're an interior designer, you understand that you have to know how to do so much more than just create impressive decor. You need to be able to design floor plans, understand building codes and mechanical systems, work effectively with color theory, and alchemize functionality with style. When a client or employer hires you, they're looking for someone who can take an idea, a mood, or an essence and manifest a design that expresses it elegantly and effectively.
So how do you show prospective employers and clients all that you have to offer? How do you showcase your skills, your successes, and your services?
One of the best and most effective ways to do so is with an online interior design portfolio. Interior design portfolios are a great way future clients can view your work, get to know more about your process, and see if your style is a good fit for their project.
In this article, we'll show you how you can set up an online interior design portfolio that will impress and amaze clients and employers.
What is an online interior design portfolio?
An online interior design portfolio is a digital collection of your interior design work that you can easily share with potential clients. If you are already a professional designer, your portfolio may include photos of finished projects, technical drawings and renderings, a breakdown of your experience, and what services you provide. If you're still a student or are new to the industry, you may rely more on visual renderings and drawings, as well as any student projects you may have worked on.
Either way, a portfolio is going to be a visually heavy collection of your work that gives a clear idea of what you do and how your finished interiors look. And because it's digital, your interior design portfolio can be shared with anyone in the world. It is a landing place for anyone who wants to check out your work in more detail and can be used to market your services.
An online interior design portfolio can be your own personal website, or it can be designed on a portfolio hosting site. Portfolio hosting sites are specifically built to support portfolios and are usually simpler in functionality and easier to set up than a traditional website. Some people even use Powerpoint or Canva to create a digital portfolio, but these aren't publicly available online and so can't be used as easily for marketing or social media purposes.
What does an interior design portfolio look like?
Your interior design portfolio is an expression of your artistry and your design style. As such, you'll want your template, your color scheme, and your page layouts to be reflective of your work. If you have a zen minimalist style, clean lines and subdued colors might be a good choice. If you design colorful bohemian interiors, you'll want to make sure your portfolio pops with color and vibrancy.
That being said, you also want to ensure that your portfolio website is easy to navigate, so that site visitors can find exactly what they're looking for. The site as a whole and each individual page specifically should be organized and clear.
And because interior design is such a visual art, your interior design portfolio will need to be heavy on high-quality photos and other visual assets such as 3D renderings and drawings. You want a visitor to your portfolio site to be immediately immersed in your work and to really feel the impact of your style.
What to include in an interior design portfolio
It can be overwhelming to try to sort out what you need to include in your portfolio. After all, it can be hard to guess what exactly a potential employer or client may be looking for. And there are differences in student portfolios, professional portfolios, and portfolios for interior designers that are just starting out.
In this section, we'll go through the most important elements for you to include in your interior design portfolio, but first we'll break down a few good rules of thumb.
Less is more. You may be tempted to include bits and pieces of everything you've ever worked on, but when it comes to interior design portfolios, you'll only want to include the best, most recent, and most representative of your projects. A good general rule is to include 5 to 7 of your projects. If you don't have 5 great projects to showcase, focus on fewer projects but go into more detail about each.

Invest in high quality photos, renderings, and technical drawings. Clients and employers will be looking at your portfolio as an example of your design work, so everything you include needs to be top notch. Pixelated photos or poorly scanned hand drawings shouldn't make the cut.

Organize, organize, organize. Put different projects on their own separate pages, divide your portfolio by industry, or create separate sections for complete projects and floorplans. However you decide to put together your portfolio, make sure that it makes sense and lets each element shine.

Keep your portfolio updated. As your work evolves, so should your portfolio. If you do a new project or expand into a new type of design, you'll want to have a portfolio that reflects each new stage of your journey.

Design your portfolio with your ideal client in mind. If you want to design hospitality projects, showcase the hospitality work you've been doing, even if it's only technical drawings and AI renderings so far. If you crave vintage interiors, create a portfolio with a uniquely vintage feel. When in doubt, keep referring to your target audience.
Now that we've established a few general ideas for your portfolio, we'll take a look at each of the elements you'll want to consider including in your interior design portfolio.
Photos of your finished projects
Photos of your finished interior design projects are the heart of your interior design portfolio and are the work samples prospective clients and employers will be most interested in. Include as many high quality, high res photos of your projects as you can, taking into account different angles and perspectives.
If you aren't a photographer yourself, it's well worth hiring a professional to get this aspect of your portfolio right, as it is the most important and impressive aspect of your work.
Before & After photos
It can be incredibly convincing to see a space before an interior design transforms it and after everything has been completed. It's a little like magic, and it's great to include a few examples of this if you can.
You can use a picture of the space before you started work or a technical or hand drawing as your Before photo. Obviously, a finished photo of the space is a great After photo, but if you are a student or creating a design portfolio for now experience, there are some great AI programs that can create realistic renderings of your designs. These can also substitute for an After photo.
Progression photos
Sometimes showing a project from beginning to end can give a client a clearer sense of how you work and how you dealt with challenges that arose during design. You can choose to include your original floor plans and CAD drawings, explanations of each stage of the project, or just let the pictures speak for themselves.
Including one project from start to finish in your interior design portfolio can be an excellent way to showcase your ability to take a project to completion. If you are building a student portfolio or only have a few projects under your belt, this is a great way to create impressive content for your portfolio.
Technical drawings, hand drawings, and 3D renderings
Photos are an incredibly important part of any interior design photo. However, sometimes a potential employer wants to see the bones of your work and to see the art behind your design.
From two-dimensional floor plans to CAD drawings, including a few technical drawings alongside your projects lets employers know you know what you're doing when it comes to the nitty gritty of design. And hand drawings, sketches, and mood boards can give a more intimate sense of your inspiration and vision. AI mockups and 3D renderings also show you can use the technology necessary for interior design.
Students, beginners, and professionals alike benefit from including a separate section or page for their drawings or by including them alongside photos of finished projects.
About Me
An About Me section or page is an important part of your portfolio. However, it can be as detailed or as minimal as you like.
If you are using your interior design portfolio in your job search, you may want to build an About Me page that functions as a resume and includes the details of your interior design education, professional background, awards, and notable projects. Alternatively, you might choose to stick to a bio that lays out your design philosophy and simply upload your CV/resume to your site for those who want more information.
If you're well-established in your profession, a more minimal bio may be more impressive. You can use your bio as a place to talk about the type of work you do and your design philosophy, or you can include a list of notable companies and favorite projects.
Whether or not you choose to include a professional bio pic alongside your information is up to you, but it does provide a more personal and accessible touch.
Contact info
These days, contact info goes way beyond providing an email, although making sure you have a working contact form on your site and have your email and/or phone number prominently displayed is definitely a must.
It's also important to include social media links to your professional social media accounts. This provides clients with an alternative way to reach you, and if you are using your social media to showcase your design projects, it also gives them a chance to view more of your work. Just be sure to only include social media accounts that you feel comfortable having a client view.
In addition, some portfolio hosting sites include the ability to add a button that you can link to Calendly or other booking service, so that clients can book a consultation with you directly from your portfolio. This gives you the maximum chance to turn a potential client into an actual client.
Testimonials
If you have satisfied clients, including a one- or two-sentence testimonial from each of them can be a really convincing element in an interior design portfolio. Even if you've only worked on a few projects, testimonials can make the difference if someone is considering taking a chance on hiring you.
If you've worked with high-profile clients, you may need to get their ok before including the work you've done for them in your online interior design portfolio. However, even clients who don't want their privacy breached may allow you to create a password-protected page where you can showcase the work you did for them and share it with certain individuals with their approval.
Awards, achievements, and press
Whether you've received awards as a professional or achieved notables as a design student, your portfolio is the place to highlight your hardwork and successes. In addition, if you or your designs have been featured in the press, be sure to create a press page or include links in your About Me section, so clients can see the ways you've been recognized in the world.
Ready to create your own interior design portfolio?
Whether you're a student in design school who needs to display your projects, a beginning interior designer who wants to know how to create an interior design portfolio with no experience, or a seasoned professional looking for the best platform to showcase your design work, a portfolio hosting site like Journo Portfolio can help you get started building your perfect portfolio today.