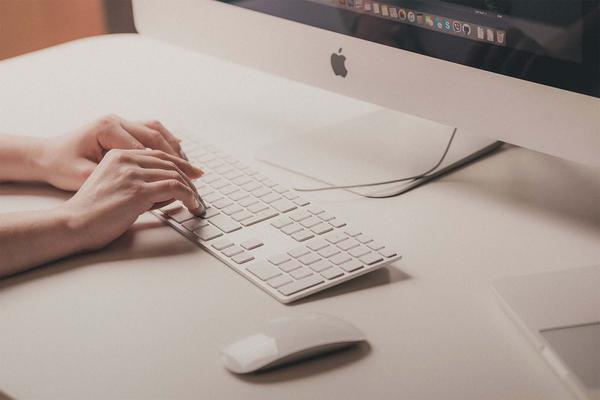 10 Best Portfolio Sites for Freelance Writers
Published on
Find out the best portfolio sites you can use to build your freelance writing portfolio and start taking your writing career to the next level.
Every freelance writer needs an online portfolio. It's the most effective way of collating your published work and writing samples. It also makes it easy to share your articles and projects with potential employers, editors, and publishers.
In addition, a freelance writing portfolio can be a great marketing tool. By including social media buttons, contact information, and a newsletter sign-up, you can transform your portfolio website into a powerhouse of marketing for your business.
That said, it can be overwhelming to figure out how to set up a portfolio. The first step is choosing the website building platform that you'd like to host your writing portfolio. There's a lot of different options to choose from, each with their pros and cons.
We've gathered information about the best freelance writing portfolio sites out there to help make your decision easier.
1.Journo Portfolio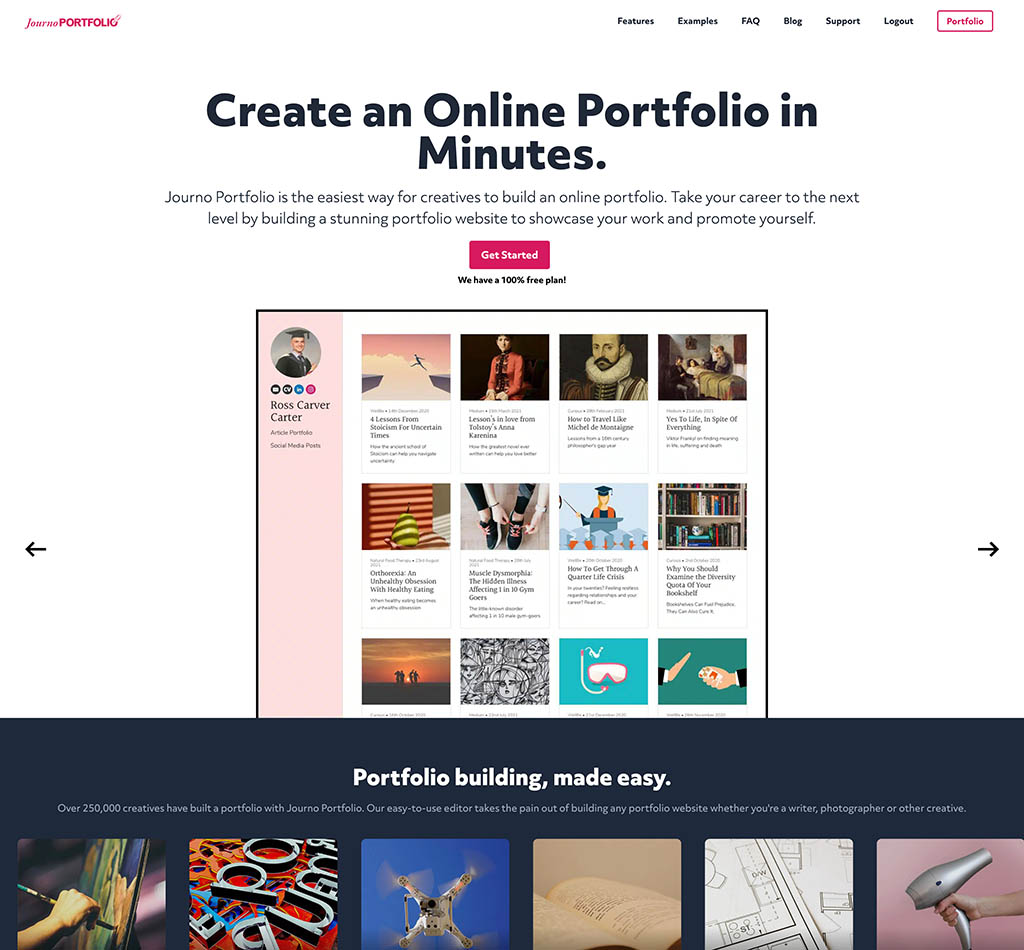 Journo Portfolio is one of the most established portfolio sites designed specifically with freelance writers in mind. With the ability to upload, import and embed just about anything, you can build a robust portfolio with ease. In addition, Journo Portfolio automatically backs up your article uploads, so even if a link disappears, you'll still have access to your work.
Journo Portfolio has multiple themes and templates optimally designed for freelance writers, and you can tag items to make them easy to organize and find for both you and your site visitors. You can customize layouts or take advantage of their pre-built sections to create a portfolio that's as unique as you are. Your site is also automatically mobile-ready, so it will look great on any device.
Powerful SEO is included, which helps your portfolio get seen on Google's ranking pages. You can also utilize their built-in analytics to track your site, or easily integrate with a third-party analytics service such as Google Analytics.
You can also use your Journo Portfolio site to grow your following. You can add a subscribe form so that followers get weekly notifications of any new articles you've posted, or you can choose a Mailchimp integration to send your own newsletter. Easy-to-find social media buttons generate new followers on your social accounts, and a Contact page is automatically included with every theme.
Journo Portfolio is quick and simple to set-up, with a lifetime free plan available, or a 7-day free trial of their Plus Plan. We recommend upgrading to the Pro Plan, though. It's only $9USD/mo and has great features you'll want to take advantage of.
2. Squarespace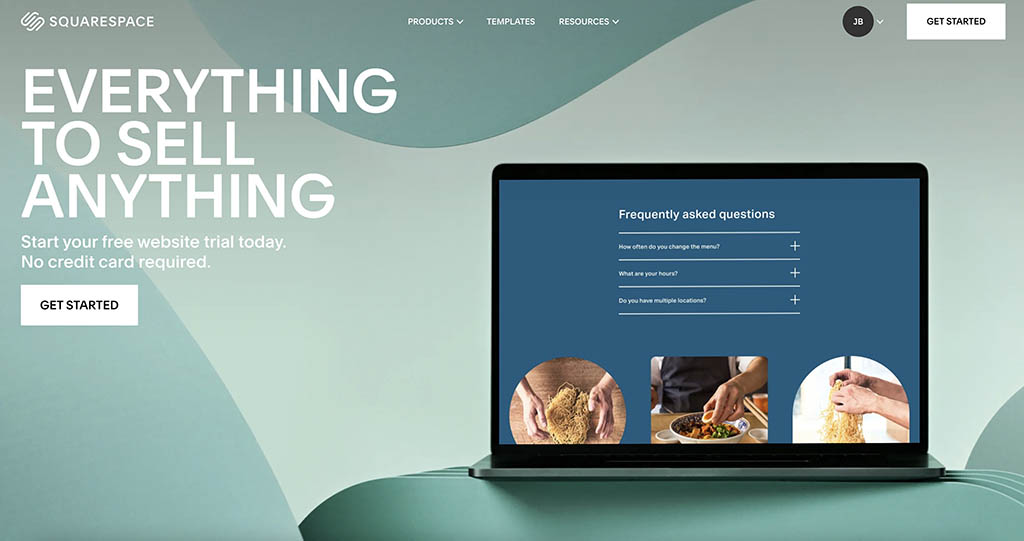 Squarespace offers 5 different portfolio-specific templates that you can use to display your work. Each template is simple and straightforward in its design, and you can add sections and customize your display to create a unique branded look. Squarespace also offers ecommerce solutions so you can sell products or services directly from your website and a suite of marketing options including email marketing campaigns and social media apps that help you create engaging social media content for your business.
Squarespace doesn't offer a free tier for its websites, but you can try them out for a 14-day free trial. Their basic plan comes in at $16USD/mo, but if you want to take advantage of their analytics, ecommerce, or marketing options, you'll need to pay more.
3. Clippings.me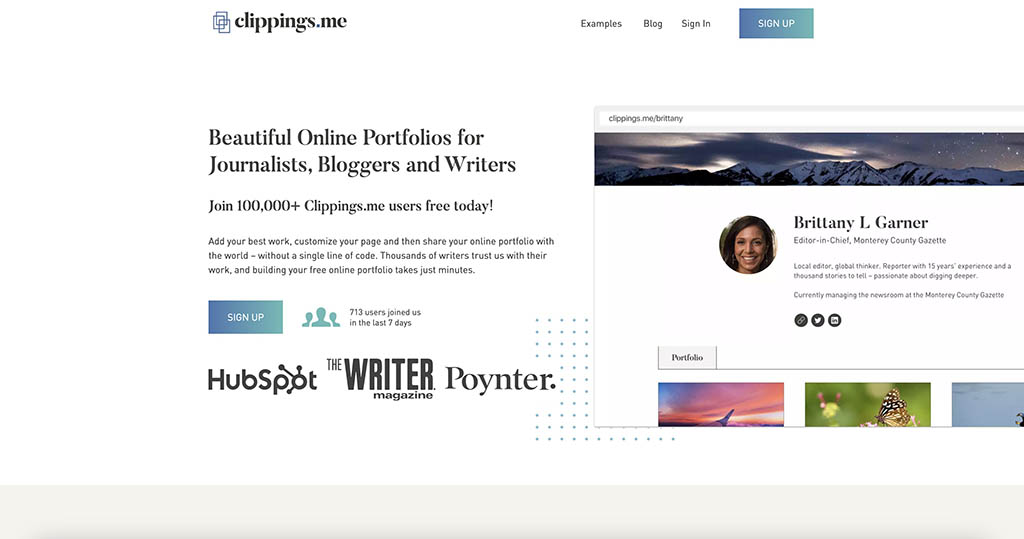 Clippings.me is one of the simplest portfolio options available, which means you can have your portfolio up and running in no time. Their grid layout is refreshing and easy to navigate and keeps the focus on your work. You can upload online articles and PDFs as well as embed YouTube, Vimeo or SoundCloud files to your portfolio. You can also import your own URL domain name.
Customization is pretty limited with clippings.me as they feature only one standard template. However, they do offer a free-for-life tier with limited articles. If you need to feature more work, their premier pricing tier comes in at $9.99USD/mo, which makes this a great option if you want an inexpensive portfolio you can get up and running quickly.
4. Wordpress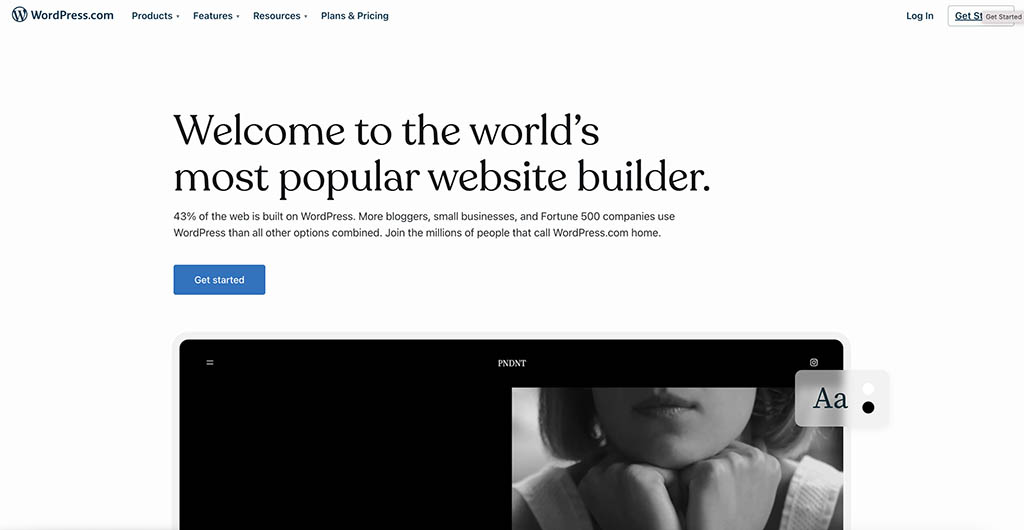 Wordpress is the world's most popular website builder and offers the most customization of any of our options on the list. You can create just about anything with a Wordpress site, and you can continue to change and scale your site as you grow.
WordPress allows you to create exactly the site you want with a myriad of features and plug-ins. However, that complexity can often mean the need for some expertise in website building (your own or a professional's) in order to navigate the necessary plug-ins and customization.
Wordpress offers a very limited website for free. However, if you want to truly take advantage of the customization that Wordpress offers, you'll need to upgrade to one of their more inclusive plans.
5. Format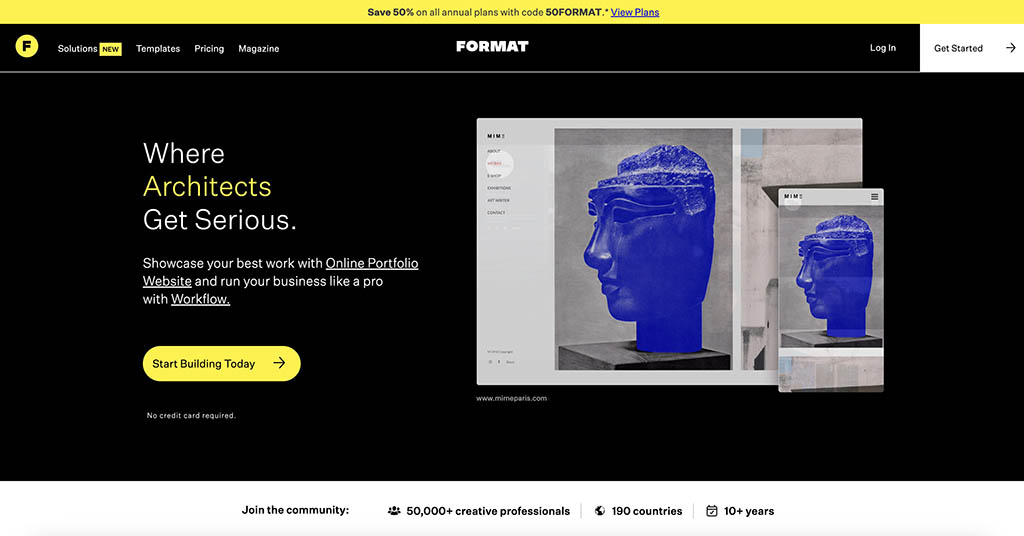 Format is a great portfolio site if you also have a visual aspect to your business. Primarily geared towards photographers, Format's templates have a stunning visual component and multiple integrations like shared client workflows that work well for photography and art projects.
Format also boasts 7 templates that are specific to writers, especially if you include photojournalism as one of your skill sets or are using your portfolio to create a visually appealing lifestyle blog. However, it's a bit more difficult to upload articles and writing content, so may not be the best choice if your main gig is writing by itself.
Format's basic plan comes in at $8USD/mo, but if you also want to include your photography or design business, you can take advantage of their many features with one of their more expensive Pro Plans.
6. Muck Rack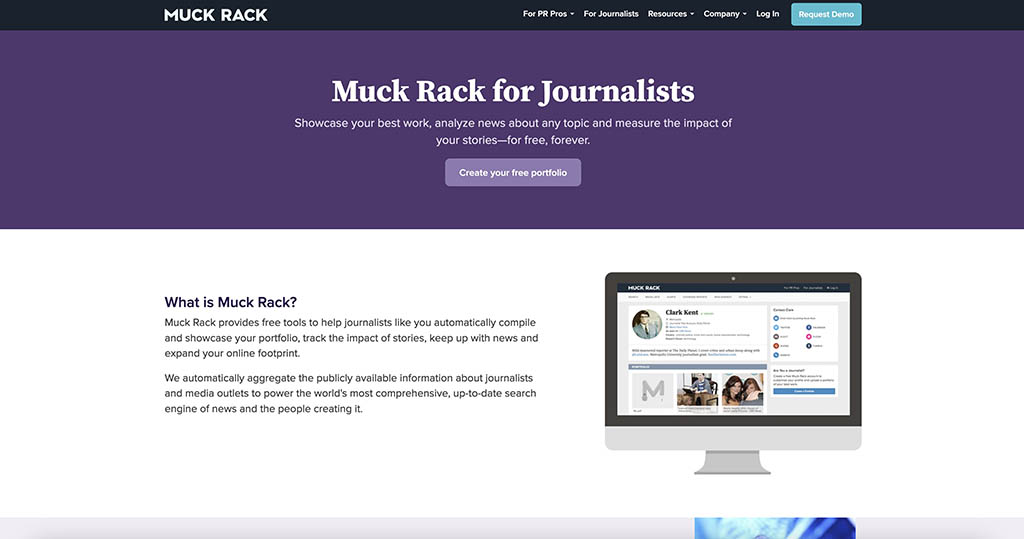 Muck Rack offers a free portfolio for journalists and lists your profile in their database. Muck Rack is used by PR professionals to find journalists to pitch stories to and lets you aggregate your work, define what types of stories you'd like to be pitched, and keep track of what journalists and bloggers are sharing your articles. Muck Rack can also integrate your Twitter feed directly onto your profile, so if you use Twitter as your primary social platform for your journalism work, people can see exactly what you've been posting.
Muck Rack is a great free option that allows PR professionals and other journalists to find you. However, there's virtually no customization allowed and no way to search or organize your work, other than a basic reorder function. Most freelancers will also want to invest in a more widely available and brand-specific portfolio in addition to a profile on Muck Rack.
7. Carbonmade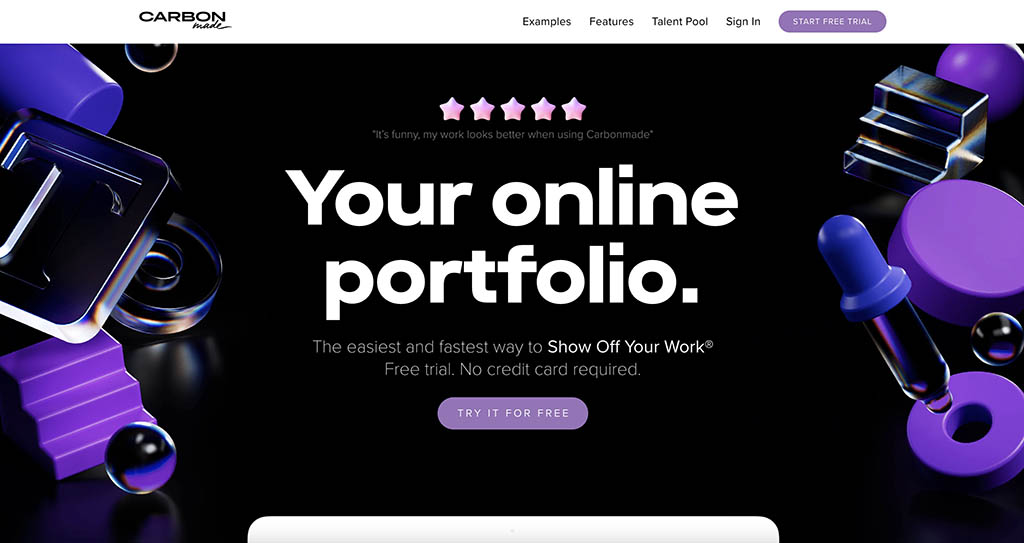 Carbonmade organizes its templates for creatives according to sector, so you won't have to navigate which of their templates works best as a freelance writing portfolio. They also feature a talent pool with over 2 million portfolios where potential employers can search by project type and find you. They design your portfolio based around the work you do, then let you continue to customize from there. They also feature unlimited video and image uploads, alongside some basic analytics that can help you discern your most popular featured projects.
Carbonmade offers a free trial, although we had a hard time finding how long that trial lasts on their website. Their basic plan is $11USD/mo, but most of their features aren't available until you upgrade to a Pro or Unlimited Plan. 
8. Wix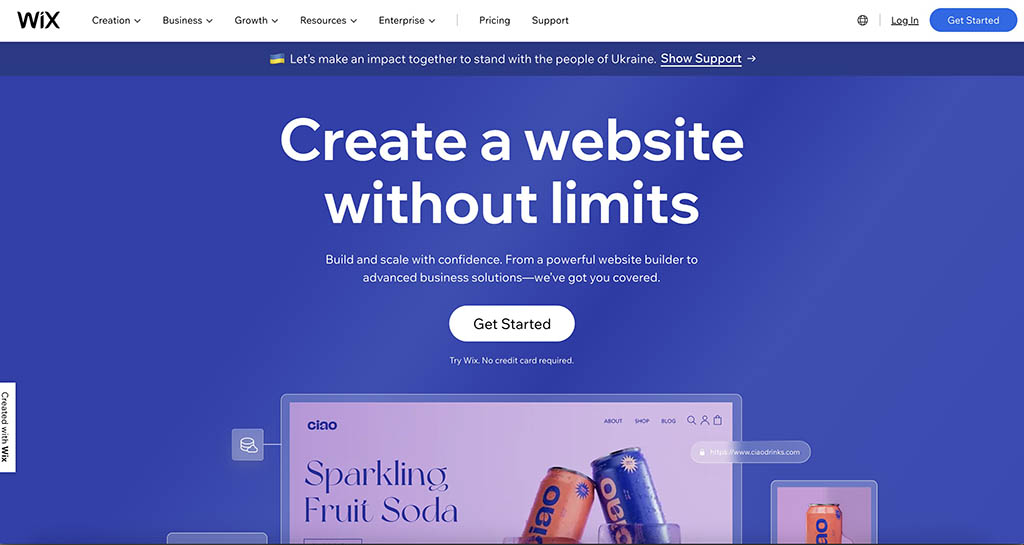 Wix, similar to Wordpress, supports near-limitless customization options and scalability for growth-based businesses. With over 800+ templates and advanced web development for those who have the skills, Wix allows you to create a fully branded writing portfolio with SEO-optimized blogging capability alongside scheduling services for client management.
Wix is a great option for freelance writers with some website-building experience, or for those who are willing to invest some capital to hire a professional web designer to create the perfect bespoke portfolio. The Unlimited Plan at $22USD/mo is geared towards entrepreneurs and freelancers and is the best option for most freelance writers.
9. Adobe Portfolio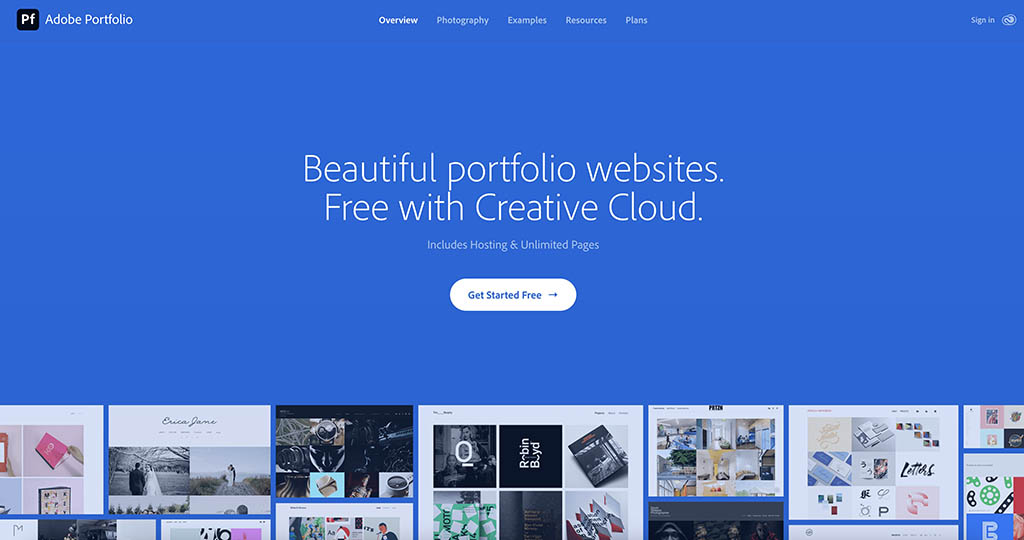 Adobe Portfolio offers a free online portfolio with your Creative Cloud membership. With 12 themes and access to thousands of fonts, as well as ease of importing images from Lightroom, Adobe Portfolio helps you create a unique and memorable portfolio. Use your own domain name, keep pages or your site as a whole password-protected, and take advantage of unlimited pages.
Adobe Portfolio isn't specifically for freelance writers, so you may have to get creative when it comes to displaying your writing samples, but it's a great option for writers who already use Creative Cloud for their work. Creative Cloud membership starts at $9.99USD/mo.
10. Portfoliobox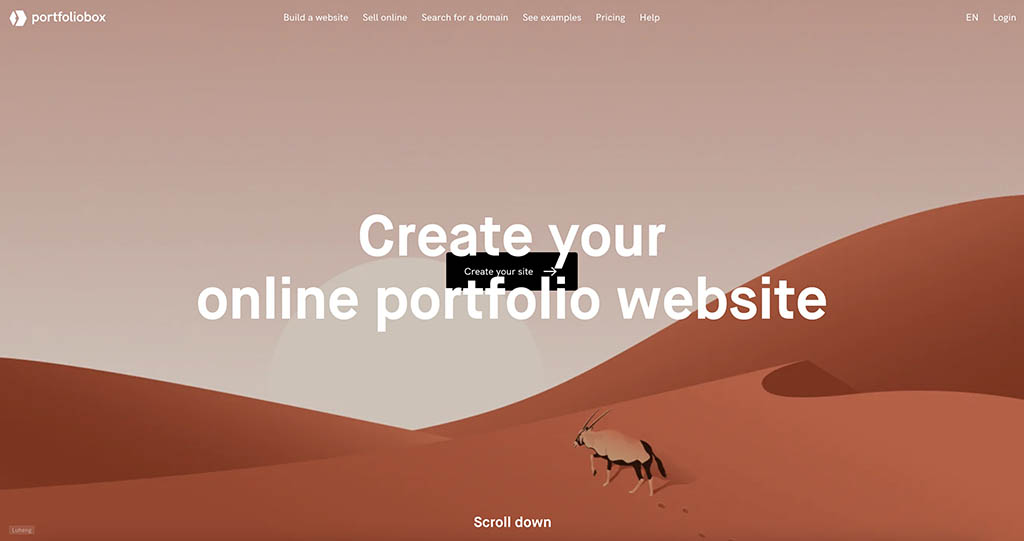 Portfoliobox is another portfolio site that is geared towards creatives who have a visual aspect to their work. Designed with photographers and artists in mind, Portfoliobox offers beautiful aesthetic templates that can be adapted for freelance writers. No coding is required, with easy-to-implement customization. They also have video tutorials to help talk you through the design process and 24/7 support if you get stuck.
Portfoliobox starts at $3.50USD/mo with a far more extensive Pro Plan coming in at only $12.50USD/mo, making it a user-friendly and affordable option for freelance writers who work with photography or graphic design as well.
Get started designing your portfolio
Now that you've gotten familiar with some of the best portfolio sites out there, it's time for you to get started building one of your own. From marketing your copywriting business to organizing your published articles to developing a social media following for your writing, a freelance writing portfolio is a pivotal tool for your career. Learn more about the best features and options to help you grow, and start designing yours today.