How to Build a UX Writing Portfolio and Our Best Examples to Get You Inspired
Published on
Build an impressive UX writing portfolio to dazzle your clients with these great tips and top 5 examples.
As our digital world continues to evolve, demand for UX writers is higher than ever. And if you want to get hired as a UX writer, you need a digital portfolio that can stand out from the crowd. We'll go over what you need and how to build one so you can fast-track your UX writing career to the next level.
What is a UX writer?
UX or "user experience" is a term coined in the 1990s by Don Norman, co-founder of Nielsen Norman Group. He defined UX this way:
"User experience" encompasses all aspects of the end-user's interaction with the company, its services, and its products.
In the digital realm, user experience comes into play when a user engages with any kind of digital interface or digital product. The usability, functionality, and efficacy of those interfaces and products define their UX metric.
Many of those interfaces and products also include a text or copy aspect, and that's where UX writing comes into play. Screen titles, menus, buttons, error messages, bot language, SMS scripts, forms and microcopy are common examples of UX writing.
UX writer versus UX designer
UX designers take a product from its beginning stages and design it in the best possible way for end-user interaction. UX writing is a subset of UX design. Anything that involves text is created by UX writers. So while UX writers don't directly design UX, they have a lot of impact on how a user experiences a digital product.
What is a UX writing portfolio?
A UX writing portfolio is a digital collection of a UX writer's best work. It's a chance to showcase UX writing samples and the UX writing projects that you've worked on. 
Why is a UX writing portfolio important?
Most companies looking to hire UX writers want a digital portfolio so that they can quickly evaluate skill level and fit. If you are a freelancer, a portfolio is a great way to give potential clients a chance to get to know your work, and to show your professionalism. It's less complex than a website, so clients and employers don't have to search through irrelevant material.
What should a UX writing portfolio include?
The best UX writing portfolios are themselves great examples of user experience. What you include should be chosen with your target audience in mind, which is usually going to be the industries and clients you want to hire you. That means choosing a professional design that's easy to navigate and gives your portfolio visitors a great impression of your work.
Common elements included in a UX writing portfolio are:
A short biographical statement. This gives you a chance to highlight your experience and let people know a little more about yourself. It needs to maintain a professional tone, but depending on the industries you want to work with, you may choose to add some personal details to make your story more interesting.

Microcopy Samples. Much UX writing falls under the category of microcopy. Slogans, notifications, headlines, buttons and error messages are all great examples of common UX microcopy, so you'll want to display a few samples of these.

Before and After. Many UX writers are hired to make an existing UX design more user-friendly. If you've rewritten web pages, scripts, or guides, before and after examples show how well you can evolve a company's existing UX.

Work Projects and Case studies. UX writing often comes as a multifaceted project, with end-user interface happening across platforms. If you've worked on more extensive projects, pick one longer one or a few shorter ones and create a UX writing case study. Examine each element of the project and explain how you made it shine.

Methodology. Your methodology can be described separately or included along with each of your work samples as you go. Clients and employers benefit from knowing how you problem solve for UX writing, and it's especially effective alongside case studies and work projects.

Contact. Everything you design in your portfolio should have the aim of getting hired, so easily available contact information is a must. Including a contact page, email, and social buttons allows your new client to find you wherever you are.
Some optional features to consider:
Resume. If you have more extensive work experience you'd like to include, consider a link to your resume.

Testimonials. Nothing is more convincing than other satisfied customers, so if you've got 'em, flaunt 'em. 

Other relevant work. Maybe you've done other types of writing or UX design. It's great to include this to show your versatility as long as you make sure your UX writing takes centerstage.
A note about NDAs
UX writers often sign NDAs to protect the confidentiality of their clients. And some UX writing like SMS scripts might inadvertently display someone's name. In order to protect privacy and honor any NDAs you may have signed, be sure to blur or blackout any names, logos, or identifying details before you include something in your portfolio. When in doubt, it's always best practice to ask a client or employer directly if it's okay to include something you've worked on.
How do I build a UX writing portfolio?
The first step in building your portfolio is choosing your target audience. Are you trying to get hired in a particular industry? Are you a freelancer who specializes in a certain area? UX writing is all about writing for a target audience, so use those skills to identify your own.
Next, figure out what elements you want to include. Do you want a more extensive bio? Would you like a separate page for your other types of writing? Do you have a compelling case study or impressive before and after shots you want to showcase? Create an outline of the important content you want to feature.
Now you need to get picky and make sure you only include the best of the best. More isn't necessarily better when it comes to portfolios. You are better off choosing one great case study than three mediocre ones. Most employers aren't going to sift through much, so what you feature needs to be exemplary.
Once you've got everything collected, you'll need to choose a site to host your portfolio. Keep in mind that portfolios aren't websites. They're designed to be much more straightforward and to put the emphasis on your work. Portfolio hosting sites like Journo Portfolio know this and offer services that allow you to showcase your work with minimal effort.
Pick a UX writing portfolio template that integrates each feature you want in an easy-to-navigate layout. Templates ensure great design and that all important user experience that potential clients will be looking for.
Remember, UX writing is part of UX design, so anyone visiting your portfolio is also going to be evaluating its usability and attractiveness. Using a tried and true hosting site like Journo Portfolio guarantees a positive user experience for your visitors.
How do I make a UX writing portfolio with no experience?
If you are a beginning UX writer with no experience, a portfolio can be an even more important tool for your job search because it shows your potential in a professional format that's more likely to get you noticed. And you don't have to have a ton of work under your belt to make one.
You can create mock samples for each of the categories of work you'd like to be considered for. As long as you are clear that these are mock samples, this is a great way to introduce people to your UX writing skills.
Another great idea is to create a before and after study of a pre-existing page. Show what you would do differently and explain your methodology to showcase your problem solving skills.
There are also quite a few UX writing challenges out there, like this one from Daily UX Writing. These can give you a chance to flex your skills and give you something to show for it in your portfolio.
However you develop your samples, treat your portfolio with the self-respect you would if you were an expert. That confidence will help you get your foot in the door and start you on your way to a UX writing career.
Best UX writing portfolio examples
1. Sarah Vickers
View Sarah's portfolio here: www.sarahrvickers.com
Sarah is a technical/UX writer who builds documentation libraries and improves user experience through content optimization. Her simple one-page format focuses the attention on her expertise, headed by a punchy professional bio. She utilizes display buttons to link to her before and after projects and her case studies, as well as integrating her video content. Sarah also includes a link to her resume, so any employer who wants to know more about her experience can easily access that information. This is a great example of a user-friendly layout that puts the spotlight on her most impressive work.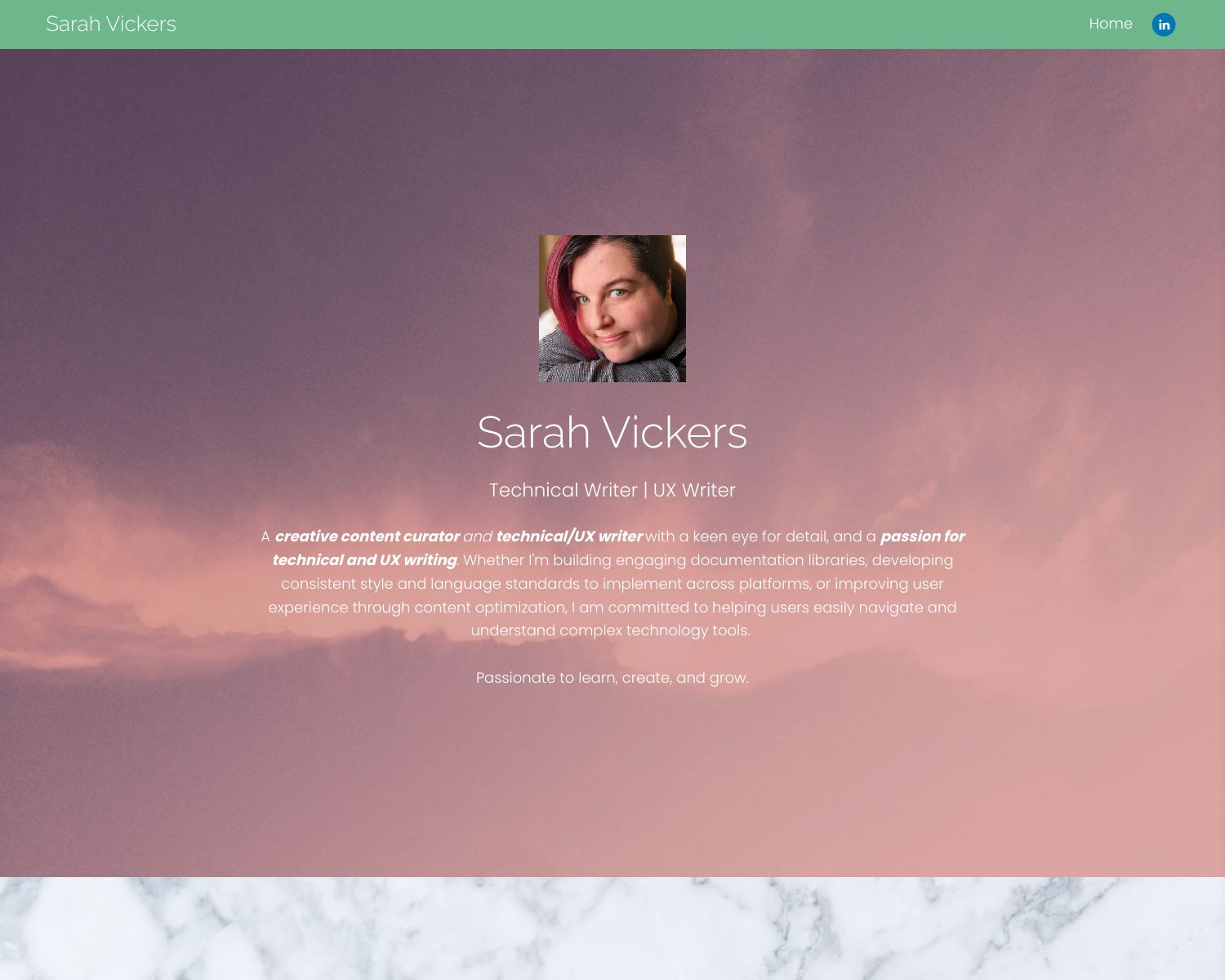 2. Lindi Brownell
View Lindi's portfolio here: lindibrownell.journoportfolio.com
Lindi Brownell Meiring is a UX writer based in Amsterdam. She, too, keeps her design focused on her ample writing samples. Divided into sections, including UX writing/E-commerce copy, online articles, and print articles, she features writing that displays her range and the multiple outlets she's created content for. Large display buttons with beautiful imagery link directly to her articles and create a visually appealing layout. Her UX writing project explains her methodology with compelling samples, and her prominent Contact Me button at the end of her page makes it easy for clients to reach out.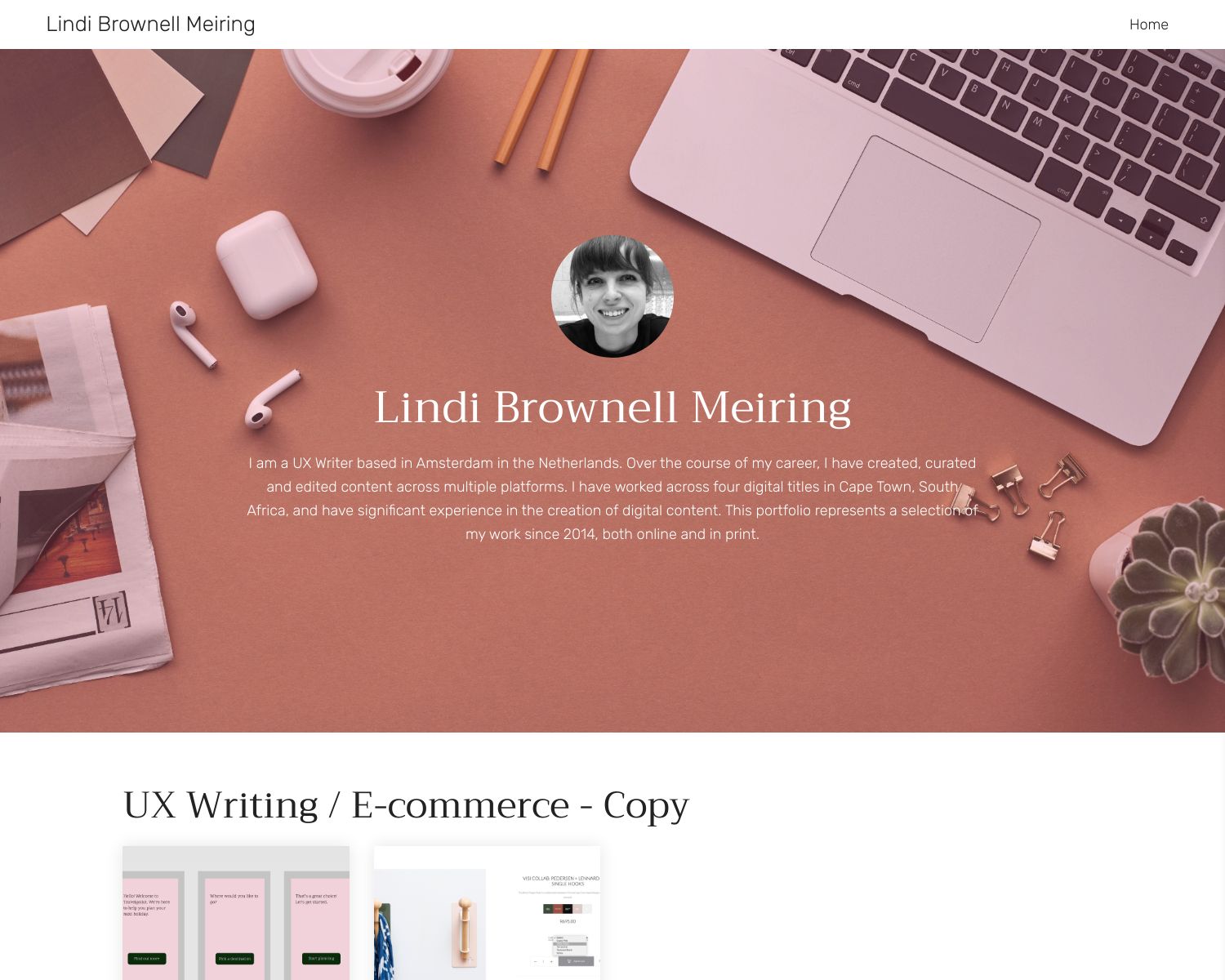 3. Liam Burns
View Liam's portfolio here: liamburns.journoportfolio.com
Liam Burns is a Boston-based content writer who is now focusing on UX writing. He takes advantage of the navigation bar to direct visitors to either his marketing content or his UX content. His first page features a comprehensive About Me section that includes his educational experience and work history, as well as including his email for easy accessibility. An understated gray and blue color scheme conveys a professional vibe. On his dedicated UX writing page, Liam includes 6 mock project samples with engaging graphics and excellent methodology. He also includes a section for his UX courses and certificates, making this a great entry level UX writer portfolio.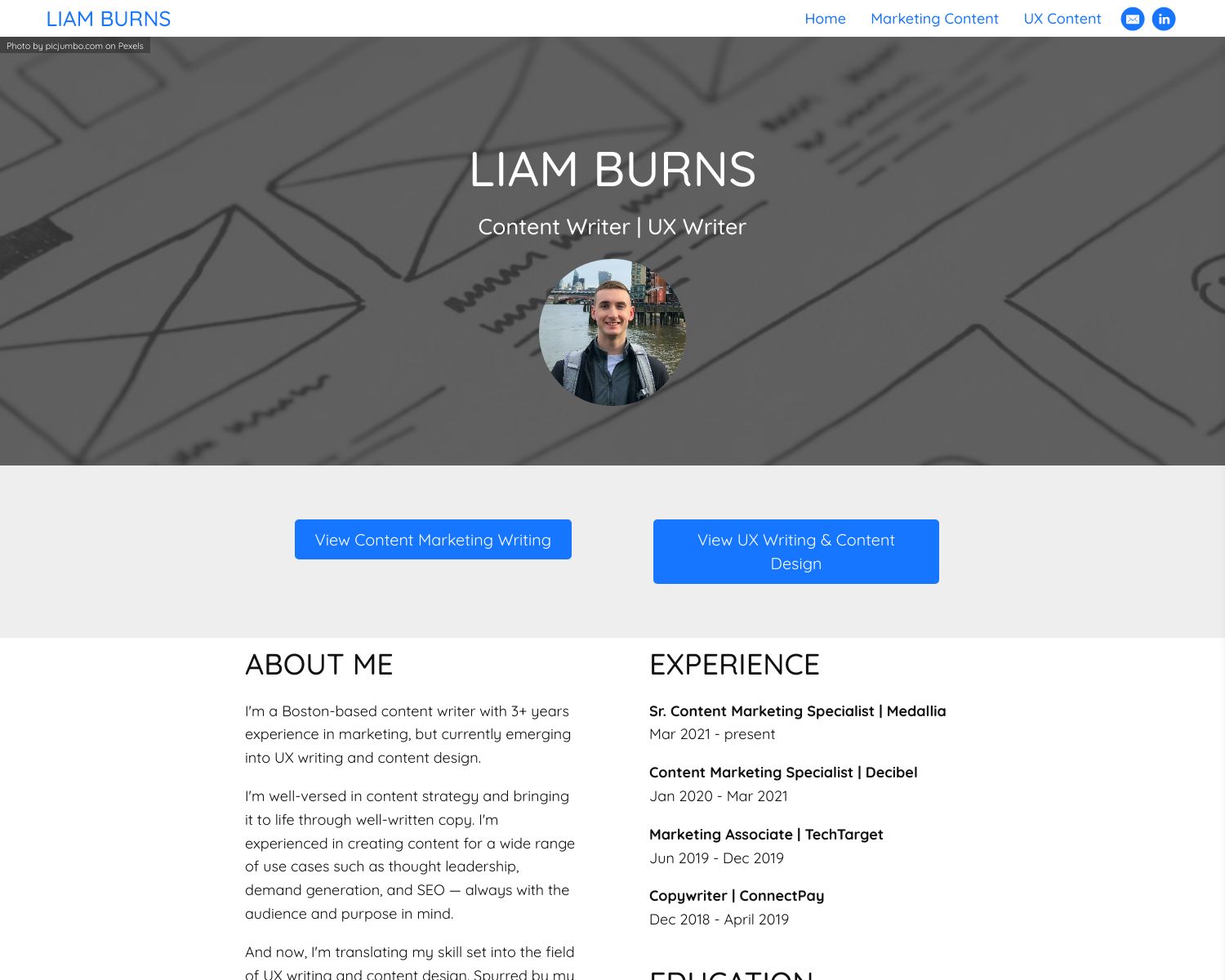 4. Kait Taylor
View Kait's portfolio here: www.kaitatwork.com
Kait Taylor specializes in wellness UX copywriting and content creation. She brings a fun, friendly tone to a portfolio that utilizes all the bells and whistles to display her wide range of experience in her field. Well-chosen photos that emphasize her experience connect to separate pages that display each category of her work. An interlink in her About Me section also leads to her work experience page. Her SMS UX copywriting section features a summary followed by an in-depth explanation of her methodology. Excellent photo choices highlight her personality, and different layouts for each page ensure specific content is displayed to best effect.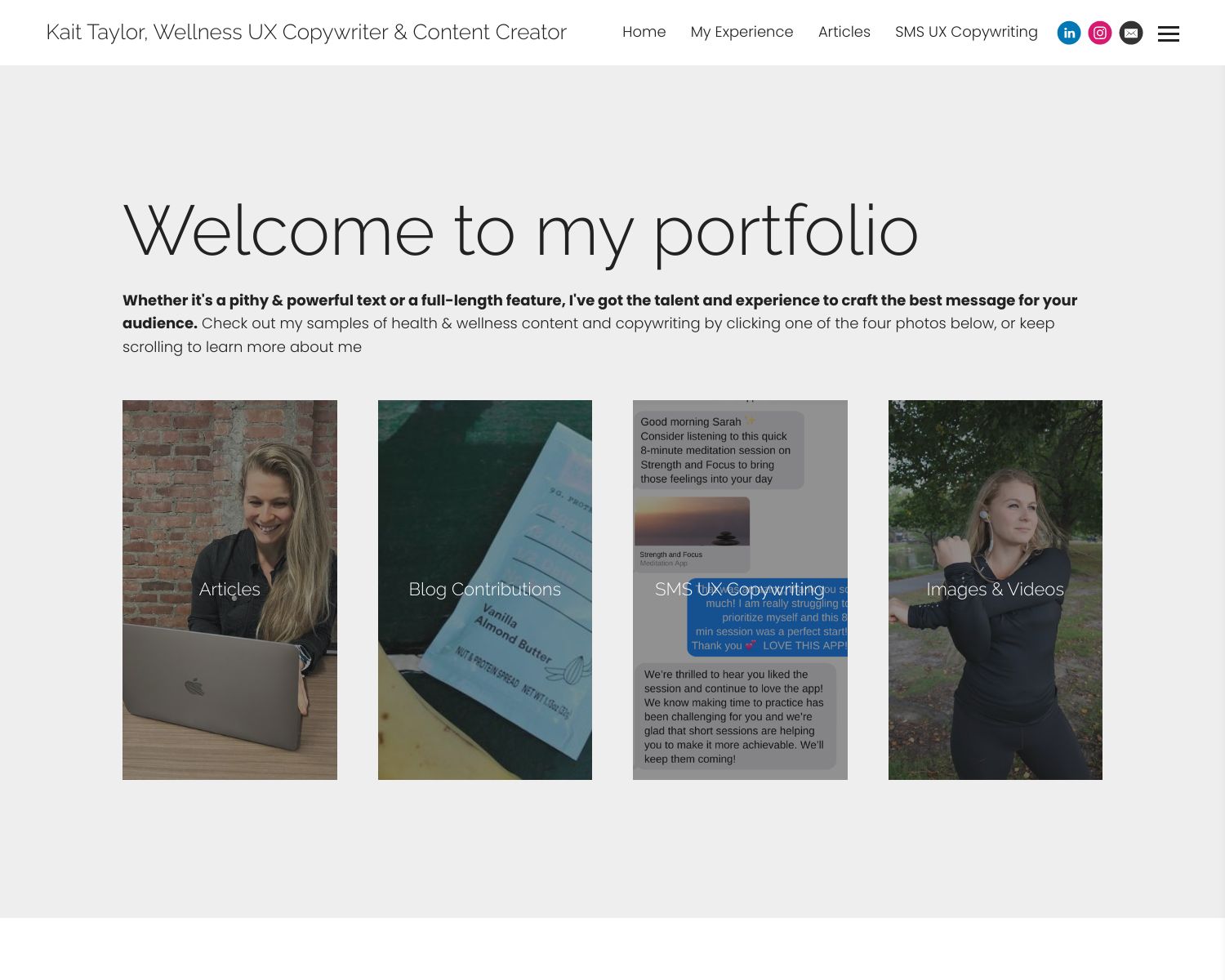 5. Amy Stenglein
View Amy's portfolio here: alstenglein.journoportfolio.com
Amy Stenglein is a UX writer and editor. Her portfolio color scheme applies beautiful blush tones to an inviting design that emphasizes her media work. Stunning photos in a grid layout make this a visually appealing portfolio that draws the visitor in. Her editing and design work is on display in each of her samples, and her latest work is easy to upload and keep current. She keeps her contact info simple with a LinkedIn social button that connects you directly to her profile.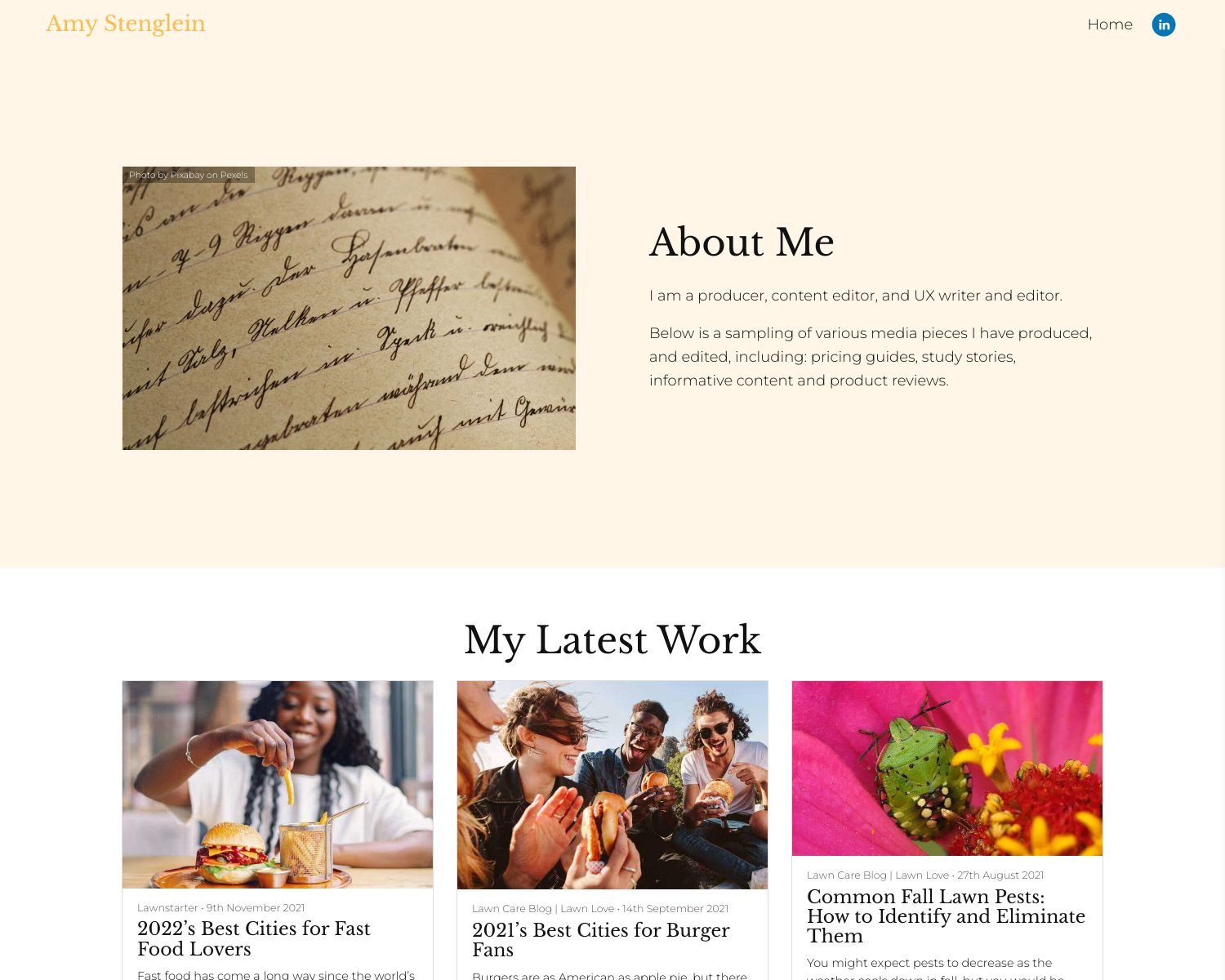 Making first impressions last
Your digital UX writing portfolio is often the first opportunity you have to dazzle a client or employer with your skills and experience. A great portfolio can lead to a great conversation, and that can get you hired for the UX writing job you want. Make sure your UX writing portfolio is creating the effect you need by taking advantage of Journo Portfolio's go-to templates and user-friendly features. Your success depends on ensuring that first impression makes a lasting impact.