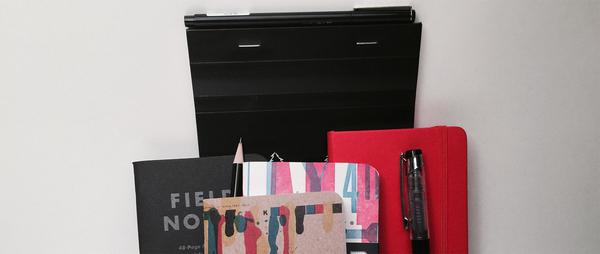 10 Thoughtful Gift Ideas for Writers
Published on
We've rounded up a list of thoughtful gifts that writers of all kinds will absolutely love. Maybe you need a gift for another writer's birthday or maybe you're just looking to treat yourself to something new. Either way, we've got a fun and helpful list for you!
1. AquaNotes
Writers often come up with some of their best ideas in the shower. With waterproof notepads from AquaNotes, you'll never lose an idea down the drain again.
2. Writer Emergency Pack
When you hit a dead-end in your story, the Writer Emergency Pack will come to your rescue. You can shuffle through this deck of cards full of fiction ideas to get you brainstorming again.
3. Sticky Note Dashboard for Monitors
Perfect for writers who swear by sticky notes, the FoVo Acrylic Message Board attaches to your desktop monitor and gives you extra space to arrange all of your sticky notes.
4. Evernote Smart Notebook
Combining the practicality of writing in a notebook with the power of having your ideas stored digitally, the Evernote Smart Notebook gives you the best of both worlds. You can write as your normally would in this special Moleskine journal, take a photo of the page, and have it stored forever in Evernote.
5. Adjustable Desk Footrest
It's a hammock for your feet! This AccMart Adjustable Hammock simply attaches to either side of your desk, giving you a comfortable (and adorable) place to put your feet up while you work.
6. Logitech Multi-Device Bluetooth Keyboard
This wireless Logitech Keyboard pairs with three different devices and allows you to easily switch between those devices. Compatible with all kinds of Windows, Apple, and Android devices, it's also pretty affordable too!
7. SCRIBEdelivery Subscription Box
With a subscription to the SCRIBEdelivery box, you can give the gift of writing every month. Every box comes with pens, notebooks, and other items handpicked to inspire more writing.
8. Personal Embosser
Since every writer has a collection of books they absolutely love, this personal embosser is an elegant and thoughtful gift. You can customize the embosser to say "Library of," and include their name, so they can emboss all of their books.
9. Books on Writing
Speaking of personal libraries, books about writing are always a great gift. Try a classic like Bird by Bird by Anne Lamott or Writing Down the Bones by Natalie Goldberg.
10. Writing Software & Tools
Treating a fellow writer to new writing software and tools is always a welcome gift. You could purchase writing software like Ulysses, the premium version of Grammarly, or of course, the Pro package of Journo Portfolio!
With these ideas, you're sure to find the perfect gift for the writer in your life. Whatever you choose to buy for them though, you should probably buy in duplicate - that way you get to keep one for yourself!